GUMC Community Meeting Focuses on Racial Justice, 'Our Highest Priority'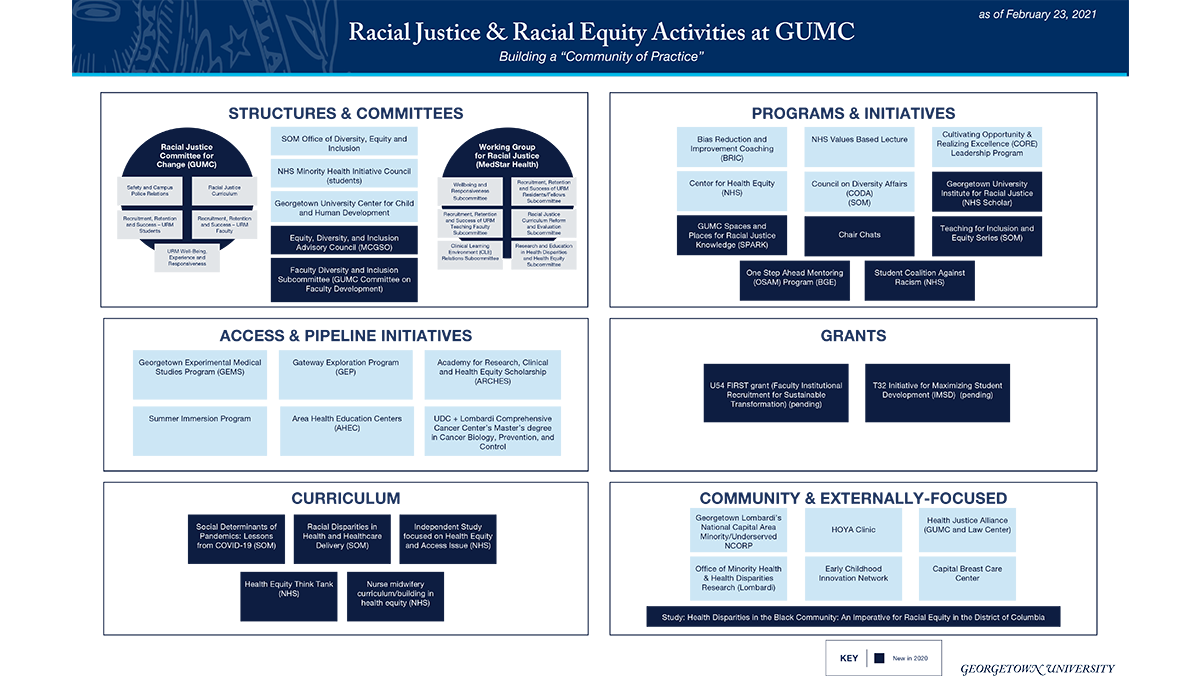 Posted in GUMC Stories Special Stories | Tagged collaboration, Georgetown Lombardi, GUMC community meeting, racial equity, racial justice, Racial Justice Initiative, racism, School of Medicine, School of Nursing & Health Studies
(February 26, 2021) — Students, staff, faculty and Georgetown University leadership gathered virtually for the first GUMC Community Meeting of 2021 that carried a singular focus: racial justice.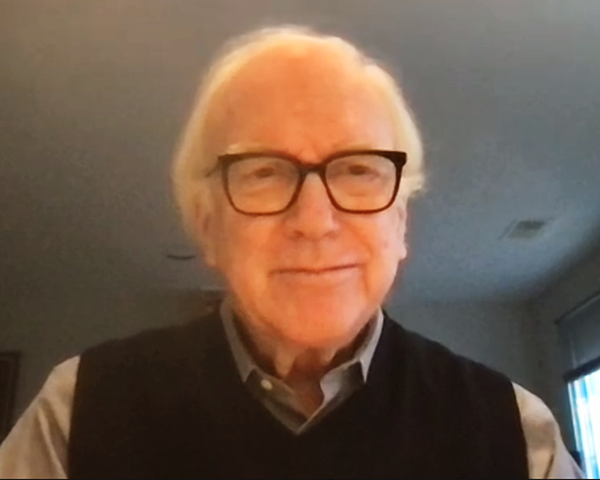 "We have devoted our time together to this topic because the journey toward and the achievement of equity and racial justice at all levels of our community is our highest priority," declared the Medical Center's leader, Edward B. Healton, MD, MPH, executive vice president of health sciences, as the Feb. 25 meeting began.
'We Have the Power'
Healton was joined by Georgetown University President John J. DeGioia. Both emphasized the renewed urgency for racial justice that followed last year's killings of George Floyd, Breonna Taylor and Ahmaud Arbery.
DeGioia also again acknowledged, on behalf of the University, "the imperative that comes from understanding our history, and the role we played in the enslavement of people of African descent."
"We have the power to undo the structures that continue to support the legacy of slavery and of other structural injustices," he said. "Our agency enables us to do that."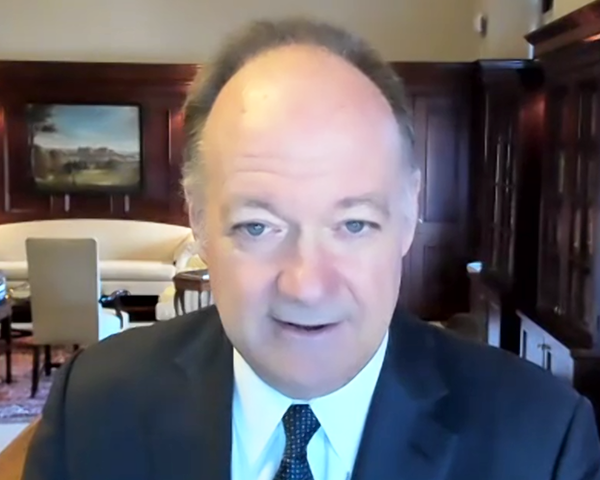 DeGioia explored the tension between agency and structure that underscores the critical role for universities in developing a framework for the needed work.
"[Structures] are the institutional arrangements that we create." he said. "We inherit these frameworks from those who came before us, and we are responsible for them in our time.
"Our structures have been bound up with explicit and implicit forms of discrimination from enslavement and segregation to persistent racism. We need to unpack these enduring legacies from our structures, remove them and create more equitable frameworks.
"We can change them," DeGioia added. "We can go beyond the recognition of the challenges to engaging with them, to realizing what new structures and systems should look like."
Launching the Racial Justice Institute
As one way to deepen the racial justice work at Georgetown, DeGioia announced February 22 the formal launch of the Racial Justice Institute (RJI), a university-wide interdisciplinary initiative. Derek Griffith, PhD, a professor at Vanderbilt University with expertise in health disparities research and an RJI founding co-director, will join the School of Nursing & Health Studies this summer. (Additional co-directors include legal scholar Robin Lenhardt and theater and performing arts scholar Anita Gonzalez.)
Griffith joined the community meeting, and reflected on the university's acknowledgement of its racial justice challenges.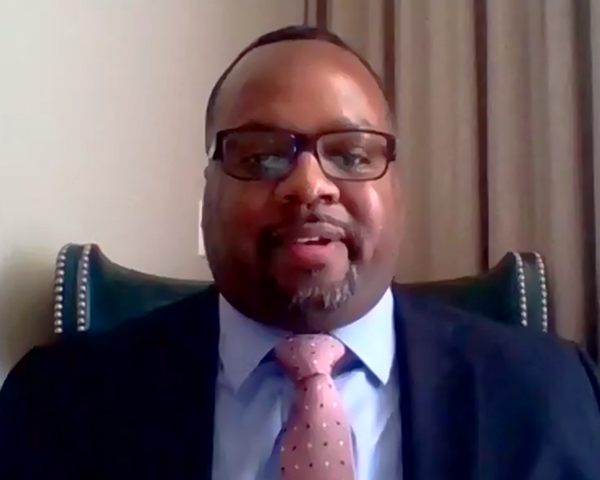 "I don't see [the acknowledgement of institutional racism] happening everywhere," Griffith said. "I don't see this commitment to explicitly naming racism, to explicitly addressing racism and to having this from the leader of the organization… and for there to be such a deep and strong commitment to addressing these issues is just not something that I see academia taking on."
Healton extended his welcome to Griffith and turned his focus to the Medical Center. "The work we are undertaking is intended to engage the arc of our community life, all aspects including admission of our students, recruitment of our faculty, our curriculum, how we support and nurture each other and how we evaluate and promote," Healton said. "Along this broad arc, we also seek to find partnerships and synergies to make the whole greater than the individual elements."
Continuing the Work of the Racial Justice Committee for Change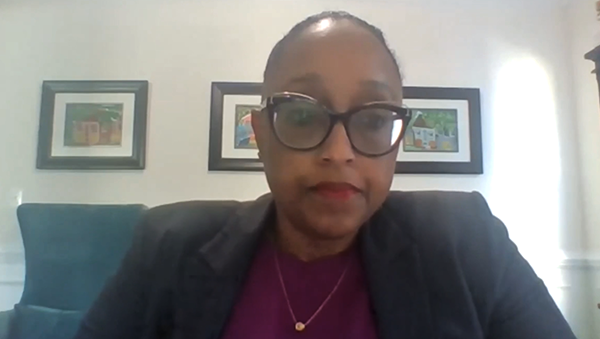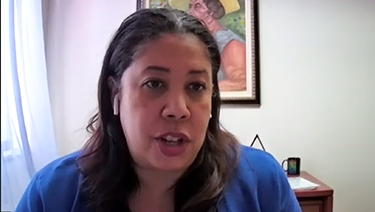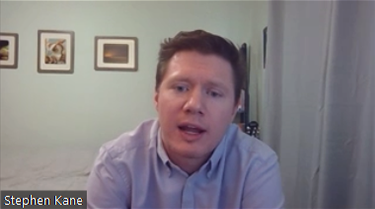 A centerpiece of work at the Medical Center is the Racial Justice Committee for Change (RJCC), which began its work last summer after School of Medicine students penned an open letter to the administration with 10 recommendations regarding policy and programmatic changes required for achieving racial justice.
"We decided that, there were issues that we felt Georgetown, as a medical school, could handle a little bit better — in line with what we learned as medical students in terms of treating the whole patient and thinking about our future patients and how not only the pandemic, but institutionalized and systemic racism affected them," explained RJCC student co-chair Jerome Murray (M'22), who, along with his RJCC colleagues, spoke at the meeting. "We wanted to make some changes."
"These are changes that need to happen at Georgetown to make us an anti-racist institution that's leading in this area," added Stephen Kane (M'21), also an RJCC co-chair.
RJCC faculty co-chair Michelle Roett, MD, MPH, professor and chair of the Department of Family Medicine commended the students for "injecting a sense of urgency into our racial justice work on campus, and doing so much heavy lifting to deliver a really well-researched set of recommendations."
Fellow faculty co-chair Tamika Auguste, MD, professor in the Department of Obstetrics and Gynecology, emphasized the importance of involving all areas of the Medical Center including MedStar Health, Georgetown's Biomedical Graduate Education programs, and the School of Nursing & Health Studies in the work going forward.
In addition, Auguste described regular meetings with MedStar Health's Working Group for Racial Justice "to share and collaborate on goals, data strategy, and solutions. It has been a very productive collaboration," she said.
'Vastly Different Experiences on Campus'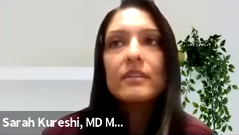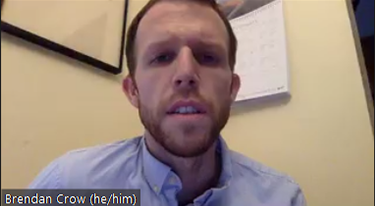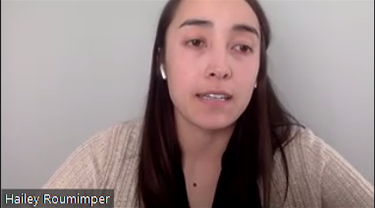 As part of the RJCC, five subcommittees were formed to address the initial recommendations. One example of work underway — a comprehensive survey of medical school students and faculty — was presented at the meeting by members of the Racial Justice Curriculum Reform Subcommittee.
The subcommittee's co-chair Sarah Kureshi, MD, MPH, assistant professor of family medicine; and students Brendan Crow (M'21) and Hailey Roumimper (M'21) found that Georgetown students and faculty who identify as Black, indigenous, or people of color (BIPOC) have vastly different experiences on campus compared to their non-BIPOC counterparts.
"We have broad and inconsistent beliefs of the meaning of race [in medicine], and that itself may be contributing to health disparities," Crow said.
"The misuse of race in medicine has led to misdiagnosis, inappropriate treatment and blatant inequities in our health outcomes," he explained. "It is critical for faculty and students to understand how race is defined, recognize the role of race in medicine, and be able to critique and mitigate the racist underpinnings of modern medicine."
"One of the most important things is developing an anti-racist practice and policy in order to eliminate white supremacy culture," Crow concluded. "And the more that we can talk about that and name that, the further we will go in addressing levels of racism."
Establishing an Organizational Structure
The RJCC will continue its work through the remaining academic year after which Healton will create a standing committee, as well as an organizational structure "to broadly support equity and racial justice in the medical center community, and work across the university as well," he said.
"These are the most important issues in which we can be engaged, and I have great hope and optimism for the continued work to make health equity and health justice a core of our Georgetown University Medical Center," DeGioia concluded.
The RJCC is looking for volunteers to conclude its work for the academic year. If you are interested, please email rjcc@georgetown.edu.