Open Letter Leads to Launch of Racial Justice Committee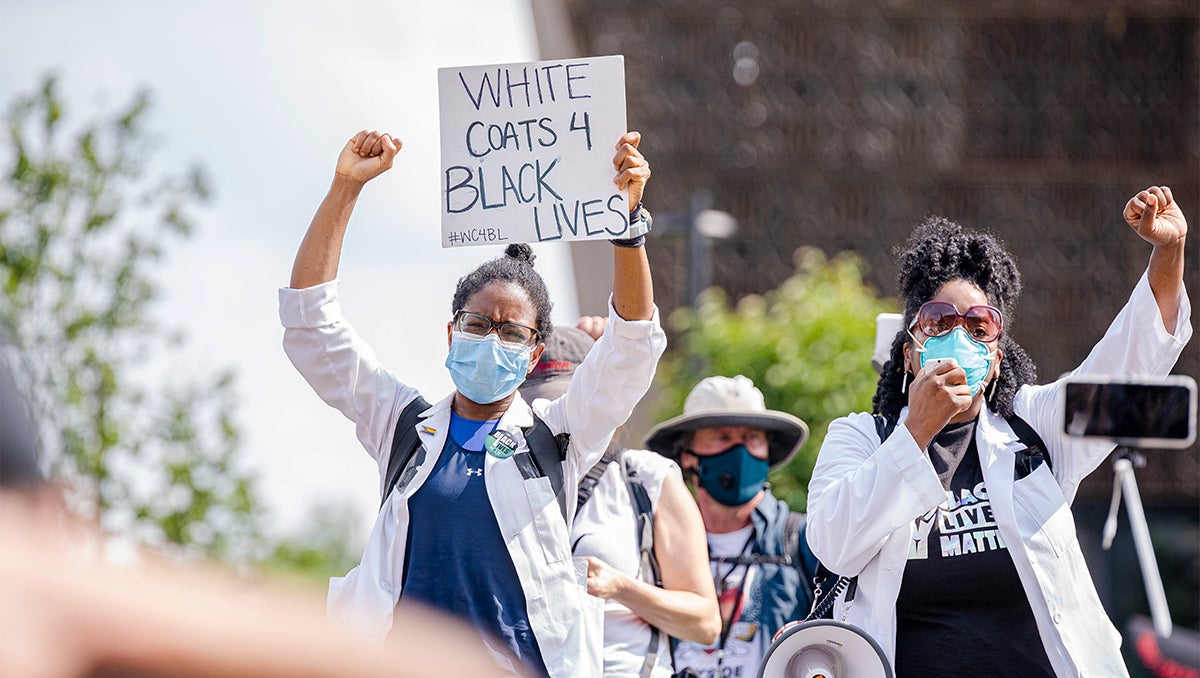 Posted in GUMC Stories | Tagged advocacy, Biomedical Graduate Education, Georgetown Lombardi, health equity, racial equity, RJCC, RJCC blog, School of Medicine, School of Nursing & Health Studies
(July 19, 2020) — As activists across the country protested against racism and police brutality, a group of Georgetown medical students exchanged text messages about how the university should respond. One of them suggested writing an open letter to university leaders.
Seventy-two hours later, more than 500 students had signed the letter, which inspired the launch of the Georgetown University Medical Center Racial Justice Committee for Change (RJCC).
"The RJCC is responsible for developing specific recommendations to achieve racial equity in admissions, education and the diversity of faculty, students, and staff across schools and programs at the Georgetown University Medical Center campus, and to better achieve Georgetown University's commitment to diversity and inclusion, and to address systemic racism," said Edward B. Healton, MD, MPH, executive vice president for health sciences and executive dean at Georgetown University School of Medicine, when charging the committee at its first meeting July 17.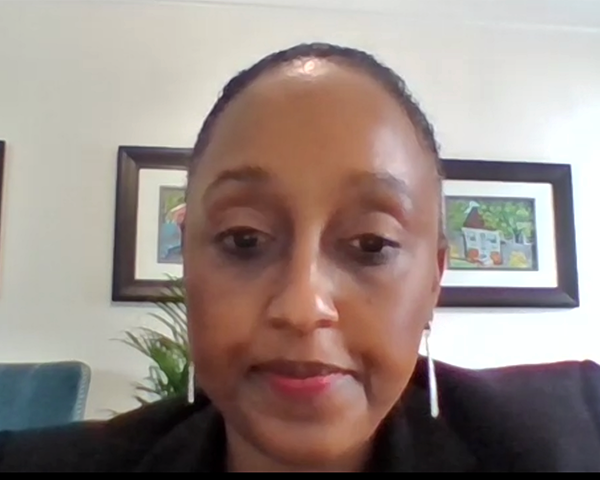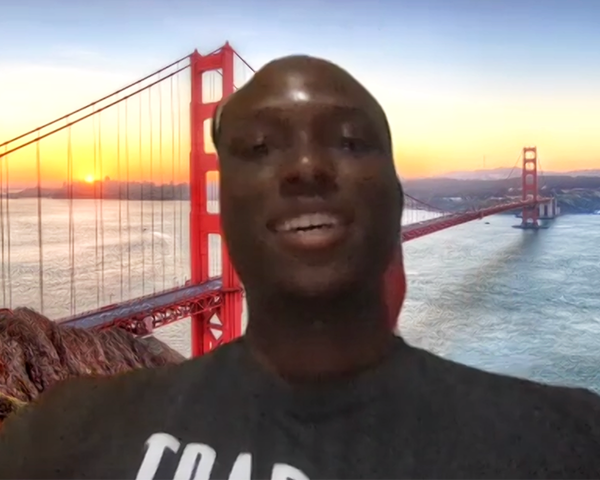 "I think this is a tremendous opportunity for us as an institution, and really feel extremely blessed that we have a leadership team that was willing to listen to our students and really pay attention to the open letter," said Michelle Roett (M'03), MD, MPH, professor and chair of the department of family medicine at Georgetown and faculty co-chair of the RJCC steering committee. "I think for us as faculty, to watch this level of engagement and advocacy amongst our students is really inspiring and exciting."
Driven by Students
United by their dedication to fighting institutional racism and anti-Black white supremacy, the students wrote their letter because they wanted the university to do more to address racial equity.
"I think there's been a number of people at Georgetown over the decades who have brought up issues of racial justice and equity within our institution," said Brendan Crow (M'21), member of the RJCC subcommittee on safety and campus police relations who the students asked to speak on their behalf. "People talk about it, mostly people of color talk about it, and the response is frequently a verbal response and pledge to do better."
Using a Google doc to organize their thoughts, the group grew to include 27 students, who met nightly on Zoom to refine their ideas and add examples of actions taken at other universities. "In meeting with our group, one thing we tried to do at the beginning of every meeting was reflect on the moment and the purpose and the importance of that work," Crow said. "That mattered a lot in our work."
Crow stressed that the letter was largely based on the work of Black physicians, alumni and students at Georgetown and beyond. "A lot of the work that we did built on the examples set by others, and it could not have been done without all of that," he said. "In fact, we're simply restating things that have been stated for decades."
At the first RJCC meeting, Stephen Kane (M'21), one of two student co-chairs of the RJCC steering committee, also recognized the contributions of the faculty and staff who have been working to promote racial justice at Georgetown for years. "Building upon that is going to be an honor as part of the RJCC," he said. "I want to be involved as an ally to create anti-racist policies and an anti-racist community here at Georgetown."
Representing the Entire Medical Center
The RJCC subcommittees will address specific areas: underrepresented minority well-being, experience and responsiveness; safety and campus police relations; recruitment, retention and success of underrepresented minority students and faculty; and racial justice curriculum reform.
In addition to the School of Medicine, the subcommittees will address challenges that students, faculty and staff have been working on at the School of Nursing & Health Studies, within Biomedical Graduate Education and at Georgetown Lombardi Comprehensive Cancer Center, Healton said. "So I'm also including in the charge that you open up the lens of the work and the structure of this committee to be inclusive of a broader representation and participation in the work and the committee's processes," he said. "It will not dilute the work. It will enrich it."
Members of the committee were nominated by the students in consultation with leadership and were appointed by the executive vice president. They are expected to meet twice a month with their subcommittees and once a month with the entire committee. Their recommendations will be presented to the medical center leadership by December 15, while encouraging earlier input.
Working for 'Necessary Change'
The open letter has already led to changes at the medical center. In his letter announcing the RJCC on July 18, Healton outlined actions immediately implemented in the five weeks after the open letter was shared, including a planned workshop to review the medical school curriculum and the immediate diversifying of content for the dermatology section; the renaming of a learning society to represent more inclusivity; and the diversification of portraiture across GUMC and addition of anti-racism prematriculation materials. (Read Healton's July 19 letter to M1 students).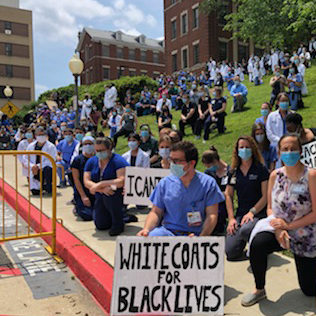 Working with her classmates to write the letter was a positive experience for Mariama Jallow (M'22), student co-chair of the RJCC subcommittee on underrepresented minority well-being, experience and responsiveness.
"As a Black student, this process of standing in solidarity with my colleagues from various identities and backgrounds to write the open letter and the subsequent outpouring of support from faculty and staff that led to the formation of the RJCC, has been both comforting and empowering," Jallow said. "It has felt like history in the making and I have faith that this is just the beginning of sustainable institutional change."
That desire for changes that will make Georgetown a better place for future students, faculty and staff motivates members of the RJCC steering committee.
"I'll just say I'm here because I'm extremely invested in Georgetown University, with 21 years as a student, resident, fellow, faculty, and now a department chair," Roett said. "Diversity, equity, inclusion, health equity and community engagement are also important to me. And so this is one of the reasons that I wanted to be a part of this."
"Georgetown has a very dear place in my heart," said Tamika Auguste (M'00), MD, professor of obstetrics and gynecology at Georgetown and faculty co-chair of the RJCC steering committee. "So why I'm doing this is that I truly feel a duty and responsibility to work together to make the situation better. Twenty-five years ago, when I was a GEMS student, we were talking about these same issues. So we have work to do; we will get the work done."
"I was also a GEMS student and the reason I'm invested and involved in this is, as a current student, current Black student, having been mentored by Black students and Black faculty that have gone through Georgetown and mentoring other Black students hopeful to come to Georgetown, I think there's just been a need that's been identified," said Jerome Murray (M'22), student co-chair of the RJCC steering committee. "And I'm hopeful that I can bring something to the table to bring some of that necessary change."
Kat Zambon
GUMC Communications