How to Get Here
MedStar Georgetown University Hospital patients and visitors should consult the hospital website for parking and visiting information.
Maps & Directions
Georgetown University Medical Center is located on the north side of the Georgetown University campus at 4000 Reservoir Road, NW. (Use Google Maps to get directions to this address from any location.) This address should not be used for large deliveries.
Please note that construction on and around the university campus may lead to changes in campus access and parking.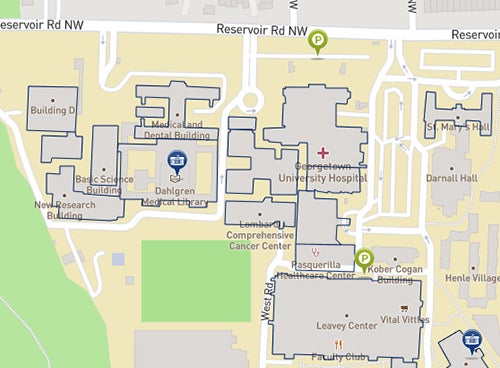 Administrative Office Locations
Georgetown University Medical Center: Building D
Georgetown Lombardi Comprehensive Cancer Center: New Research Building
School of Medicine, Office of the Dean for Research, and Biomedical Graduate Education: Medical-Dental Building
School of Nursing and School of Health: St. Mary's Hall
Parking Information
Parking for all university visitors is available in the Southwest Garage, accessible via Canal Road, NW. This garage is cash only. (Please note that the Medical Center campus is an approximate 20 minute walk from the garage.)
Visitors to the Medical Center are advised to use the Leavey Center Garage. To enter the Leavey Garage, parkers should access campus via Canal Road and enter the west side of the garage on the P3 Level from West Road (as seen on this map).
The public parking lot for MedStar Georgetown University Hospital is accessible via Entrance 2. Note: Due to ongoing construction at the hospital, parking access changes frequently. We recommend consulting the hospital website for current parking information and rates.
A limited number of metered parking spaces are located along Reservoir Road.
Public Transportation
You can reach Georgetown University Medical Center using several public transportation options.
Georgetown University Transportation Shuttle (GUTS)
The Georgetown University Transportation Shuttle (GUTS) is a free shuttle bus for faculty, staff, students and visitors to Georgetown University and Medstar Georgetown University Hospital. GUTS buses connect the Georgetown main campus with the Rosslyn and Dupont Circle Metro stations.
Rideshare and Taxi Information

Note: This information is subject to change due to ongoing construction at MedStar Georgetown University Hospital. Taxi and rideshare drivers should be instructed to drop off and pick up visitors using Georgetown University Medical Center Entrance 3, 4000 Reservoir Road, NW. There are currently no taxi stands near the Medical Center.