Georgetown School of Medicine Class of 2025 Most Diverse in School's History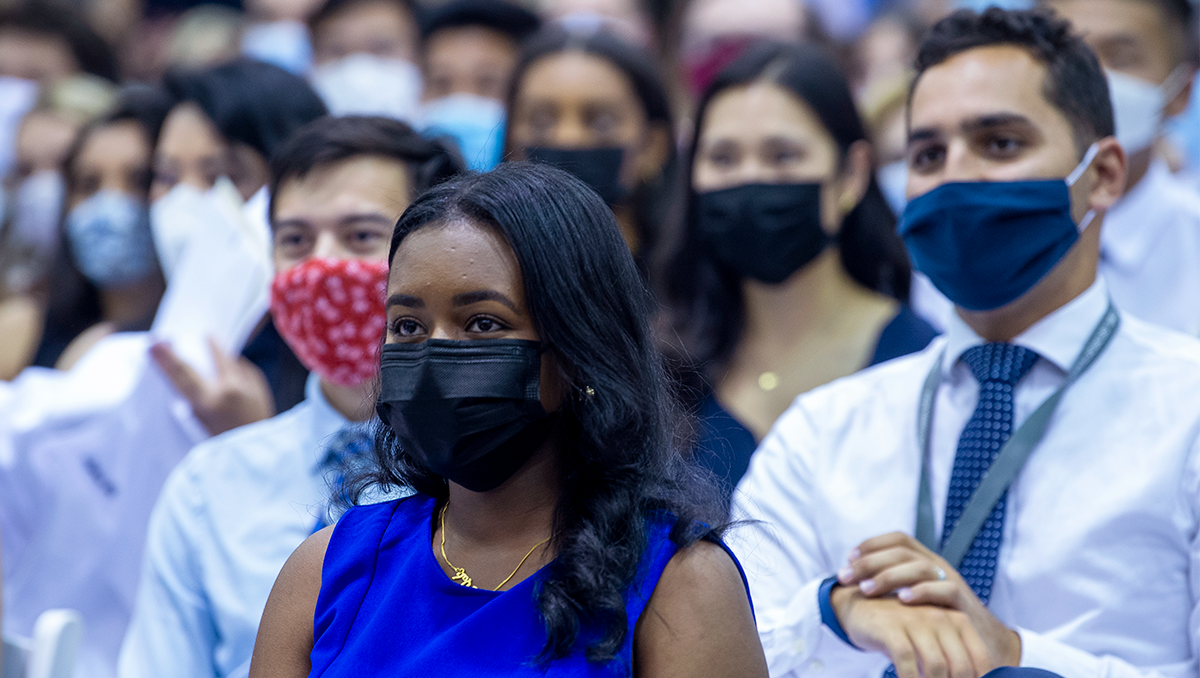 Posted in GUMC Stories | Tagged diversity, inclusion, medical education, racial equity, RJCC, School of Medicine
(August 7, 2021) — It happens every year — about 200 students take their first step in the arduous journey to becoming a physician and joining the revered health professions. But this year, the incoming class at Georgetown University School of Medicine looks a bit different.
As it enters the second year of an intense, collaborative, student-led effort to address diversity and inclusion on its campus, the School of Medicine announced it will host its most diverse class in history, with just over a third of the incoming Class of 2025 identified as underrepresented in medicine (URiM). In another milestone, medical education at Georgetown is being led by a person of color for the first time in its storied 170-year history: Leon "Lee" Jones, MD, began his term as dean for medical education on August 1.
Consequential Contributions
Of the 203 students who have committed to the fall entering class, 62 are URiM — nearly double the number welcomed to the hilltop a year ago. "We are tremendously grateful to the medical students for demonstrating incredible leadership and making consequential contributions to our school," says Edward B. Healton, MD, MPH, executive vice president for health sciences and executive dean of the School of Medicine.
Additionally, applications received by the school for the 2021-2022 academic year were up 24% from the previous year, with a total of 17,889 applications for a selectivity rate of 2.39%, marking the school's most selective year. There was a 40% increase in applications from URiM students.
"In alignment with the Georgetown mission, we intend to be the medical school of choice for underrepresented students seeking a holistic education with a focus on social justice," Healton says. "We have much more work to do, and I am committed to supporting sustainable changes that fulfill our goals of creating the most inclusive learning and work environment possible."
Dean Jones at the Helm
The historic diversity of the new class coincides with the start of the school's new dean. Jones took the helm of the medical school on August 1 as dean for medical education and professor of psychiatry. He previously served as associate dean for students and health sciences clinical professor of psychiatry at the University of California San Francisco School of Medicine.
"One of our top priorities will be to ensure our incoming students feel welcome and supported," says Jones. "To be more diverse, we must be inclusive in all aspects of student life."
A major focus for Jones will be the school's Racial Justice Committee for Change (RJCC). Last summer, following the murder of George Floyd, School of Medicine students penned an open letter to the administration with regard to policy and programmatic changes required for racial justice. The result was the establishment of the RJCC, which has made numerous recommendations that are being implemented, and more work is ahead.
RJCC faculty co-chair Michelle Roett, MD, notes that the school's progress should inspire continued effort. "Because of the tremendous work of the RJCC and the Committee on Admissions, we have the most diverse class in our history," says Roett, who is also professor and chair of the department of family medicine and director of the DC Area Health Education Centers (AHEC) program. "We all need to honor that commitment by doing the work to cultivate and maintain an inclusive learning environment."
"The work needed to achieve racial justice in all aspects of the medical school will carry on, and I look forward to leading and being a part of it," says Jones. "Achieving racial justice should not only be our shared goal as physicians, but as caring humans and citizens of this world."
---
Related Content