School of Medicine Class of 2025 Receives Warm Welcome at White Coat Ceremony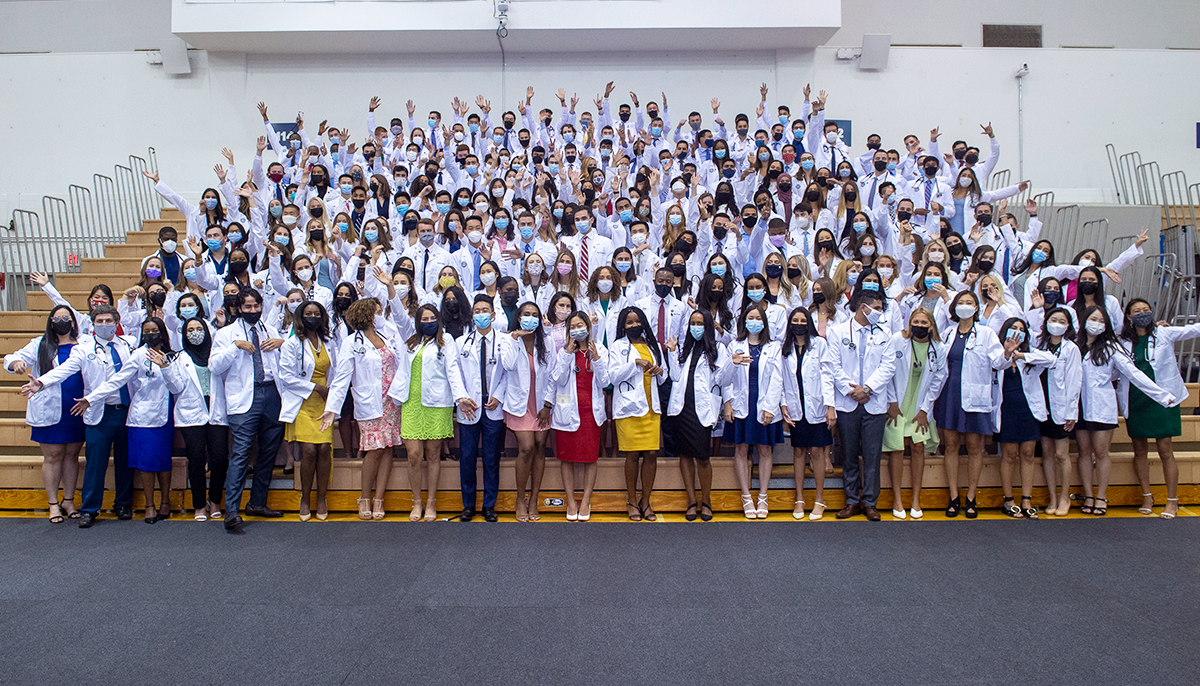 Posted in GUMC Stories | Tagged medical education, School of Medicine, White Coat Ceremony
(August 8, 2021) — When she received her white coat as a medical student at Georgetown 22 years ago, Michelle Roett, MD (M'03), MPH, professor and chair in the Department of Family Medicine and director of DC Area Health Education Center (AHEC), dreamed of serving patients in need.
"On that day, 22 years ago, I was praying that I would become a family physician, and I hoped all of my anxiety would fade," she said. "I dedicated my career to taking care of the most vulnerable underserved patients, from newborns to end of life care. Today, I am living my dream."
Roett joined the medical school's new Dean for Medical Education, Lee Jones, MD, in sharing inspiring stories with the 203 members of the Class of 2025 who gathered with friends and loved ones at Georgetown's McDonough Arena on August 6 for the time-honored White Coat Ceremony — their first step in the journey to becoming physicians.
"On behalf of the entire Georgetown community, and particularly the School of Medicine, welcome to your new school," said Jones, also a professor of psychiatry. "Welcome to your new family. Welcome to your calling and your passion."
"This is a momentous occasion," Jones added. "I want you all to take a deep breath and really bask in this. It's something that you will remember for the rest of your career as the beginning of the next step in your dreams."
'Here's a Secret…'
The Class of 2025 first met Jones two days earlier at the start of orientation. The students gathered virtually on August 4, then met in person on days two and three.
In his opening remarks, Jones shared advice drawn from his experiences in medical school and his professional life — reminding the students that everyone has limitations.
"You don't have to be everything for everyone," he said. "And here's another secret. You can't be everything for everyone. We are not limitless resources. We need sleep. We need rest. We need support. We need respite. We need time to build resilience."
Promoting an Inclusive Learning Environment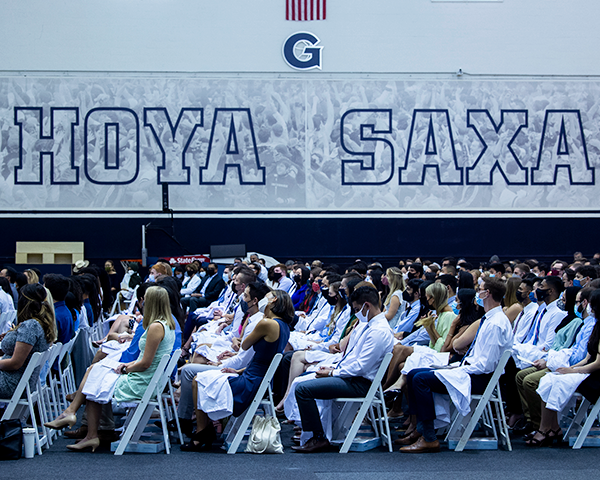 Three days later, the White Coat Ceremony officially commemorated the beginning of medical education for the 174th class of students at the School of Medicine, the most diverse in the school's history. Of the 203 students in the Class of 2025, 62 self-identified as underrepresented in medicine, about twice as many compared to the Class of 2024.
As faculty co-chair of the Racial Justice Committee for Change, Roett encouraged students to support efforts to promote and maintain an inclusive learning environment at the School of Medicine.
"I am so proud of the evolution of my school, and yet I know there is more work to be done to reach inclusive excellence," Roett said. "I am ready for this work and I dedicate myself to the school's continuous improvement just as I dedicated myself to this journey in medicine 22 years ago. I hope you do the same as you join our ranks as a student at Georgetown University School of Medicine."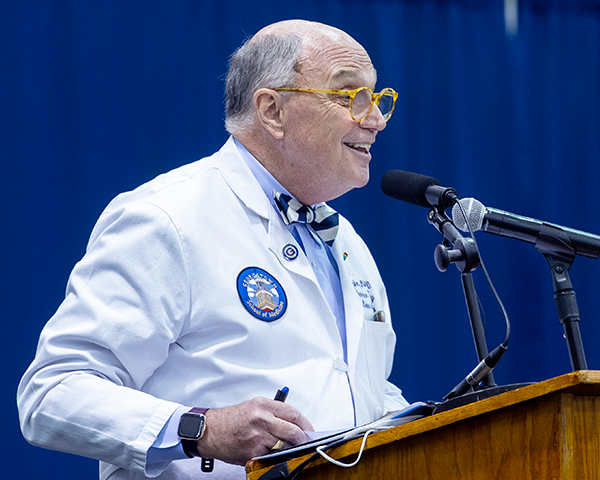 A Promise to the Patient
Giving the Edmund Pellegrino Professionalism Lecture, Stephen Ray Mitchell, MD, MBA, dean emeritus at the School of Medicine, drew on the words of Pellegrino and Donald Knowlan, MD, telling students to always keep their focus on the patient.
"They can never be a customer, a client, a member or a number," Mitchell said. "Medicine changes rapidly, usually for the better. But we must never forget, the oath you take today is a sacred promise to the patient, the patient, the patient."
"You are unique and join an incredible and honorable tradition of 173 classes who have or will graduate ahead of you," Mitchell added. "Class of 2025, wear your coat with pride, with health, with happiness and with the challenge to make this world better, fairer, fuller and more inclusive."
'What Sets You Apart'
In addition to being the most diverse class in School of Medicine history, the Class of 2025 was also the most selective. Applications increased 24% over the previous year, with nearly 18,000 applicants for a selectivity rate of 2.39%.
The people on the admissions committee saw something special about each of the students in the Class of 2025, Jones said. "Your task is to learn, to study, to do all of those things and to hold on to who you are, why we picked you.
"What sets you apart in our minds is that you are the people that we would want taking care of someone that we love," Jones said. "That's who you are. So don't lose that. If you feel like you're losing that or you're having questions, you know where to go. There are a lot of us that are here to help."
Kat Zambon
GUMC Communications

---
Related Content