Medical Center Deans Discuss Future of Health at GU Black Alumni Summit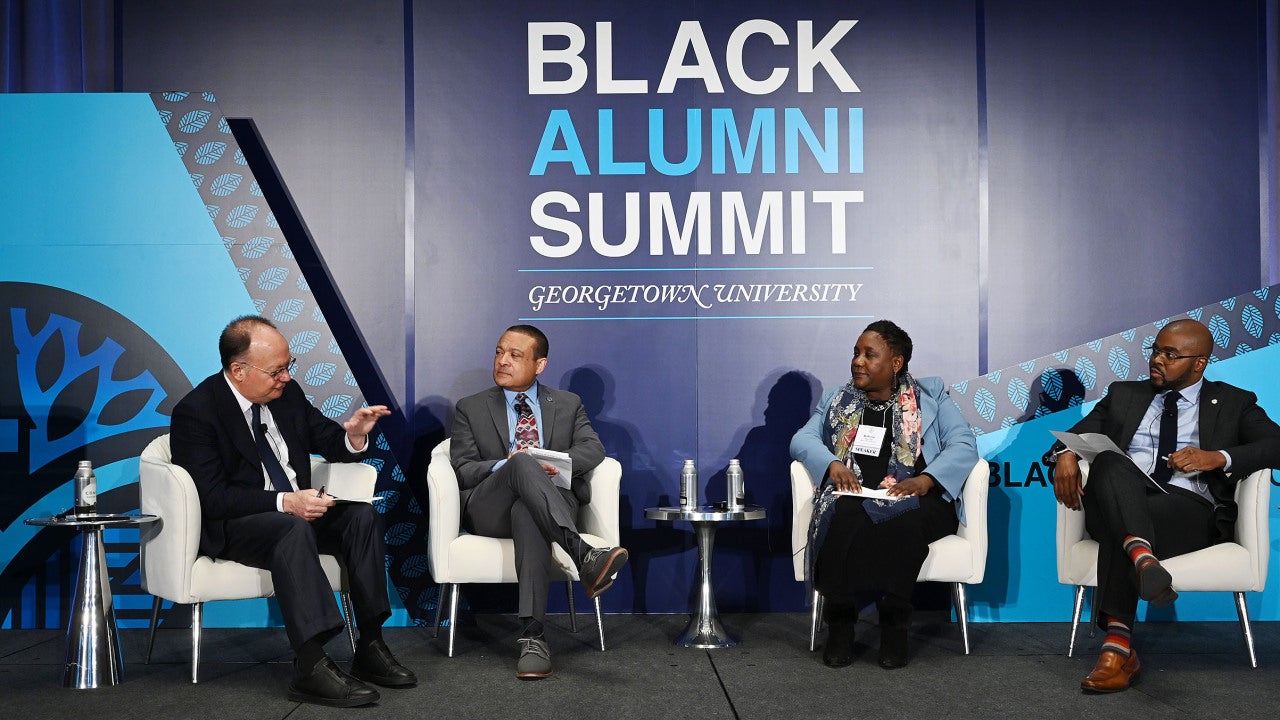 Posted in GUMC Stories | Tagged GU Black Alumni Summit, health disparities, health equity, medical education, nursing education, racial disparities, racial equity, racial justice
(October 23, 2022) — Closing the health-disparities gap in Black communities throughout the U.S. requires a commitment to providing an anti-racism curriculum that teaches health equity to future leaders and practitioners in health care, explained three Georgetown deans during the biennial Georgetown University Black Alumni Summit in Washington.
Since 2015, Georgetown University has hosted the summit to celebrate the professional and personal achievements of its diverse and accomplished Black alumni.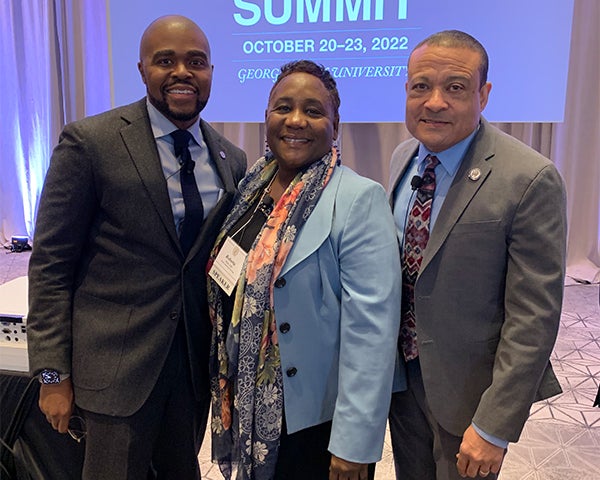 The deans lead the School of Nursing, School of Health and School of Medicine at Georgetown University Medical Center. During the Oct. 21 panel discussion at the summit, Georgetown President John J. DeGioia led a wide-ranging discussion that explored historical practices impacting medicine and health as well as and changes needed in modern medicine and education to correct for racism in medicine and health care.
"There's something special that all of you are helping us to build here at Georgetown," DeGioia said in opening the discussion. All three deans have committed to fostering a more diverse and inclusive environment while also exploring solutions for addressing pervasive health inequities.
The Past is Present
To bring the impact of those inequities into sharp focus, DeGioia read a passage from a recent article in The New York Times about a Type 2 diabetes study.
"'There is no device, no drug powerful enough to counter the effects of poverty, pollution, stress, a broken food system, cities that are hard to navigate on foot and inequitable access to health care, particularly in minority communities,'" he read.
"This is the reason we need a School of Health," responded Christopher J. King, PhD, MHSc, FACHE, dean of the new School of Health that launched in the summer. "Part of what we have to do on this journey is to recognize our history, and that's the work that we're doing. We know that policies and practices got us here, and policies and practices can get us out.
"Health is shaped by the conditions we live in," King added. "We've put too much emphasis on medical care or health care to solve these issues."
Race in Education
For King, Roberta Waite, EdD, PMHCNS, ANEF, FAAN, dean of the School of Nursing, and Lee Jones, MD, dean for medical education, leveraging every teachable moment is key.
"I think it's important to recognize that racism, and not race, is a vector for health disparities," said Waite. She explained the critical importance of presenting context in education and linking causes for disease types that might more often be found in people of color.
"We might have higher rates of hypertension, but when we're teaching our students without laying out the context of why that is, the students aren't making connections," Waite said.
Leaving out that context in an educational setting can contribute to stereotyping and racism in medicine and nursing. "Yes, there might be a higher predisposition for [hypertension] because of stress, because of the lack of resources, because of the food choices [and other structural impediments]," she added. "It's not just because individuals who are racialized as Black have high blood pressure."
Jones shared another approach to rooting out racism in education, which begins at the start of the journey for first-year medical students.
In 2020, the School of Medicine began requiring a summer reading exploring racism in medicine. During the first week of orientation, the students participate in facilitated small group discussions about the reading.
The School of Medicine has also worked to challenge racism in medicine by diversifying the pool of simulated patients and the case studies that prepare students for their clinical experiences, Jones said. Moreover, a new bias reporting system allows medical students to anonymously report concerning material they've uncovered in a textbook or course.
"We follow every single one of those [reports]," Jones said. "And what's fascinating… you look at the race and ethnicity of the people that are reporting, it's not all people of color."
Vision for the Future
In addition to his work as dean of the School of Health, King co-leads a task force to design the school's future expansion.
"What's going to distinguish this school is our commitment to health equity and anti-racism," he said. "This will be embedded in everything that we do, because this is key to eradicating health disparities and improving the health of the nation and improving the health of the globe.
"Our students have an appetite for this," King added. "And it's just not students of color."
Mannone Butler (B'94, L'99), a summit co-chair, said the health panel was a highlight of the two-day gathering.
"It was heartening to hear [the deans'] commitment to and collective vision for educating the next generation to be culturally competent doctors, nurses and health care policymakers," Butler said. "The importance of the expertise they bring at this critical moment and the diversity they represent cannot be understated and is a source of immense pride."