Back to School: Good Mental Health Homework
Posted in News Release | Tagged mental health, population health

MEDIA CONTACT
Karen Teber
km463@georgetown.edu
WASHINGTON (August 29, 2018) — Teens around the country are returning to school this month. For many, this is an exciting time, but for others, big transitions can bring big stress — sometimes connected to depression and anxiety.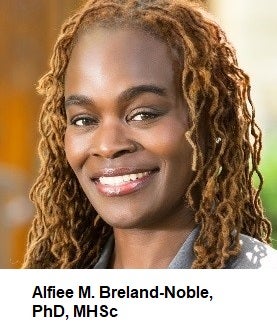 Adolescent and child psychologist Dr. Alfiee M. Breland-Noble, director of the AAKOMA Project and adjunct associate professor of psychiatry at Georgetown University Medical Center, says there are a few important steps parents and other loved ones can take to ensure that their teens are on the best path to good mental health.
"No one expect parents or grandparents to be mental health professionals, but it's important to remember that students' struggles with emotions can impact their academic progress and success," Breland-Noble says. She offers these tips:
Active listening
"Sometimes the best way to help our teens is to be an active listener. If you feel your teen needs help, start a conversation by just checking in with your teen, and listening without interruption."
Check in regularly
"Schedule some time to just let your teen talk with you. Tell them that you just want to have some time to hear about their lives."
Model self-care
"I always tell parents and loved ones to avoid saying you are 'too blessed to be stressed' and things like this. It can be confusing for teens. Instead, practice taking care of yourself and allow your teen to see you doing things that make you feel better, like exercising, cooking, meditating, etc. The added bonus for parents is that we parent better when we feel better."
Brainstorm an action plan together
"Sometimes we think teens just don't want to be bothered with us adults, and that is not always true. Instead, try to build up to a conversation that allows your teen to tell you what they need to feel their best emotionally. It make take time to get to a concrete answer, but it is time well spent. Hang in there with your teens and they will thank you."
Finally, Breland-Noble, who speaks regularly on the topics of mental health disparities and diversity to schools, colleges and universities points out that diverse students have diverse mental health needs.
"Many teens think all therapy is the same. We learned this from our research with teens on help-seeking for depression and other mental illnesses. One really important mission of the AAKOMA Project is to help diverse teens understand that there are many paths to feeling better emotionally, and to managing mental illness."
Reporters interested in talking to Dr. Breland-Noble should contact Karen Teber at km463@georgetown.edu.
About Georgetown University Medical Center (new window)
Georgetown University Medical Center (GUMC) is an internationally recognized academic medical center with a three-part mission of research, teaching and patient care (through MedStar Health). GUMC's mission is carried out with a strong emphasis on public service and a dedication to the Catholic, Jesuit principle of cura personalis — or "care of the whole person." The Medical Center includes the School of Medicine and the School of Nursing & Health Studies, both nationally ranked; Georgetown Lombardi Comprehensive Cancer Center, designated as a comprehensive cancer center by the National Cancer Institute; and the Biomedical Graduate Research Organization, which accounts for the majority of externally funded research at GUMC including a Clinical and Translational Science Award from the National Institutes of Health. Connect with GUMC on Facebook (Facebook.com/GUMCUpdate (new window)) and Twitter (@gumedcenter (new window)). Connect with Georgetown University School of Medicine on Facebook (facebook.com/somgeorgetown (new window)), Twitter (@gumedicine (new window)) and Instagram (@georgetownmedicine (new window)).