You Are What You Eat: Students Drive New Elective in Culinary Medicine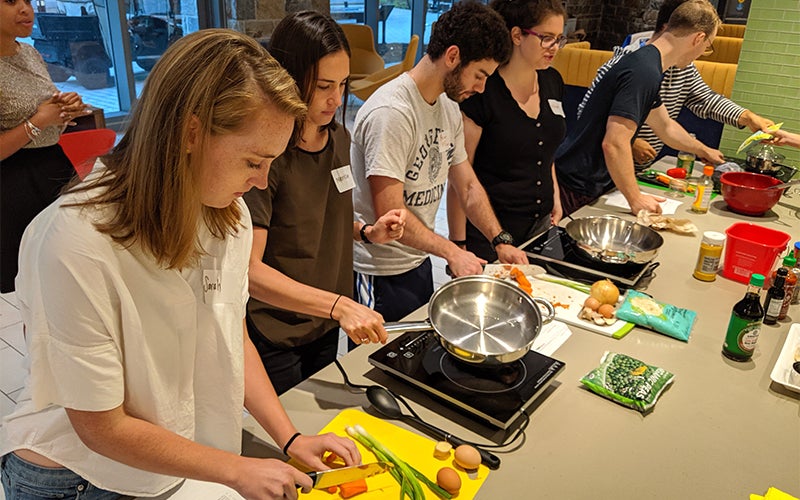 Posted in GUMC Stories | Tagged culinary medicine, medical education, nutrition and health, nutrition education, preventive medicine, School of Medicine
(October 14, 2019) — A recent survey of 24 studies around the world found that nutrition is not well incorporated into the medical school curriculum. According to researchers, "Despite the centrality of nutrition to healthy lifestyle, medical students are not supported to provide high-quality, effective nutrition care."
However, some medical schools are determined to change that.
This fall, Georgetown University School of Medicine offered a student-led elective titled "Introduction to Culinary Medicine" as a way to both help students take care of themselves and learn how to motivate future patients to adopt healthier lifestyles.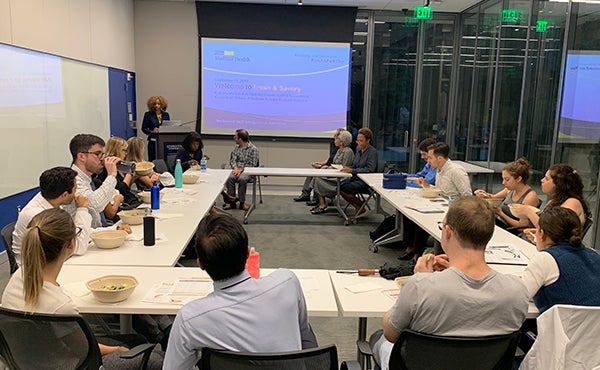 Lindsay Thimmig (M'20), one of the course facilitators, was inspired to create this course after observing a gap in nutrition education during her preclinical years.
"I felt like every course started with a slide that said: 'The first line of treatment for all of these diseases is therapeutic lifestyle intervention,'" she recalled. "But then we didn't learn about what that really meant or how you can be effective in motivating behavior change with patients."
Thimmig began to research nutrition in medical schools and discovered the emerging field of "culinary medicine," defined by the American College of Preventive Medicine as "the practice of helping patients use nutrition and good cooking habits to restore and maintain health."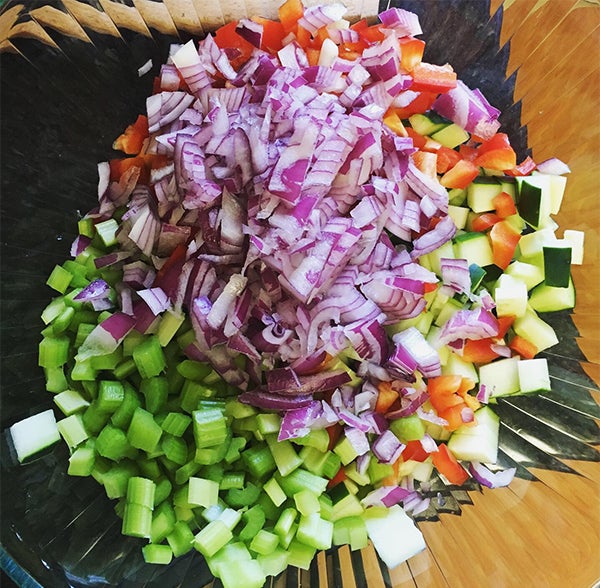 Based on her research, Thimmig and her co-facilitators, Mario Giovacchini (M'20) and Marilyn McGowan (M'20), developed a proposal and curriculum for a culinary medicine course at Georgetown.
"Prevention is one of the best gifts you can give to a patient," said Thimmig. "You can prescribe medicines all day long. It's easy to do that. But if you can help someone change their diet and ultimately get them off medications, that sounds 10 times more rewarding to me."
With Thomas Sherman, MD, professor of pharmacology and physiology, and Yumi Jarris, MD, professor of family medicine, as faculty advisors, the students presented their proposal to Stephen Ray Mitchell, MD, MBA, dean for medical education, who approved the plan.
"The students did all the talking. They had the plan, the curriculum, the research," said Sherman. "It was incredible and very, very impressive."
A Focus on Lifestyle Changes
The course consisted of 12 students on a first-come, first-served basis, and took place in the open kitchen of one of the undergraduate dorms, Arrupe Hall.
The students were broken up into pairs, with each pair receiving an electric burner on which to cook meals during class. The two-hour course consisted of an opening lecture, cooking time and discussion. The lectures, recipes and speakers were all chosen by the fourth-year student organizers.
The result was a change in perspective and a deeper appreciation for the power of food and preventive care in medicine.
"In terms of thinking about the future and what type of physician I want to be, there is a way stronger pull toward being able to work closely with patients longitudinally, so that I'm able to see the impact long-term," said Alejandro Almario (M'22), a student in the course.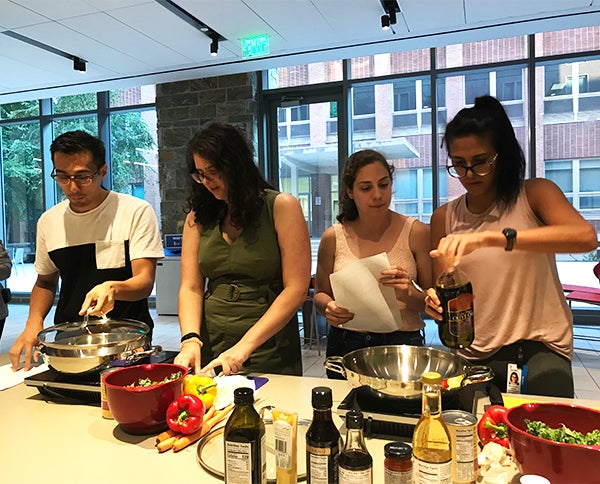 Eleanor Belilos (M'22), another second-year student in the course, emphasized her appreciation for the patient-centered approach of the curriculum.
"We discussed how to motivate your patients to change their diet and make a lasting change in behavior, which was really helpful. We don't talk about prevention as much as we should, and making these changes can definitely have more lasting effects," she said.
For Sherman, these insights are exactly what he'd hoped students would take away from the course, and he would ultimately like to scale it to reach more students in the future.
"You want students to think of nutrition as a real treatment option instead of immediately reaching for the prescription pad. This course was a tremendous first step, and the students have been very receptive," he said.
Creating 'Agents of Change' in Health Care
While the course was twofold in teaching students how to better care for themselves and their future patients, it also addressed issues such as food insecurity and the social determinants that affect a person's health.
"For many of our patients we can say, 'eat fresh fruits and vegetables' or 'avoid fast foods,' for example. But if they can't afford to buy fresh produce or they have to take two buses to get to a grocery store, that's not going to work. We have to keep these barriers in mind," said Jarris.
In order to expose students to these issues and potential solutions, Jarris brought in Jillian Griffith, RDN, a registered dietitian who works in Giant Food, the only grocery store in DC's Ward 8.
Griffith assists clients in choosing the right foods for less, how to use SNAP benefits, or food stamps, more effectively, meal planning, and other practical advice for low-income individuals and families.
"There are several programs in DC that we want to make students aware of, such as produce prescription vouchers and farmer's market vouchers, so that they can serve their patients regardless of their situation," said Jarris.
Sherman's goal is similar: to better educate future physicians in nutrition and to create "agents of change" that can affect our larger society.
He believes that future physicians can use the "power of their degree" to influence health care policy and move nutrition to the forefront of medicine.
"I would like to create a generation of physicians who can serve as role models for their patients in terms of cooking, eating well, exercising, getting enough sleep and other lifestyle behaviors," Sherman said. "If they believe that nutrition is important in their own lives, I think they'll be much more likely to communicate that to their patients."
Giuliana Cortese
GUMC Communications