Virtual Commencement Ceremony Honors School of Medicine Class of 2021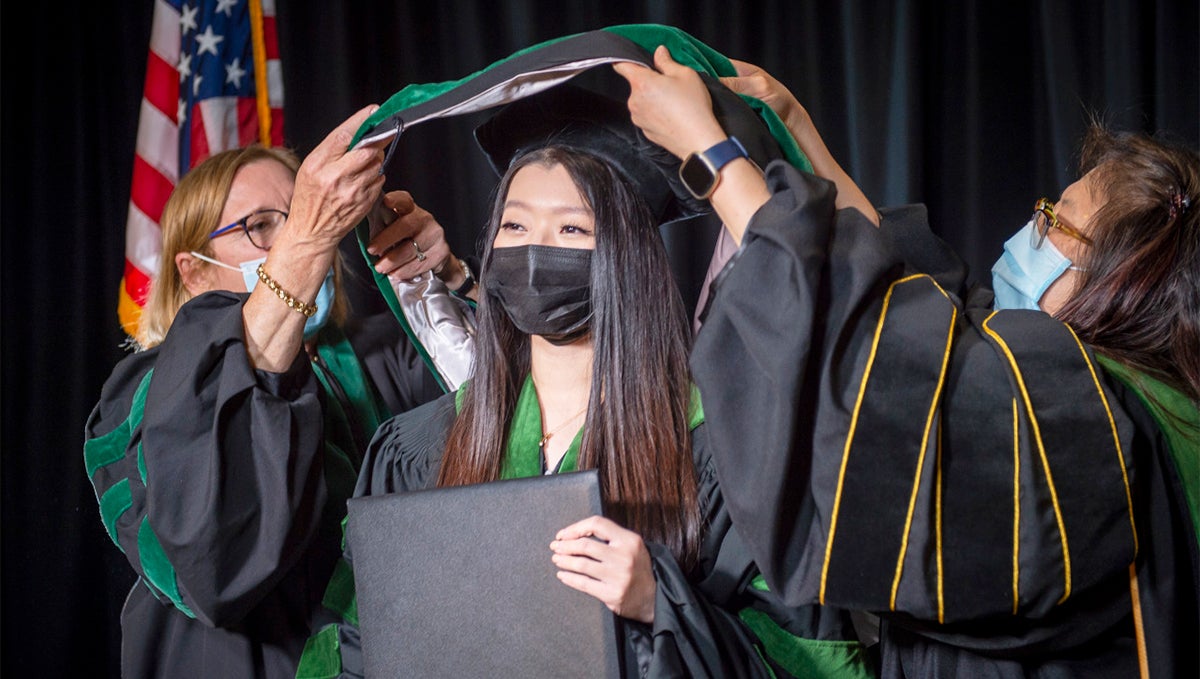 Posted in GUMC Stories | Tagged School of Medicine, SOM Commencement 2021
(May 25, 2021) — After taking part in an on-campus hooding event weeks earlier and before their degrees were conferred in a celebration at Nationals Park, the School of Medicine Class of 2021 was honored in a virtual commencement ceremony that premiered on Facebook on May 23.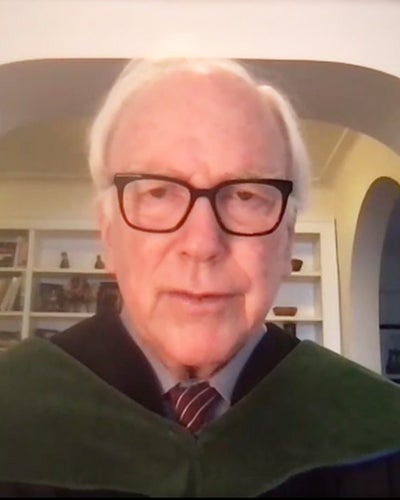 "The impact of this special class extends well beyond our campus," said Edward B. Healton, MD, MPH, executive vice president for health sciences and executive dean of the School of Medicine. "It is in the spirit of cura personalis and cura communitas that you have committed to the care of others and the health needs of our society, especially the vulnerable and disenfranchised among us. Your work will help shape the lives of your patients and communities."
"While I'm disappointed that we could not be together, our virtual graduation and celebration at Nationals Park are the perfect representation of our ability to take the hand we've been dealt and somehow manage to come out on top," said Lauren Tamara Wilson (M'21), MD, chosen by her classmates to give the student address.
Overcoming Obstacles
Stephen Ray Mitchell, MD, MBA (W'86, MBA'13), dean emeritus of the School of Medicine, recognized the 182 graduates (including dual degrees with two MD-PhDs and two MD-MBAs) for being the first to earn their degrees under a new curriculum. "It was you in Med 2021 who helped us implement the innovative Journeys curriculum," he said. "You're better for it, and so will be the classes behind you."
In response to the COVID-19 pandemic, the Class of 2021 quickly transitioned to using Zoom for classes and residency interviews, Wilson said. Graduates also used telehealth to help patients navigate COVID testing and volunteered at vaccine clinics in Washington, D.C.
"The pandemic pushed us to our boundaries and, dare I say, we're better for it… for what we gained," Wilson said. "I remember being both terrified of the unknown and scared for my own safety, yet invigorated to be a part of this noble profession and to join others on the front line."
Racial Justice Advocates
Additionally, the Class of 2021 will be remembered for calling on the School of Medicine to take an active role in pursuing racial equity in an open letter written by 27 medical students, including several members of the graduating class, after the murder of George Floyd.
"When over 500 Georgetown students and community members signed on in support, our administration did not just respond by creating yet another committee, but responded with the Racial Justice Committee for Change to recognize the areas in which inequalities exist and to create change that has never before been seen at Georgetown," said Wilson, who served on the RJCC's steering committee.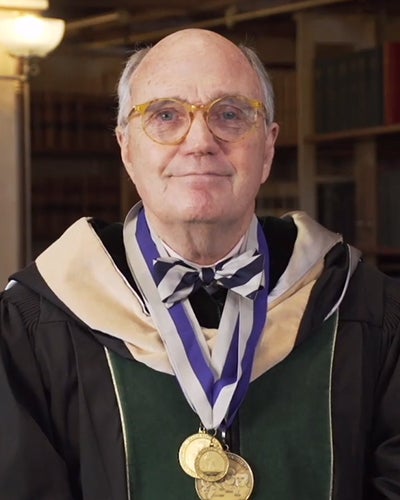 "It has been a wonderful experience and a special privilege to work with many in this class," Healton said. "Over these last 15 months of unanticipated challenges, they have engaged in such thoughtful, committed, and caring ways. This was especially on display through their inspiring work on racial justice."
"I have great admiration for the consequential work that so many of them in this class have led," he added. "Their legacy will be realized as substantial change on our campus and I'm committed to achieve that goal."
Physicians Made by Georgetown
Over the last four years, the Class of 2021 has repeatedly demonstrated their ability to persevere when facing adversity, and Mitchell challenged graduates to continue to advocate for their patients.
"Now more than ever, you must not only become the skilled and kind clinician, but in this period we're in, you must also become an active ally and advocate for racial justice for your patients, for your colleagues and for the world around us," Mitchell said. "As a physician made by Georgetown, you have an obligation to make your patient and this world better."
"I'm proud to have trained with such a passionate, thoughtful and caring class," Wilson said. "We've overcome insurmountable changes. There's no telling how far we will go."
Kat Zambon
GUMC Communications
Related Content