University Begins Series on Condition of African American D.C. Residents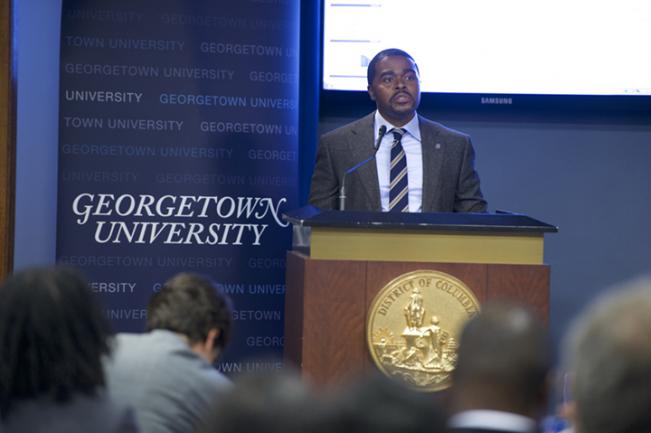 Posted in GUMC Stories | Tagged health disparities, population health, School of Nursing & Health Studies
Sept. 16, 2016 – The report carried out by the School of Nursing & Health Studies (NHS) that showed stark differences in the health of African American residents of Washington, D.C., versus their white counterparts was the subject of a policy briefing and luncheon Thursday.
The event, which brought together key stakeholders from District health agencies, the District of Columbia City Council, community health providers and health care professionals, is the first in a Georgetown series called The State of African Americans in DC.
The series examines reports commissioned by the District of Columbia Commission on African American Affairs that are designed to focus attention on the condition of African Americans living in the District.
"The university was honored to be asked to undertake this important project," says Chris Murphy, Georgetown's vice president for government relations and community engagement. "For more than two centuries, Georgetown has been proud to call the District of Columbia home and we are committed to contributing to the civic conversation of our city."
Troubling Findings
The first event focused on the health disparities report, released this past June, requested by Georgetown history professor Maurice Jackson, chair of the District of Columbia Commission on African American Affairs, and carried out by Christopher King, an assistant professor at NHS. King is pictured at right with two student report contributors, Stefanie Kurgatt (NHS'17) and Taylor Brown (NHS'17).
Yesterday the health disparities report was formally transmitted to D.C. Mayor Muriel Bowser, the District of Columbia Council and the District of Columbia Commission on African American Affairs.
Georgetown's DC Public Policy Initiative and the university's School of Nursing & Health Studies sponsored the Sept. 15 briefing, which took place at the Wilson Building.
The event included introductions by Jackson and NHS Dean Patricia Cloonan and opening remarks from Phil Mendelson, District council chair, council members Anita Bonds and Yvette Alexander, and Brenda Donald, deputy mayor for health and human services.
A panel discussion also took place at the event, with King and Dr. C. Anneta Arno, director of the Office of Health Equity at the District's Department of Health; Jacqueline Bowens, CEO, DC Primary Care Association; and Angelica Journagin, chair of the DC Healthy Communities Collaborative.
"By convening our city's leaders and other important policymakers today to discuss the report's troubling findings," Murphy says, "we are confident the District will make progress on closing the unacceptable health disparities experienced by far too many African Americans who live in the District."
The next event in the series will be based on two reports – one on racial disparities in housing and the other on economic development – that were developed by graduate students at Georgetown's McCourt School of Public Policy under the direction of the school's Micah Jensen and Jackson.