Training Future Doctors to Assess Oral Health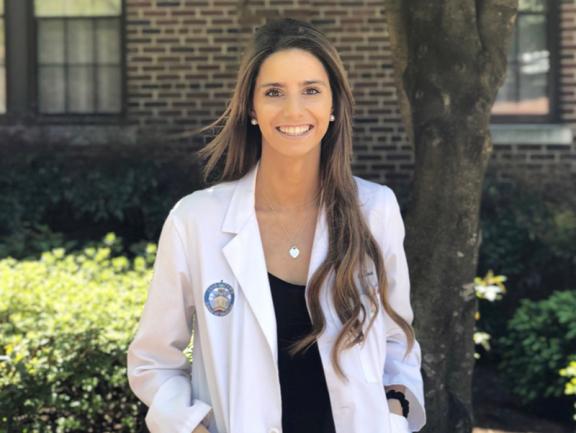 Posted in GUMC Stories | Tagged advocacy, HOYA Clinic, medical-legal partnership, oral health, population health, School of Medicine
(May 1, 2018) — Nearly a year ago when Amanda Corwin (M'20), an aspiring pediatric physician, was asked to lead an oral health disparities research project, she was a bit hesitant. "I'm in medical school, not dental school," she thought. Today, not only has she taken on the role, but her findings were on display at the MedStar Health Research Symposium on April 30.
As a health justice scholar at the School of Medicine and the daughter of two lawyers, Corwin is also part of Georgetown's Health Justice Alliance (HJA), a medical-legal partnership that trains future generations of lawyers and medical professionals to work together to improve the health and well-being of children and families. The research, which she did in conjunction with Maya Sandalow, a project researcher who works with the Georgetown Center for Child and Human Development, looked at the effectiveness of an oral health training program for first-year medical students interested in volunteering at HOYA Clinic.
What Sparked Her Involvement
The George E. Richmond Foundation, which had just awarded an oral health disparities grant to Georgetown's Office of Minority Health & Health Disparities, included funding to support Health Justice Alliance policy and advocacy efforts to improve access to oral health care in Washington, D.C. Eileen Moore, MD, associate dean for community education and advocacy at the School of Medicine, and medical director of both HJA and the HOYA Clinic, encouraged Corwin to take on a research project looking into oral health disparities.
Inspired by her passion for patient advocacy and helping underserved communities, Corwin started doing some initial research and learned that kids are often the ones hurt most by oral health disparities. For example, in 2007, a local 12-year-old boy died of an untreated tooth infection after lethal bacteria spread to his brain. Poor dental health can also lead to low self-esteem when children don't want to speak in class or socialize with their peers because of their teeth.
The impacts of poor oral health don't end in childhood. For all ages, it is associated with increased risks of cardiovascular disease, stroke, chronic obstructive pulmonary disease, bacterial pneumonia and adverse pregnancy outcomes. It also affects intimacy, nutrition and sleep. Given this, it was striking to Corwin how little basic oral health information is integrated into medical student training. "While HOYA Clinic has done a great job of addressing the health of underserved populations in D.C., there is an entirely other aspect of health that we weren't addressing."
How The Study Was Conducted
Last summer, Corwin contacted pediatricians and dentists while doing hours of research on oral health screenings in community care settings. She was determined to make the screenings as simple and quick as possible so that medical students could perform them with patients at HOYA Clinic.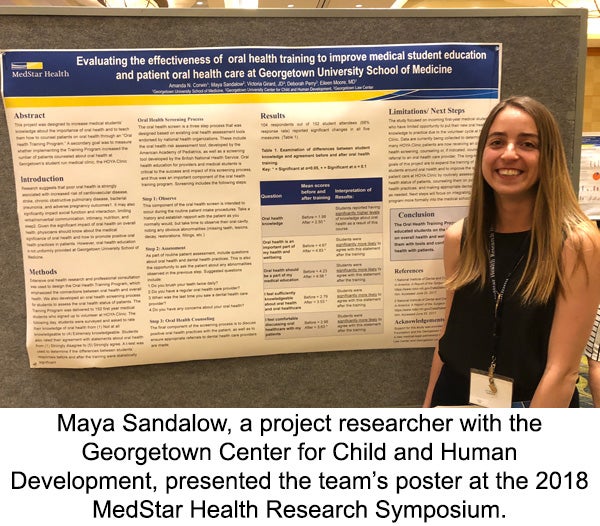 The result was a brief, three-step oral health assessment. First, during patients' intake process, medical students would observe any cavities or obvious abnormalities such as missing teeth, lesions, decay, restorations or fillings. After establishing rapport with the patient, they would ask the patient questions including whether they brush their teeth twice daily and when was the last time they saw a dental health care provider. Finally, medical students would discuss positive oral health practices with the patient and make referrals to dental health care providers as needed, but only after verifying that providers accepted both uninsured patients and those on Medicaid.
Corwin trained 152 first-year medical students on the three-step process and educated them on the connection between oral health and overall health during their orientation for HOYA Clinic. In a survey Corwin and Sandalow conducted following the training, students reported having significantly higher levels of knowledge about oral health and were significantly more likely to agree that oral health is an important part of their health and well-being and should be part of their medical education. Students were also significantly more comfortable discussing oral health care with their patients.
While developing the oral health training and assessment was challenging, Corwin explained that getting rid of the stigma that oral health is secondary to the rest of the body was in fact the hardest part. Students asked why they should care about dental health when there are so many other health disparities to tackle and how learning about oral health would advance their medical education. "I've definitely adopted strategies of persuasion for different audiences," she said.
The Symposium and Beyond
Now that Sandalow presented the team's poster at the 2018 MedStar Health Research Symposium, they would like to work toward making oral health a permanent priority at HOYA Clinic and adding oral health to the curriculum at the School of Medicine. "There was so much enthusiasm for this project at the symposium, as well as several people who were surprised to see an oral health training for medical students and a lawyer involved in the project. I think this is such an exciting way to collaborate across disciplines while addressing an important topic," Sandalow said.
Ultimately, raising awareness of issues related to oral health disparities has been the most important part of her work, Corwin said. "That's really why I'm doing this, and why everyone on my team is doing this, because they really care about this issue and want to make a difference," she said. "Cura personalis is not just a mission statement, but it's something we put into action every day, including in this research." According to Vicki W. Girard, co-director of the HJA, "The opportunity to teach medical students how to conduct an oral health assessment in a primary care setting serving high-risk children and families is a great example of how the HJA is working to make sure that our policy efforts have real-world impact."
Seren Snow
GUMC Communications