School of Medicine Class of 2021 Comes Together for Virtual Match Day Celebration
Posted in GUMC Stories | Tagged Match Day, medical education, School of Medicine
(March 20, 2021) — Before opening their electronic envelopes to learn where they will continue their medical education as residents, the School of Medicine Class of 2021 gathered for a virtual Match Day celebration on Facebook in recognition of their achievements to date and anticipation of what comes next.
"Regardless of where you go, you go as a Hoya, as one that patients will recognize, celebrate and gravitate toward," said Stephen Ray Mitchell, MD, MBA (W'86, MBA'13), dean emeritus at the School of Medicine, during the March 19 event. "You have a tradition to uphold. We're counting on you to be a leader."
The coronavirus pandemic kept students apart physically on Match Day 2021, making it more bittersweet than usual.
"Though you will always be a Hoya, your time at Georgetown as a student will end soon," said Edward B. Healton, MD, MPH, executive vice president for health sciences and executive dean of the School of Medicine. "Please know that we are grateful for all the ways you have animated the Georgetown values that we embrace, especially during this unusual and challenging time."
Mitchell praised the Class of 2021, the 20th class to graduate since he started as dean of medical education at Georgetown and the first class to study the Journeys curriculum. "I'm so honored that you allowed me to greet you as you match," he said. "Your mentors, your advisors, your roommates and your favorite Starbucks baristas are so proud of you. You're a remarkable class."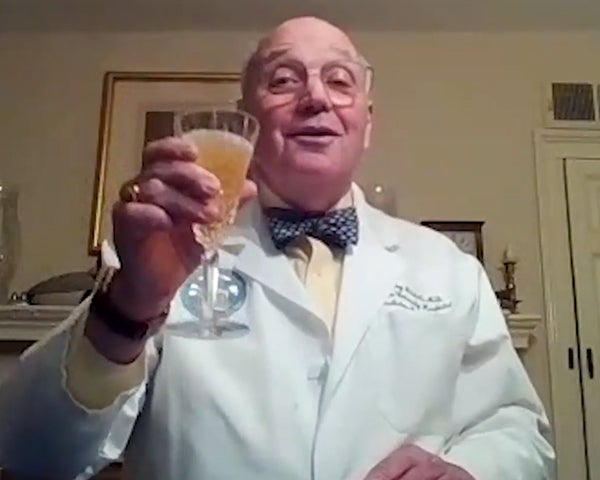 Nationally, 38,601 positions were offered in the 2021 Main Residency Match, making it the largest match in the history of the National Residency Matching Program (NRMP) according to a press release. A record-high 48,700 applicants registered for the match, an 8.3% increase since 2020, the largest single-year increase in the NRMP's history.
Thirty-two Georgetown students matched with residencies in internal medicine, followed by 19 students in anesthesiology, 13 students each in general surgery and orthopedic surgery, and 11 students each in emergency medicine and family medicine. Thirty-three students will stay in Washington, D.C., for residencies while 27 students will go to residencies in New York, 25 students will go to California, 23 students to Pennsylvania and 13 students to Maryland. Thirty-five Georgetown graduates will continue training at a MedStar Health hospital.
"Thank you for your dedication, thank you for your support of each other, and thank you for your service to the common good," Healton said. "We need you as Georgetown doctors."
With Gratitude…
The Class of 2021 is the first to graduate under the Journeys Curriculum. I'd like to thank all who had a role in guiding this class, especially the exceptional work of the pre-clinical faculty. Thank you.
—Edward B. Healton, Executive Dean, School of Medicine
Match Day By the Numbers
Surgery – 37 (13 orthopedic, 13 general, 6 plastic, 4 neurological, 1 thoracic)
Medicine – 32
Anesthesia – 19
General surgery – 13 (tie)
Orthopedic surgery – 13 (tie)
Radiology – 14 (9 diagnostic, 2 radiation oncology, 3 interventional)
Emergency medicine – 11 (tie)
Family medicine – 11 (tie)
Pediatrics – 10
Diagnostic radiology – 9
Obstetrics-gynecology – 7
Ophthalmology – 6
Dermatology – 6
Plastic surgery – 6
Washington, D.C. – 33
New York – 27
California – 25
Pennsylvania – 23
Maryland – 13
Illinois – 12
Massachusetts – 8