School of Medicine Class of 2020 Carries on Storied Traditions Through Virtual Commencement Ceremony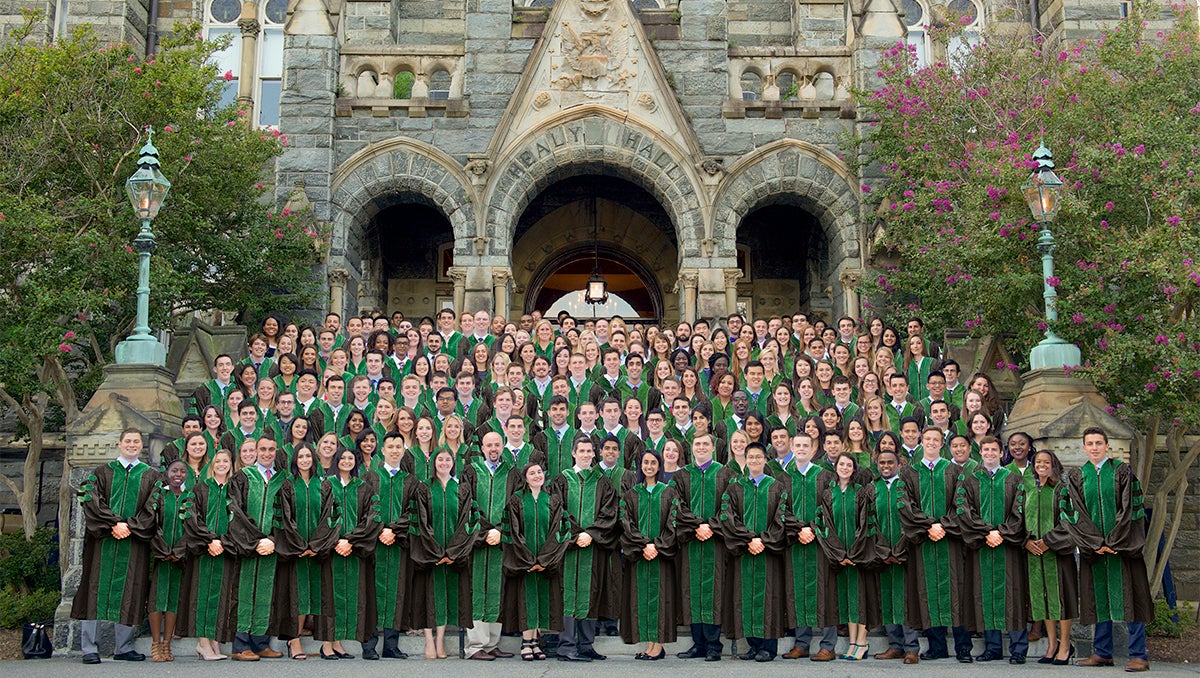 Posted in GUMC Stories | Tagged School of Medicine, SOM Commencement 2020
(May 17, 2020) — It may not have been the graduation day they had envisioned, but it was one to remember.
Social distancing requirements did not keep the Georgetown University School of Medicine Class of 2020 from carrying on time-honored graduation traditions. The students gathered virtually along with university leadership to celebrate the School of Medicine's 168th commencement on May 17 through a video ceremony.
Rather than walking across the stage to accept their diplomas, students followed along at home as their names were read aloud by Stephen Ray Mitchell, MD, MBA, dean for medical education at the School of Medicine, and their degrees conferred by Georgetown University President John J. DeGioia.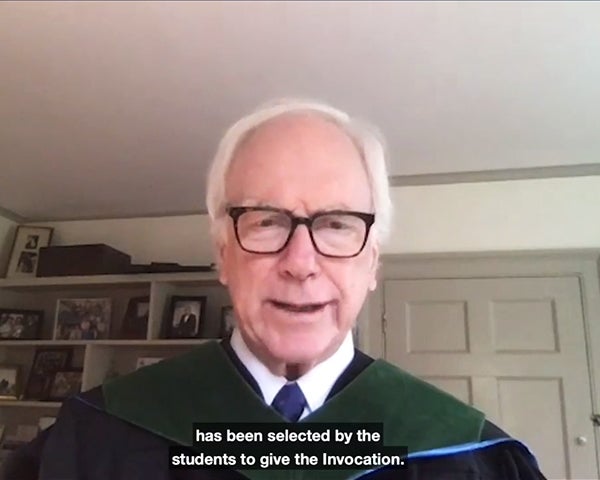 Edward B. Healton, MD, MPH, executive vice president for health sciences at Georgetown University Medical Center and executive dean of the School of Medicine, was master of ceremonies.
Representing a cross-section of the country, this year's class of 187 graduates consisted of 81 men and 106 women hailing from 38 states. Forty-five members of the class have a graduate degree. This year, one student graduated with a joint MD/PhD, and two students graduated with a joint MD/MS.
Donald Knowlan, MD, professor emeritus of medicine and a member of the faculty for nearly 50 years, administered the Hippocratic Oath. Knowlan has long been an integral part of the School of Medicine's annual traditions, perhaps most notably the White Coat Ceremony that welcomes every crop of first-year medical students to the medical profession. The White Coat Ceremony is the very first official experience of incoming students, so Knowlan's presence at their very last official medical school experience was noteworthy.
Developing 'Empathy Muscles'
Mitchell, whose two-decade term as dean for medical education comes to a close in a few weeks, delivered the commencement address. He dedicated his remarks to "colleagues who cannot be with us, even virtually, as they stand at the front lines of this war on our patients and on our health system."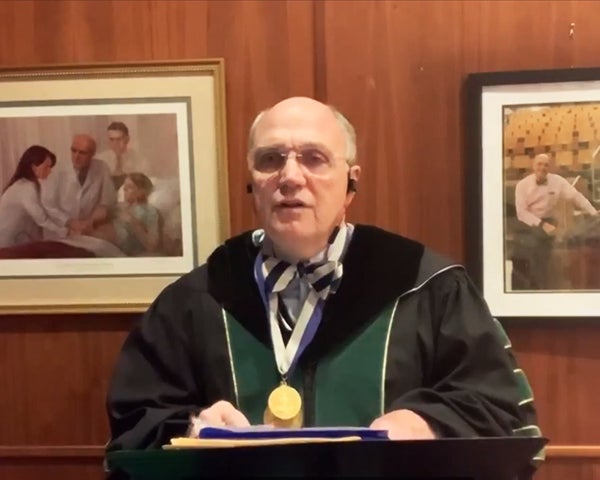 Reflecting on examples from his own career that taught him the importance of empathy in the medical profession, Mitchell reminded graduates that the human connection between patient and physician is paramount.
"Empathy is critical for health care, and many schools, like our own, strive to develop behaviors that lead to the development of empathy muscles," he said.
'Bend the Arc of History'
"You are very good and very strong, and you will have an incredible impact. Do not lose hope, do not settle for less than the remarkable, do not settle for the mediocrity of almost. This world needs you to work on bending the arc of history," Mitchell said.
Mitchell also lauded the class of graduates for having stepped up as "leaders and innovators at every level across all four years." He noted that the same class that rebuilt and created a new HOYA Clinic in Southeast DC for homeless families when the DC General Shelter closed matched in some of the country's top residency programs. Twenty percent of the class will stay within the MedStar Health system or within the DC region.
Mitchell asked parents, family or friends who were watching along with the graduates to conduct the "hooding" at home. Typically, this commencement tradition entails graduates donning their academic regalia "hood" with the help of either a faculty member or a family member who is a physician.
'Called on to Serve'
In his student address, Jack Pollack (M'20), urged his classmates to remain hopeful as they launch their medical careers against the backdrop of COVID-19.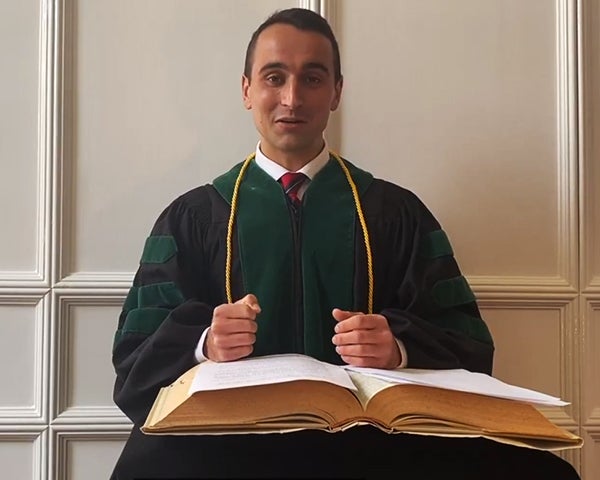 "The first of the monumental challenges of our careers is upon us; we are entering our residencies in the midst of a global pandemic. We must learn the skills of our specialty, all while caring empathetically for patients in overwhelmed hospitals and taking care of not just them but ourselves and our loved ones as well," Pollack said.
"When we don our long white coats for the very first time, we'll be facing a virus we don't yet understand, and for which we won't have a cure."
He reminded his peers that the social and economic aspects of health — so starkly revealed in the wake of the pandemic — are an integral part of the health of patients and communities.
"As physicians, we are called on to serve above all and wherever it might lead, the patient, the patient, the patient. These problems demand our attention."
Pollack said he draws hope from considering what prior generations, including Knowlan and his classmates, must have felt when they faced previous epidemics that, like COVID-19, were baffling at the time.
"I can't predict exactly how we're going to solve these problems, but I am comforted knowing that we are not the first Georgetown doctors to graduate and face the unknown. I'm confident that we too will rise to the calling of our time."
Before concluding, Pollack thanked Mitchell for his advice to the class to "'Listen to every heart that comes close, and then listen to their heart with your stethoscope.'"
"We learned the science of medicine, how to bring abstract concepts to the bedside and the care of patients. And above all, we learned what it meant to place the patient at the center of all that we do in this profession," he said.
'You Have Chosen Your Way to Serve'
Acknowledging the rarity of a virtual commencement amid a global pandemic, DeGioia thanked the students for stepping up in their own unique ways in recent weeks.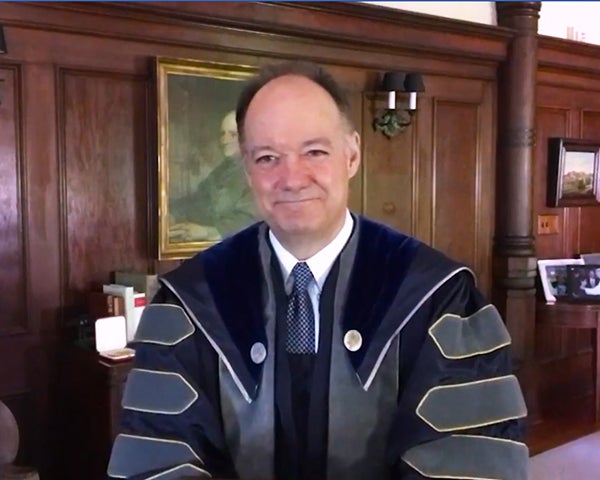 "These past few weeks have been among the most challenging that many of us have collectively experienced. We face more challenges ahead. We are grateful to each of you for the ways in which you responded to our heartbreaking disruption in mid-March, for the ways that you have embraced the urgency of protecting one another, and caring for one another," DeGioia said.
He expressed his admiration that the students are entering medicine "at a time when we understand and appreciate the obligations that come with your vocation more deeply than ever."
DeGioia concluded, "We are all called to serve our world, to fully realize our responsibility to the common good, the good that we can achieve together that we can never possibly achieve alone. You have chosen your way, your way to serve, and you have prepared and you are ready."
Lauren Wolkoff (G'13)
GUMC Communications
---
Related Stories