Reflections of BGE First-Gens
Posted in GUMC Stories | Tagged BGE Commencement 2020, biomedical education, Biomedical Graduate Education, student achievement
During this time of celebration for the many accomplishments of our students, Carla Ochoa, project manager in the Biomedical Graduate Education's Office of Career Strategy & Professional Development, offers this reflection on the "first generation" college experience and introduces us to four "first gen" graduates from our Biomedical Graduate Education programs.
(May 15, 2020) — What does it mean to be a first-generation college graduate? It means making hard decisions, navigating unique paths, and working hard to accomplish your dreams. For the parents of first-generation students, their journey has not been easy. Some have experienced financial hardship, others have had to leave their home countries — all to provide a better future for their children. It can be difficult to make those choices and figure out ways to accomplish this journey. For most first-generation students, taking the leap and leaving home to attend college is their way of helping their families find a better future. However, it requires hard work, proactiveness, an enterprising attitude, and maintaining courage through it all. It can be challenging, especially for those who are new to navigating an educational landscape on their own or experiencing a career change.
The positive aspect of all the sacrifice is that it makes the challenge worthwhile. The drive, passion and willpower to accomplish those educational goals are all necessary elements of success. Students who become the first in their families to complete a college degree give their families a sense of pride and joy, but they are also prepared for enriching career paths. For many families, circumstances are different; however, what they all have in common is the desire to see their loved ones succeed. Having been a first-generation college graduate myself who had to navigate my educational path on my own deepens my connection to the stories of our BGE first-generation graduates. I hope you enjoy these personal stories from four of our 2020 graduates.
— Carla Ochoa
---
Lacye Yata, MS in Tumor Biology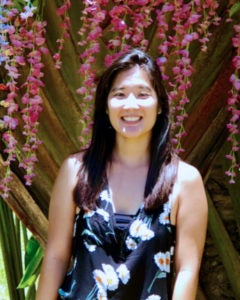 Being a first generation graduate student has a special meaning in my heart. Prior to arriving at Georgetown, I was working at the University of Hawaii Cancer Center conducting bladder cancer research for my Honors Senior Project. When I arrived at Georgetown, I was not only preparing myself to succeed further in my academic career, but I knew I was dedicating my studies to my grandfather. Ever since my grandfather passed away with leukemia in 2006, I had become passionate about cancer research. From that day, I made a commitment to myself to find out what really happened to him and have dedicated my studies ever since to become an Oncologist in the future. Last year, I was not able to get into medical school, and that is when I decided to pursue my studies further with a biomedical degree. I decided that Georgetown was the best place to pursue this degree because of its mission, values and passion for cancer research. Although I would be far away from home (Hawaii), I knew this would be a once-in-a-lifetime opportunity, and I could not pass it up. Thank you, Georgetown, for making my graduate career one to remember, and I hope to be back for medical school!
Tsion Habtamu, MS in Physiology & Biophysics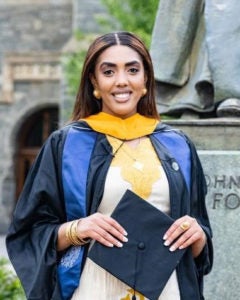 As a First Gen student there are going to be challenges and obstacles you might encounter being a trailblazer that your peers might not. This could at times be discouraging, but it is important to remember that your path is different. Instead, embrace and use those challenges as a learning opportunity in order to blaze the path for those following your footsteps. When things get hard, reflect on how far you have come and the sacrifices made to get to where you are. Endure through the process with faith and you shall succeed.
My parents did not get a chance to attend college due to various life challenges and circumstances. However, they made a sacrifice for me and moved 7,159 miles away to the United States so my dreams can come true. I am now one step closer to making those dreams come true. I decided to pursue a degree in the biomedical sciences to join an innovative group of professionals who are shaping the health-care field in order to cure, heal and improve the conditions of those in need. My most memorable experience at Georgetown was the first time I set foot on campus as a high school student. The atmosphere was immeasurable. Everyone was welcoming and supportive. Although I did not pursue my undergraduate education here, I knew I would return in the near future to pursue my graduate education.
During my time at GU, I have had the opportunity to collaborate with people from diverse backgrounds of culture, belief and faith. This has allowed me to learn and embrace all levels of diversity. It also has motivated my desire to become a compassionate and respectful physician in the near future. My plans are to further my medical education. I will be preparing for the medical college admission test and applying to medical schools.
Brandi Towar, MS in Integrative Neuroscience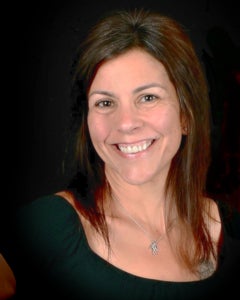 As a nontraditional first-generation graduate, I left my well-established marketing career of more than 20 years to pursue "my calling." I was a successful professional, however not fulfilled! After much consideration and feeling directed by God, I chose Georgetown. My most memorable experience at GU was visiting the Library of Congress. A small group of our policy class had the opportunity to access a wealth of information not readily seen by the public. The experience was exciting and amazing!
I would like to thank Dr. Tomoko Steen for the awesome experience. You are an incredible professor, someone who truly goes above and beyond! I am extremely thankful for your continued mentorship even now during this COVID pandemic. Thank you to my Mom, Dad and daughter Nycki! Without their love and support, I would have never made it to where I am today! GO HOYAS!
Nopell Wong, MS in Integrative Neuroscience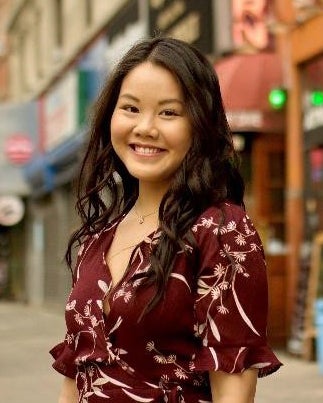 I turn 24 years old in the fall this year, which is the age my dad was when he first immigrated to the United States from China. As children, both of my parents lived in poverty, and though their living conditions gradually improved as they grew up, they envisioned better futures for their children. They made a difficult decision to leave everything behind and start over in a small town in Connecticut with no connections, little money and broken English. As I inch closer to 24, I cannot help but reflect on what my father's first days in America were like. Nevertheless, here I stand at 24, with a world of opportunities ahead of me, due to the sacrifices made by my parents. Getting a master's degree was only the beginning of those opportunities.
I pursued this degree because the field of neuroscience is fascinating and challenging. It challenges me to be a better thinker and person. I am thankful for my cohort, my program, my professors and Georgetown for giving me this incredible opportunity to pursue my passion. Something I will always remember about my Georgetown experience is spending hours and hours in the lab (before a neuroanatomy exam). Students got the freedom to observe and study post-mortem human brains. I bonded with many classmates during that time, but it also gave me the novel experience to explore real brains for the first time. That was particularly memorable for me!