Portrait of Princy Kumar, MD, Adds to 'Women on the Walls'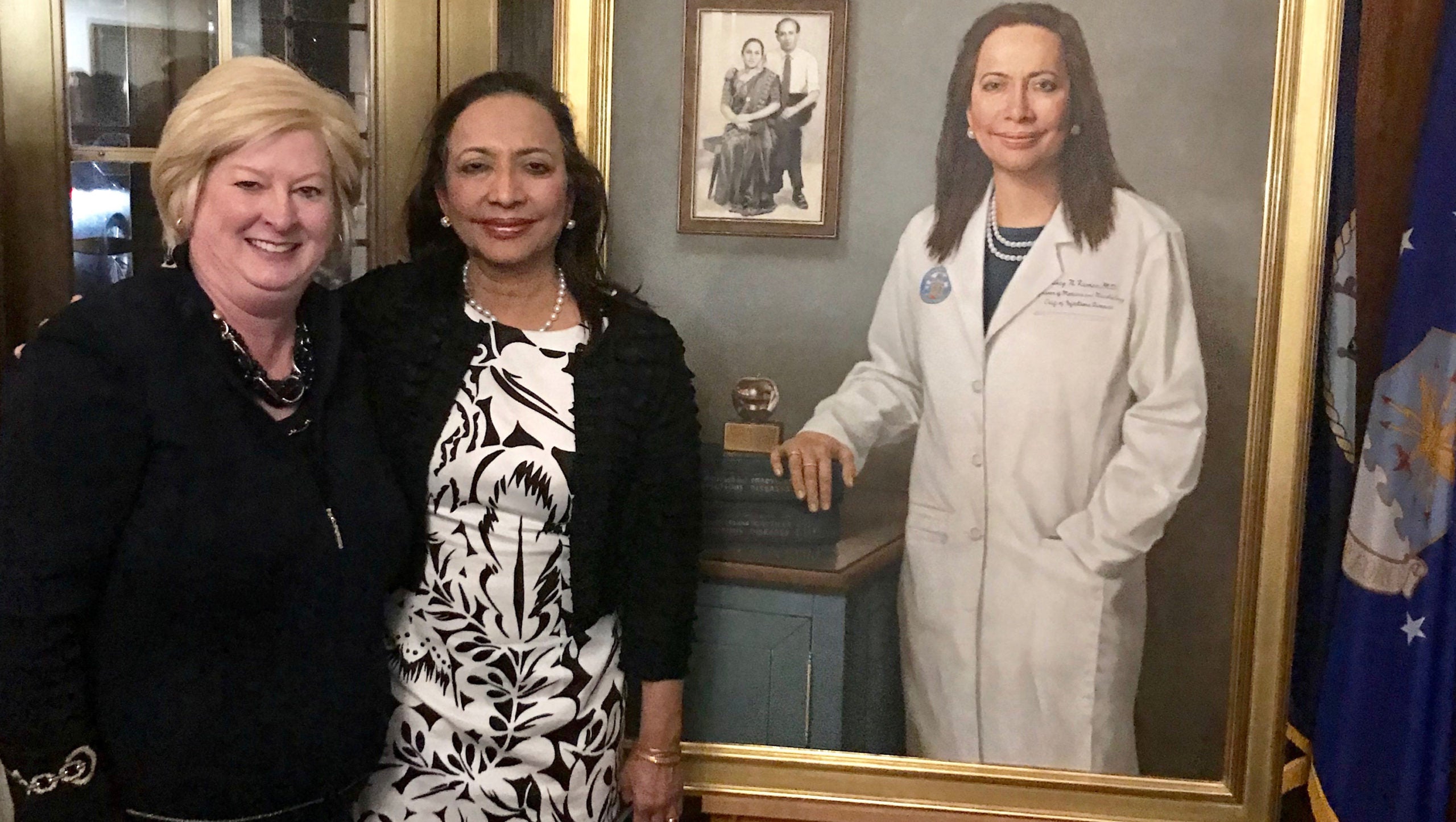 Posted in GUMC Stories | Tagged faculty honors, School of Medicine, women in STEM
(February 13, 2020) — A painted portrait of Princy Kumar, MD, senior associate dean of students and professor of medicine, was unveiled at a celebratory event held February 6 at the Georgetown University School of Medicine. Kumar is also the chief of infectious diseases and travel medicine at MedStar Georgetown University Hospital, and has previously served as the program director and associate program director for the infectious diseases fellowship.
The painting was commissioned by Steven Ray Mitchell, MD, MBA, dean for medical education; Kumar was selected as the subject by the medical students in the classes of 2015 and 2018, who allocated their unused student fees to pay for the portrait. It is the second work commissioned by the School of Medicine in coordination with Georgetown Women in Medicine, which has itself commissioned two portraits of women faculty, as part of the group's "Women on the Walls" campaign, which aims to bring more visibility to women's contributions at Georgetown University Medical Center.
But before artist James Crowley's work was unveiled, almost a dozen of Kumar's current and former students, co-workers and her daughter, Rebecca Kumar (M'15), painted their own picture of Kumar in words as they described what she has meant to them.
A Picture in Words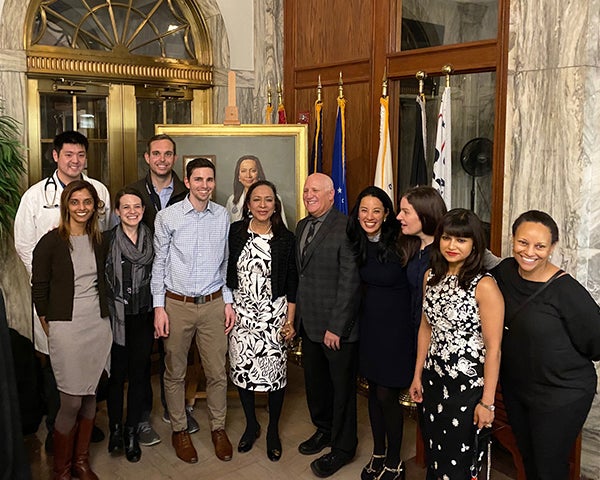 Rebecca Kumar said her mother treated her patients the same way she treated her children and thanked her for being a role model. Matthew Williams (M'20) said Kumar was a "surrogate mom" and a "fearless advocate for medical students," willing to listen when students had any sort of trouble, and able to help solve problems. She "holds us to high standards… and celebrates our accomplishments," Williams said.
"You have a wonderful way of breaking things down so people can remember," said Gayle Balba, MD (M'98), who works in Kumar's infectious diseases department. Balba said she would often get answers from residents that matched Kumar's explanations. "You know your faculty as people," Balba went on, noting that Kumar had attended her wedding and had stood in for Balba's parents when they couldn't be there for events.
Lani Galloway (M'21) said Kumar well deserves to have her portrait on the wall at Georgetown because she is "unfailingly dedicated to high moral and professional standards."
Parents with High Expectations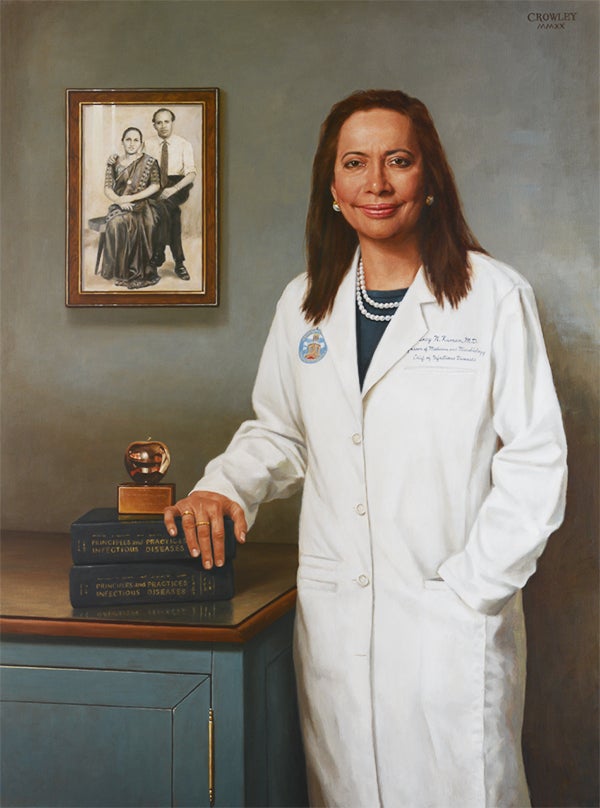 Crowley, who got to know Kumar while she sat for the portrait, told the assembled guests that when Kumar was growing up in India, her parents told her and her six sisters that they would be doctors, a wish they all fulfilled. "Seven doctors in one family. It's the most remarkable thing," Crowley said. Mitchell added that Kumar had responded by telling her father she wanted to be a teacher. Her father, after thinking it over, told her she could become "a teacher of doctors" — a wish she has also fulfilled, Mitchell said.
When the blue cloth covering the painting was pulled away, it revealed a lifelike picture of Kumar in a white coat standing next to a table, with small picture of her parents on the wall behind. Kumar explained she wanted to have them included in the portrait because "I am what I am because of them."
Kumar thanked Georgetown and MedStar Health, Georgetown's clinical partner, for the opportunities she has had there, noting she had come in 1988 as a fellow and had stayed ever since. She also thanked her students. "People laugh when I say I'm really not that smart. When I see a student struggling, I can sympathize, because I know that could have been me," she said.
Kumar Portrait Joins Three Others
The School of Medicine previously commissioned a portrait of Joy Phinizy Williams, former senior associate dean for students and special programs and co-creator of the Georgetown Experimental Medical Studies program, which hangs in the Medical-Dental Building. Portraits commissioned by Georgetown Women in Medicine of Estelle Ramey, PhD, endocrinologist and physiologist, and pediatrics professor Miriam Toporowicz, MD, now hang in the Medical-Dental Building and Goldberg Auditorium at MedStar Georgetown University Hospital, respectively. Kumar's portrait will join Toporowicz's in Goldberg Auditorium.
Kathleen O'Neil
GUMC Communications