GWIM Unveils Toporowicz Portrait at Awards Ceremony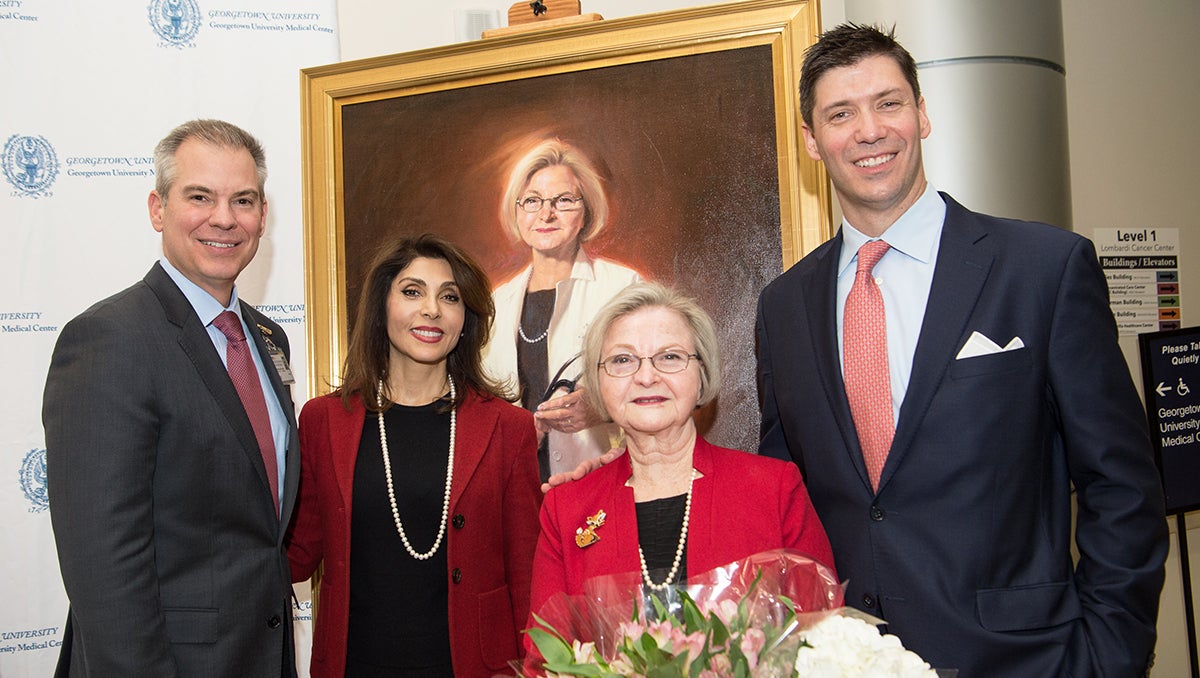 Posted in GUMC Stories | Tagged Georgetown Women in Medicine, School of Medicine, women in STEM
(December 15, 2019) — In a conversation with pediatrics professor Miriam Toporowicz, MD, artist Gavin Glakas was surprised to learn that there were quotas for women medical students when she attended medical school in Chile. "I thought, 'Oh, that's great, that they were trying to encourage women to go to medical school,'" Glakas said, not realizing that the quotas were actually limits on the number of women medical students allowed.
At the Georgetown Women in Medicine (GWIM) annual awards ceremony and reception, attendees celebrated the progress women in medicine have made, honored award recipients and recognized newly promoted and appointed women faculty members.
"We believe that together, we can further advance the equality in academic medicine so that women faculty will no longer be considered as an underrepresented group," said GWIM's president, Nady Golestaneh, PhD, MSc, associate professor of ophthalmology, neurology and biochemistry. "GWIM's efforts will benefit not only our generation, but also the generation of women faculty to come."
"When I took on the role of EVP in 2015, the leaders of GWIM came to me to ask for support and discuss creating a work environment that promotes equity across many domains, including hiring, promotion and compensation throughout the medical center," said Edward B. Healton, MD, MPH, executive vice president for health sciences and executive dean at the School of Medicine. "I'd say that was a pretty easy conversation, and there's no question that the medical center supports those goals, and of course, it's not surprising that GWIM has been advocating for all of those things for the last 25 years."
The Newest Woman on the Walls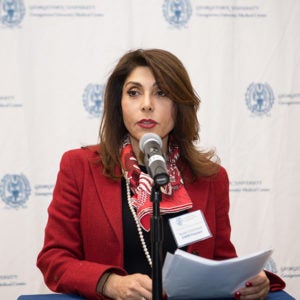 However, the unveiling of a portrait of Toporowicz, painted by Glakas, was the main attraction at the event, held December 5 in the Lombardi Atrium. Commissioned as part of GWIM's Women on the Walls campaign to increase the visibility of women in medicine, attendees excitedly crowded around the portrait and cheered when it was presented publicly for the first time.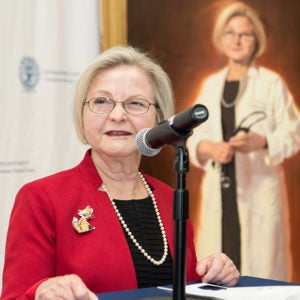 "We at MedStar Georgetown are very proud to have supported this effort and this gift for the Women on the Walls fundraising campaign," said Michael Sachtleben, president of MedStar Georgetown University Hospital. "We wholeheartedly support this ongoing effort, which is giving long overdue recognition and visibility for female faculty members who have made significant contributions not only to the medical center but to the advancement of the medical care of the patients that we serve."
"Bernard Shaw said if you want to look at your face, look into a mirror; if you want to look at your soul, look at a work of art. I think he got not my soul but the soul of GWIM, the soul of all of the women who for a long time have wanted to be on that wall," Toporowicz said about Glakas, who previously painted a portrait of the late Estelle Ramey, PhD. "And I think that is something not quantifiable."
Aspiring to Inspire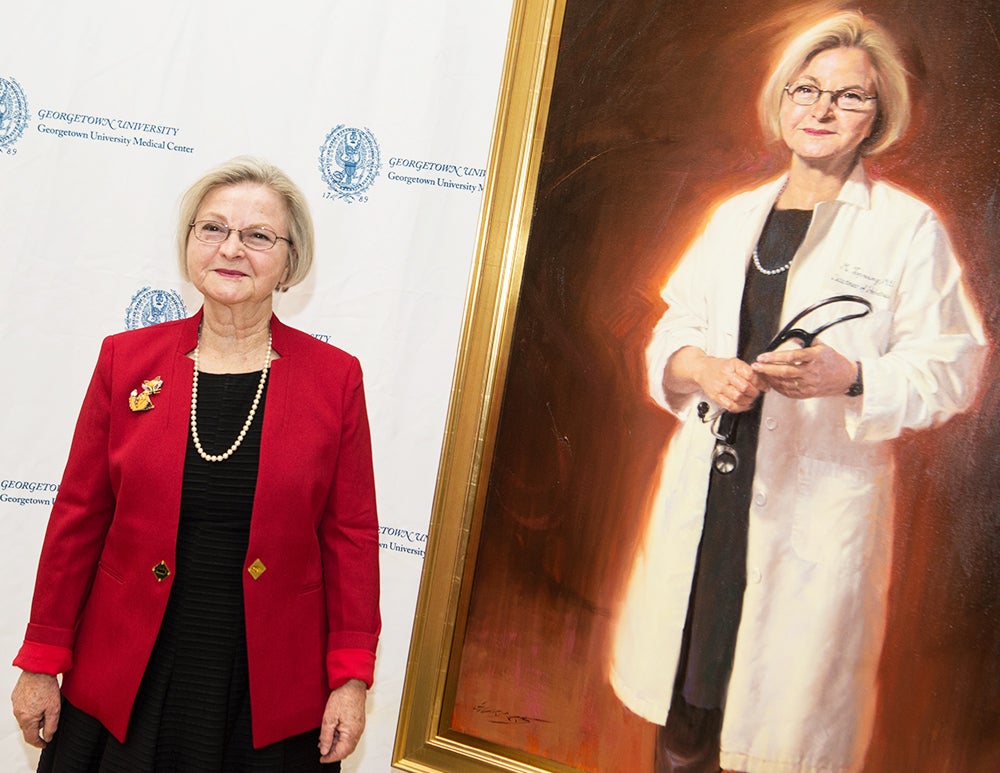 Toporowicz thanked her patients, colleagues, family members and friends for their support and encouragement throughout her career.
"There are so many people that I've been standing on their shoulders, that have [had] my back, that have been on my side, that have been here for me, that have pushed me all the way. So this is a composite," she said about the portrait.
While portraits of Ramey and Dean Joy Williams are displayed in the Medical-Dental Building, the painting of Toporowicz will be hung in the Goldberg Auditorium at MedStar Georgetown, a place where faculty, fellows, residents and medical students gather frequently for lectures and meetings.
"I just really want the candidates and the medical students not to feel, gee, this room has only guys on the wall. Because it gives you a message," Toporowicz said. "If it can inspire someone to think they can do something, oh, I'd be so happy."
---
GWIM 2019 Award Recipients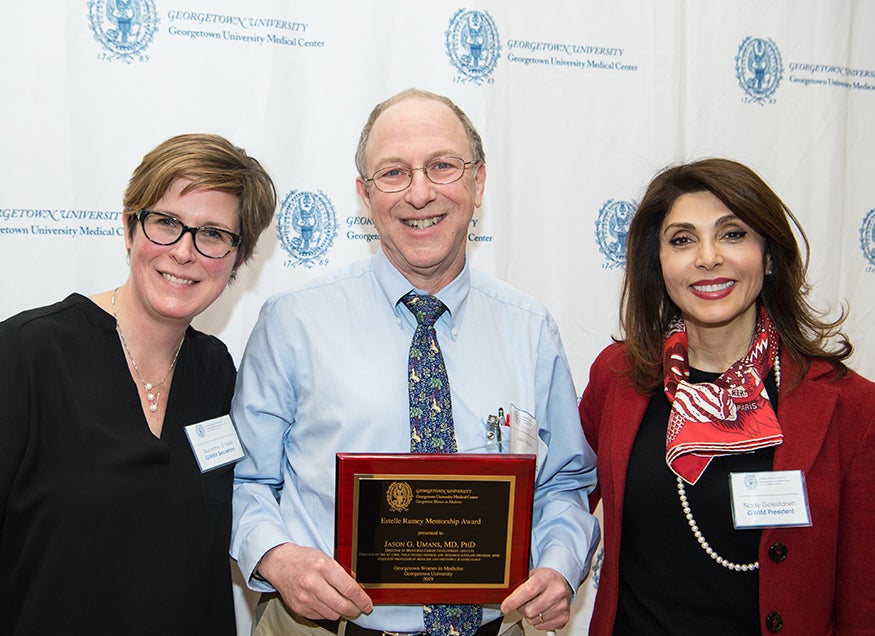 Karen Gale Outstanding Achievement Award
Cheryl lglesia, MD, Professor, Departments of Obstetrics and Gynecology, and Urology
Eleni Tousimis, MD, Professor, Department of Surgery
Estelle Ramey Mentoring Award
Jason G. Umans, MD, PhD, Associate Professor, Departments of Medicine, and Obstetrics and Gynecology
NHS Mentoring Award in Health Sciences
Krista A. White, PhD, MSN, BSN, Associate Professor, Departments of Advanced and Professional Nursing Practice
Eisenberg Mid-Career Development Award
Michelle M. Milic, MD, Associate Professor, Department of Medicine
Eisenberg Early Career Development Award
Catherine Lai, MD, MPH, Assistant Professor, Departments of Hematology and Oncology
Laura Johnson, MD, FACS, FCCP, Assistant Professor, Department of Surgery
---
Kat Zambon
GUMC Communications