New School of Nursing Guided by Dean's Strong Vision for Equity, Social Justice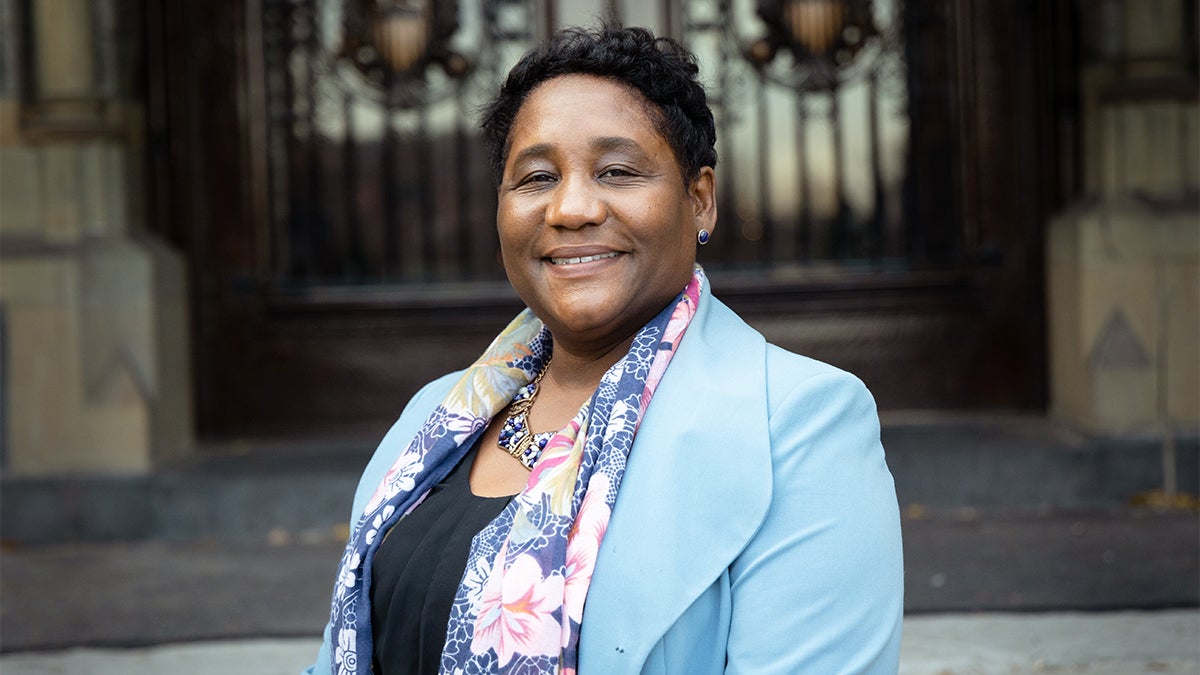 Posted in GUMC Stories | Tagged health equity, nursing, racial equity, School of Nursing
(July 1, 2022) — As Georgetown launches a reconceptualized School of Nursing on July 1, Roberta Waite, EdD, PMHCNS, RN, MSN, ANEF, FAAN, is uniquely poised to lead the school as dean, bringing her decades of experience working to advance health equity. Improving the human condition drives the University's work, and the launch of the new nursing school — guided by Waite's vision — reflects a renewed commitment to the largest health care profession.
The new school will be built from the foundation of the existing School of Nursing & Health Studies (NHS) and the establishment of our School of Nursing in 1903. In December 2020,
Georgetown President John J. DeGioia announced the decoupling of the NHS into two standalone schools: the School of Health and the School of Nursing. The new School of Health also launched July 1.
"For more than a hundred years, Georgetown has been a home for nursing education," Georgetown President John J. DeGioia said in a video statement. "As we begin this new chapter with the School of Nursing, we are so excited to see what will unfold."
Previously housed in the School of Nursing & Health Studies, the new school's on-campus and online/distance-learning nursing programs emphasize education, research, scholarship and community service. Offering degree-granting programs at the bachelor's, master's and doctoral levels grounded in a social justice framework, the school is committed to equity, diversity and inclusion.
"The launch of the School of Nursing fully restores our focus on one of the most trusted professions in the world," said Edward B. Healton, MD, MPH, executive vice president of health sciences, in an announcement to Georgetown University Medical Center.
Community Engagement
Waite was recruited as dean in part because of her experience in building equitable programs. As a psychiatric and mental health clinical specialist, in addition to her roles as a nurse educator and leader, she has dedicated her career to creating healthier communities.
"Starting a new school is a once-in-a-lifetime opportunity, and the timing for this change couldn't have come at a better time," Waite says. "The integral role that nurses have played in the COVID pandemic have put us center stage for more people to see how germane our profession is."
Before coming to Georgetown, Waite worked as the executive director of Drexel University's Stephen and Sandra Sheller 11th Street Family Health Services, a nurse-managed community-based organization operated in partnership with Family Practice & Counseling Network. That experience informs her approach to leadership, in which she hopes to define the brand of the nursing school as an organization that is responsive to the needs of its community. "The school's engagement in the community is deeply vital," she says.
Creating that strong partnership requires a dedicated commitment to meet individuals where they are in order to determine what issues are most relevant to them, Waite says. "It's about partnering with community, identifying what their needs are, and determining how we can leverage our resources to work together."
Educational Excellence
Infusing values and a deep appreciation for the wholeness of patients' lives — in acute care, at home, and within the community — is Waite's focus. Ensuring that students understand social and structural mechanisms that inform health is also paramount, she says.
"Knowing must go hand in hand with doing," Waite explains. "Identifying health problems will not by itself promote health equity. We must build students' advocacy skills and shift from merely problem identification to solution-creation. Educating students to lead in whatever they decide to do regarding health-related concerns is important to catalyze tangible change."
Advancing the practice of nursing science is also a key goal, and Georgetown's new PhD in Nursing program with a concentration on health equity and ethics will continue the university's mission to enhance its research endeavors.
"We need that lens of ethics to produce scholarship and science that helps propel and advance health equity for individuals, families and communities within our society," Waite says.
Recruiting more senior scientists who apply an equity lens to their work and introducing endowed chairs "will enrich student learning from experts who are essential in mentorship and developing the next generations of nurse scientists," she adds.
Collaborative Effort
Waite looks forward to potential collaborations with other Georgetown schools to increase nursing education programming. For example, nursing students may wish to start a business after becoming a nurse practitioner, and Waite envisions a future where they can also earn a master's in business administration from the Georgetown University McDonough School of Business.
Similarly, public policy is another area that's ripe for collaboration, Waite says, and she hopes to find a way to leverage the nursing school's public policy and advocacy insights by partnering with Georgetown Law and the McCourt School of Public Policy.
In addition to advancing social justice and promoting health equity, Waite sees the School of Nursing as "shaping the future of nursing through our own pursuit of excellence and innovation and our leadership in education, scholarship, and research. My decision to come to Georgetown was not to lead with a status quo mindset, but to incorporate creativity and imagination," she says.
"I know we can do better. Based on our own code of ethics through nursing, which is grounded in social justice, we have to do better."
Meredith Kleeman
GUMC Communications