New Georgetown Program Synergizes Interdisciplinary Training in the Sciences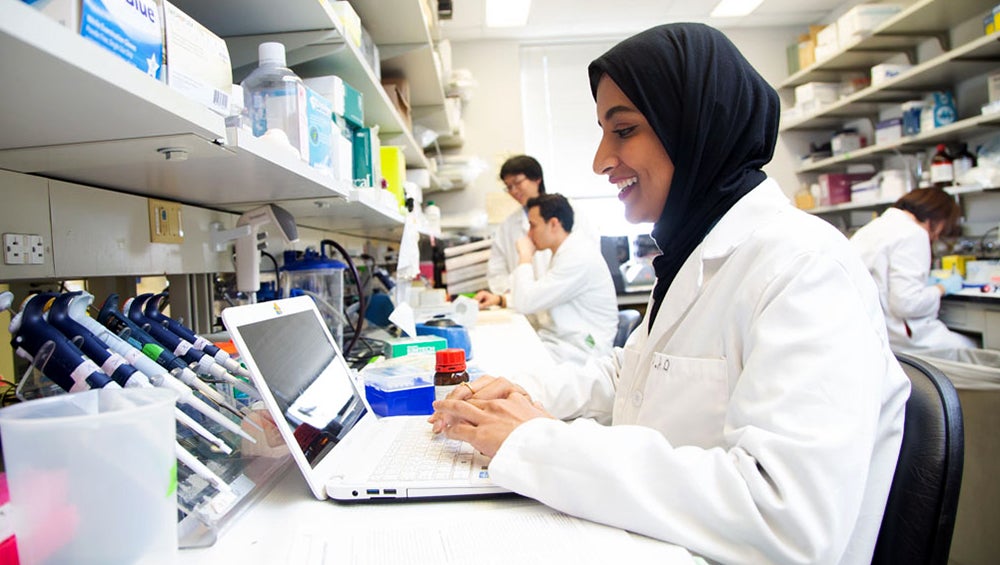 Posted in GUMC Stories | Tagged biomedical education, Biomedical Graduate Education, collaboration, diversity, graduate education, interdisciplinary programs
(January 21, 2022) — The National Institutes of Health has awarded Georgetown University a highly competitive and prestigious training grant intended to invigorate the workforce and inspire younger students from diverse backgrounds to pursue doctorate degrees in biomedical sciences.
The new program, known as the Georgetown University Initiative for Maximizing Student Development (IMSD), will train a diverse, multidisciplinary group of graduate students, targeting enrollment of individuals underrepresented in biomedical research. The five-year program will officially commence in February 2022 and will enroll its first trainees this July. In total, the program will train 20 doctoral students, a number that far exceeds those of other training grants.
"This is an innovative initiative that creates an interdisciplinary community of scholars through a combination of coursework, professional skills training, and multidepartment cross-campus mentorship," says Georgetown Provost Robert M. Groves, PhD.
"We are especially pleased to have the support of this NIH grant in recognition of the work we have planned for building a more inclusive environment across the university, thus allowing us to better train an array of talented individuals who are underrepresented in these critically important fields," says Edward B. Healton, MD, MPH, executive vice president for health sciences.
Cross-Campus Leadership and Engagement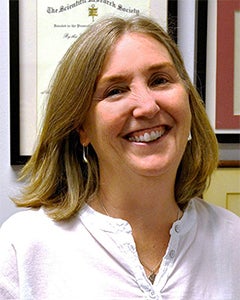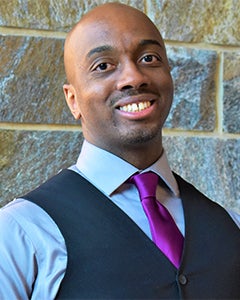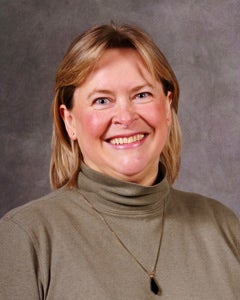 The Initiative for Maximizing Student Development is led by co-principal investigators Kathleen Maguire-Zeiss, PhD, professor and chair of neuroscience; Caleb McKinney, PhD, MPS, assistant professor of rehabilitation medicine and assistant dean, graduate and postdoctoral training & development for Biomedical Graduate Education (BGE); and Ronda Rolfes, PhD, professor and director of graduate studies in the department of biology.
This initiative brings together 61 faculty from seven graduate programs and departments across Georgetown. The three main-campus departments include Biology, Chemistry and Physics. The four BGE programs are Biochemistry and Molecular & Cellular Biology; the Interdisciplinary Program in Neuroscience; Pharmacology & Physiology; and Tumor Biology, where the program is managed administratively.
The leaders of the program feel strongly that the time has come for this type of interdisciplinary training. "The biomedical sciences are moving beyond some of these very traditional departments and disciplinary breakdowns and are moving to be much more inclusive and integrative," Rolfes says.
The IMSD leverages and expands established strengths of several existing programs and departments across Georgetown academic communities. In addition to rigorous department-specific course requirements, students can choose from many campus-wide elective courses.
A Commitment to Cura Personalis
The curriculum focuses on more than training students to be outstanding scientists. It also promotes professional development, including facilitating self-efficacy and career identity formation. To accomplish these goals, trainees will participate in coursework and workshops in leadership, management skills, teaching and science communication. Students will also participate in experiential learning programs with campus and industry partners.
"Building upon our success in graduate professional development and identity formation, we will provide our trainees with a professional toolkit and a community of resources to maximize their career success," McKinney says.
The program incorporates other components to maximize student well-being. These include protocols to monitor their progress, creating individualized development plans, tailoring learning support structures, offering wellness workshops, and providing financial assistance if needed. Furthermore, trainees and faculty will learn from and support each other through POP (Power of Peers) Circles, an externally facilitated coaching program to build resilience, accountability and well-being.
"This training program exemplifies the Spirit of Georgetown, as our work is animated by our values. Community in diversity, academic excellence and cura personalis — educating the whole person — are at the heart of our work together," Maguire-Zeiss says.
One common thread among all of these training activities is the integration of different forms of mentorship. All trainee and faculty mentors in the IMSD will be required to undergo formal training to maximize inclusive and effective practices in mentorship as well as evidence-informed teaching.
Students in the program also have the opportunity to mentor undergraduate and master's students from diverse backgrounds as they consider plans for graduate school and future careers in science.
"We're hoping to create a sense of belonging for the trainees, certainly within the community of scientists as the first circle, but then extending vertically," Rolfes says. "We want to support students, especially those from underrepresented groups, even as first-year undergraduates, so that they can connect and imagine a world where they move through graduate education and beyond."
A Transformative Paradigm for Georgetown
In implementing the training program, its leaders envision that the campus culture will undergo lasting and beneficial transformations. "The IMSD will change how programs across campus collaborate with each other," McKinney says. "There will be challenges, and compromises will need to be made, but ultimately, this new paradigm will break silos."
"This initiative will require us to learn about cultural differences among the departments and how we communicate about these differences," Rolfes says.
McKinney says that the IMSD will also "transform how we think about training and mentorship. The experiences are inclusive, and we expect to see the students and faculty learning together."
Ultimately, these efforts will reduce the isolation that many trainees have felt in the past. By forming a tightly knit community with their peers and faculty, these students can carry those alliances forward in their careers. "We will provide these trainees with the support necessary to build a cohort that we hope will become lifelong colleagues," Maguire-Zeiss says.
Wherever the students end up after graduation from the IMSD, the mark of success will not be limited to their scientific contributions. It will also include their carrying forward a commitment to excellence and to building a diverse community of versatile and collaborative scientists.
Beth N. Peshkin
GUMC Communications