Medical Center Announces Strategic Changes to Research and Biomedical Education
Posted in GUMC Stories | Tagged biomedical education, biomedical research, collaboration, Health Sciences Strategy Initiative, research, research innovation
(November 11, 2022) — As Georgetown University Medical Center moves to more strategically align research and biomedical education, as well as expand critical external research-related relationships, Moshe Levi, MD, has been named the medical center's Chief Science Officer for Research Development and Anna Riegel, PhD, has been named Interim Vice President for Biomedical Education and Research. The strategic restructuring was announced by Edward B. Healton, MD, MPH, Executive Vice President of Health Sciences.
"This renewed commitment to a structure that better links education and research is consistent with the focus of our medical center goals and is reinforced by some of the recent planning and strengthening of that connectivity," said Healton in his Nov. 8 message announcing the appointments.
The Underpinning of Research Excellence
Prior to being named to her new role, Riegel, professor of oncology and pharmacology, was senior associate dean of Biomedical Graduate Education (BGE), a collection of more than 30 PhD, master's and certificate programs that straddle the medical center and the Graduate School of Arts & Sciences, enrolling more than 700 graduate students annually.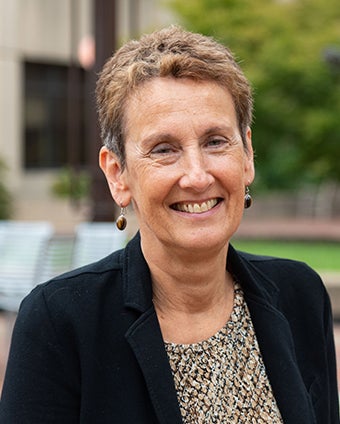 "I don't think we can see research and education as separate entities — education is Georgetown's strength and the critical underpinning of research excellence," Riegel says.
"Not only do we have a significant number of PhD programs in the medical center for our size, we have a significant number of master's programs, and of those, a good proportion have a research component that interacts with our research groups," she explains. "The quality of the PhDs or postdocs — and even undergraduates — that we get in our laboratories really determines how productive we are."
Riegel points out that research at the medical center makes up approximately 70% of the work that qualifies Georgetown for its Carnegie R1 research classification.
"If you look at our excellence in the neurosciences and oncology, for example, the impact of our trainees' work is interwoven with our research excellence," says Riegel. "We can't get grants funded without the data, insights and input that our students are providing."
Shared Passion: Cura Personalis
Riegel says the students also benefit greatly from the medical center's student-to-faculty ratio.
"A lot of students have said to me that they get significant in-person, one-on-one time with faculty," she says. "That feeling of community within education and research is really important. It really sustains a lot of people through their research and training to be in a caring environment."
Through it all, Riegel says, the students and the scientists share a common passion — cura personalis.
"We have people who are very focused on small molecules and intricate signaling pathways, but we have to look at how that integrates with the whole picture of health and medicine," Riegel explains. "At the end of the day, you have to ask, how does it fit into a broader picture — a bigger picture of how people live well and healthily. And I think that's how you should view anything you do in research and education."
Turning Challenges into Opportunities
Riegel says everyone recognizes the challenging financial times, especially with inflation driving up costs, and space constraints. Still, one area where Riegel sees great opportunity is in bioinformatics.
"I really think there's an opportunity for Georgetown to invest deeper in data analytics," she says. "The data sets that are becoming available to us now are incredible.
"We've got pockets of really good people who are working with small groups, but it would be so much better if that was an organized research and educational resource," she adds. "It would help us improve publications, get more grants and improve our ranking."
Riegel also sees an opportunity in bioinformatics education. "We could do very well in the training of data scientists — and we can build on the strong programs we already have," she says. "I see that as a real opportunity for Georgetown."
MedStar Health Collaboration
Another promising area for growth can be found in the research prowess of the clinical faculty. Acknowledging this opportunity, Riegel would like to help advance discussions with MedStar Health to expand population, clinical and basic research opportunities and joint grants — particularly with a focus on program awards.
"We have recruited strong clinicians with potential to lead important research," Riegel says. "But we need to find a way to address how these clinicians — and the fellows — can have dedicated and protected time to conduct research and write grants.
"It takes the will for both Georgetown and MedStar Health," she adds. "After years of building our relationship, I think we have a good chance to move this conversation forward."
As Riegel transitions to her new role, she says she does so with her eyes wide open. Implementing the structural changes can't interfere with day-to-day operations in classrooms or labs.
"We will need a strategic vision for the things we aspire to, but I also think it's essential to keep the trains running on time," she says. "And when you're sharing aspirations, it's important to remember those who are doing the hard work now. We just have to get on with the job."
For Riegel, one advantage of having been at Georgetown for more than three decades is knowing a lot of stakeholders on campus and being able to pull people together on a personal level to discuss issues and find out their wants and needs.
"I have a great enthusiasm for biomedical research," she says. "I want to be an advocate."
Expanding Research Development
Moshe Levi, MD, professor of biochemistry and molecular & cellular biology, transitions from the Interim Dean for Research to GUMC's Chief Science Officer for Research Development, leveraging his deep commitment to scientific collaboration, developing large extramurally funded multi investigator projects, and his drive to be on the forefront of scientific innovation.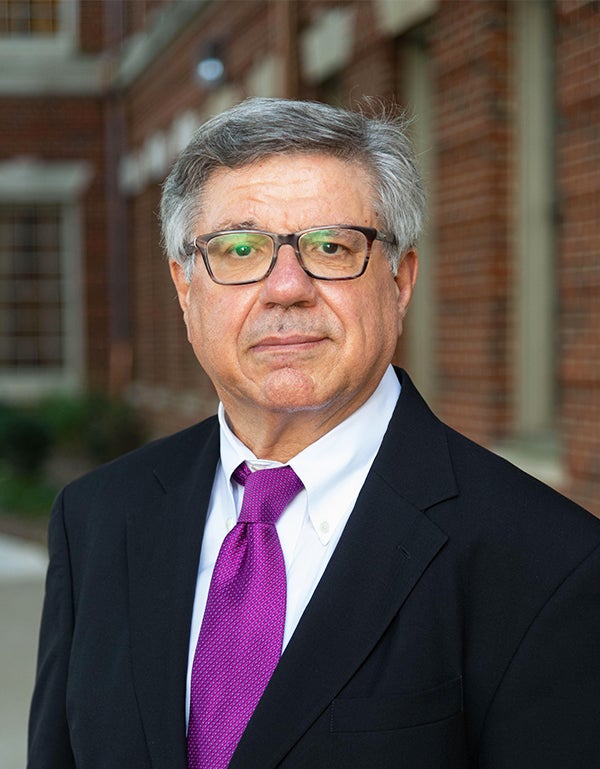 Levi says the weekly seminar series that he has organized over the past three years has been instrumental in building relationships with key scientific leaders across external institutions, including the National Laboratories (such as Oak Ridge National Laboratory and Frederick National Laboratory for Cancer Research), pharmaceutical companies (including Bayer and AstraZeneca), and at the National Institutes of Health and National Science Foundation.
Levi points out there are other institutions ripe for collaboration in the Washington, D.C., area and beyond.
"I'm fortunate enough to know a lot of investigators at Janelia Research Campus [the scientific research campus of the Howard Hughes Medical Institute], so I'll advance that work," says Levi. He also plans to expand mentoring opportunities for students and faculty from Howard University and the University of the District of Columbia.
Levi adds that, like Riegel, he sees data analytics as a fertile opportunity for growth at the medical center.
"This is most critical for both basic and translational research that uses several -omics techniques, including RNAseq, proteomics, lipidomics and metabolomics, as well as integration of data from clinical research studies," he explains.
Levi will continue his efforts with advancing several of the centers he helped establish, including the Center for Fibrosis Research and Center for Healthy Aging. In addition, he plans to work with MedStar Health to establish a Center for Obesity and Diabetes Research, Education and Care.
In addition, Levi says he will continue to work alongside the biomedical imaging interest group to expand and advance the application of imaging techniques including light microscopy, electron microscopy, and interface with MRI, MRS, CT and PET, as state-of-the-art biomedical research tools.
External Collaboration
"We're looking for opportunities to identify projects that allow us to expand with colleagues from across the campus, including those from the physics, biology and chemistry departments," Levi says, noting that groundwork has been laid.
Like Riegel, Levi sees the medical center's shared resource labs as critical for research, along with the acquisition of new capital equipment investments. "These resources can be important for attracting outside interest for collaboration," he says.
"Finally, it may be a dream, but since I'm a chemical and biomedical engineer, I've been talking to several schools — including George Washington University, University of Maryland, George Mason University, Johns Hopkins, Northwestern University, University of Colorado and Stanford University — about creating opportunities around biomedical engineering," Levi says.
Levi and Riegel began in their new roles on October 1, and expect to spend the first several weeks engaging faculty and staff to design a mutually beneficial support structure.