Match Day 2022: 'What a Phenomenal Day'
Posted in GUMC Stories | Tagged Match Day, medical education, School of Medicine
(March 19, 2022) — Members of the School of Medicine's Class of 2022, surrounded by family, friends, faculty and staff who supported their dreams to become doctors, gathered for the annual Match Day celebration to learn together where each soon-to-be doctor would go for their residency — the training that follows medical school graduation. The crowd of more than 400 assembled March 18 at the National Press Club in downtown Washington, DC, while another 600 watched via Facebook.
This year's Match Day — the designated day in March when all medical students across the nation simultaneously find out which of the residency programs they chose matched with the programs that chose them – punctuated a tumultuous medical school experience, with their entire clinical experience happening during the worldwide COVID-19 pandemic and amid a racial justice movement.
Celebrating an 'Amazing Journey'
Dean for Medical Education Lee Jones, MD, presiding over his first Match Day at Georgetown since joining in August 2020, acknowledged the losses due to the coronavirus before turning his focus to the students.
"What a phenomenal day," Jones said. "It is fantastic. Everyone's so excited. I'm so incredibly proud of everybody."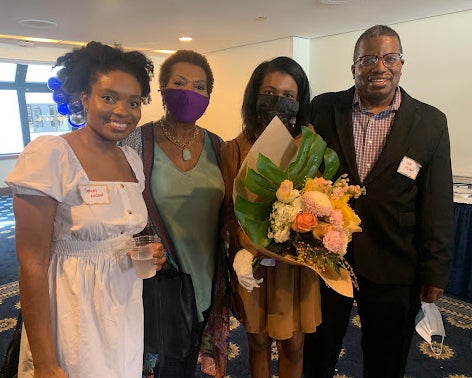 "It's been such an amazing journey, with so many wonderful people that experienced it with me," said Candice McCloud (M'22), who is headed to Temple University Hospital to specialize in anesthesia. "There have been a lot of difficulties, a lot of ups and downs, but at the end of the day, it just feels so great to be finished and to just know that all this work has paid off."
McCloud was flanked by her parents and sister for the special day.
"It's a very proud day for my daughter and our family," remarked Jeff McCloud, who held a large bouquet of spring flowers for his daughter. "Candace has worked so hard to achieve a goal and Match Day is the culmination of all her hard work."
McCloud's mom, Norma, said the family's newest doctor has been goal-driven since her childhood. "I'm so elated, I don't know what to do with myself!"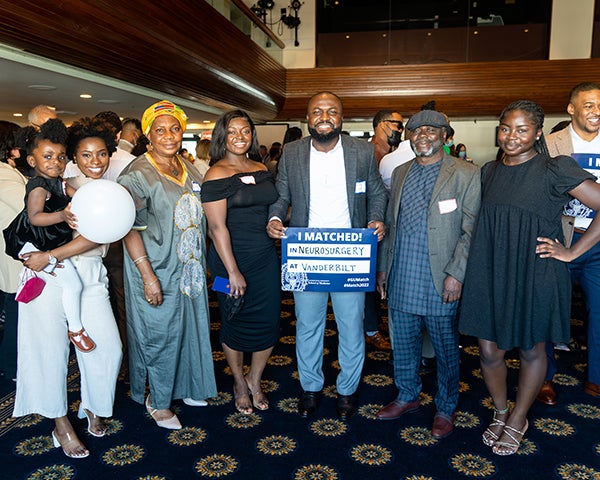 Reflections
Kwadwo "Kojo" Sarpong (M'22) amazed friends and colleagues with his long journey from Ghana to America, where he cleaned hospital floors for five years to support his family back home before going to community college in Georgia, then Emory University, and eventually on to medical school at Georgetown. Now, he'll spend the next seven years of residency in neurological surgery at Vanderbilt University Medical Center.
Sporting a smile rivaled only by his big personality, Sarpong expressed relief for the day. "I feel so good. I've been working so hard for this."
As he reflected on his medical training, the proud new father said his fondest memory from the last four years was that so many of his classmates participated in the naming tradition for his daughter, Madison-Emery, and that many offered to babysit.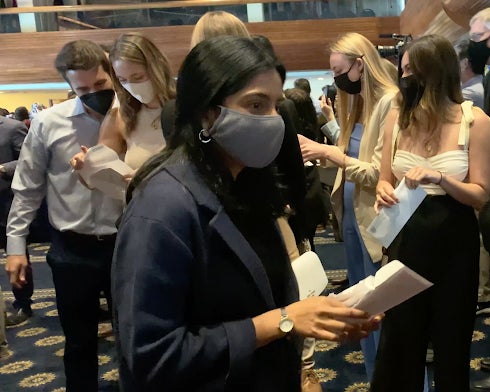 "That reminds me of the kind of students that we recruit at Georgetown — amazing humans," Sarpong said.
Sindhura Kolachana (M'22) said that standing up for the vulnerable was one of her special memories from the last four years.
"My roommates and I went to one of the protests for children who were in detention camps," she said. "It was really, really meaningful and why I came to Georgetown in the first place — to help the communities that need it."
Kolachana will do her residency in internal medicine at the University of Maryland Medical Center in Baltimore.
For one mom in the crowd, the excitement of Match Day felt familiar as her son Evan (M'22), who matched into physical medicine and rehabilitation at Zucker School of Medicine-Northwell with a medicine preliminary year at Christ Hospital in Ohio, followed his brother, Adam (M'21), who graduated from medical school the previous year.
"I'm so excited and so proud," said mom Christy Purvis, who expressed a common feeling among those in attendance.
"I'm like, all right, let's just do it," said Evan Purvis. "Let's get this going."
Faculty Share Excitement
Family medicine professor Eileen Moore, MD, has attended numerous Match Day events to share in the joy with her mentees.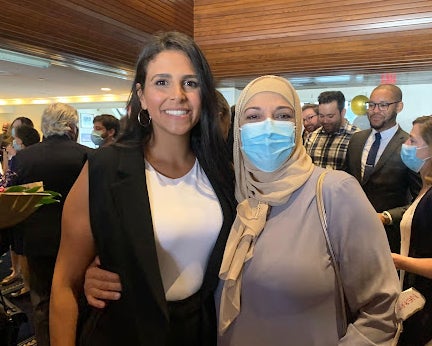 "Every year has its own particular flavor," explained the Match Day veteran. "But the excitement is palpable — the reward for so much hard work done by so many people and that the air feels light with the happiness."
While doctoring is critically important, John Yosaitis, MD, medical director of the Simulation Training & Education Lab at MedStar Health, expressed his hope that the soon-to-be-doctors will find balance in their lives.
"Whatever you really love — do that" he said. "If you're interested [in] quality and safety, do that. If you're interested in mountain biking, do that too. Don't load your entire life up with one thing. Do a lot of things. Those are the happiest people."
---
Related Content