Jesuit, Doctor, Ethicist to Lead Pellegrino Center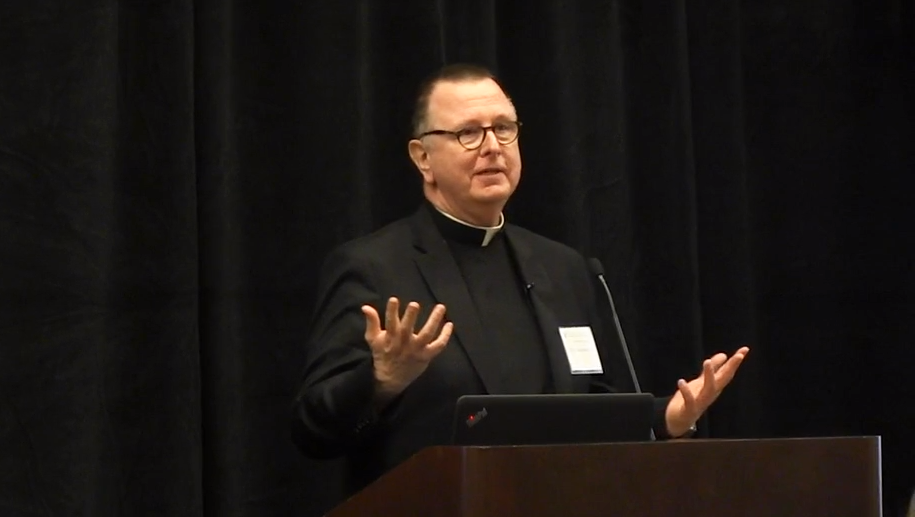 Posted in GUMC Stories | Tagged bioethics, medical education, medical ethics, Pellegrino Center for Clinical Bioethics, School of Medicine
(December 5, 2020) — Myles Sheehan, SJ, MD, first met Edmund Pellegrino, the legendary bioethicist and founder of Georgetown's Edmund D. Pellegrino Center for Clinical Bioethics, in 1994. At the time, Sheehan, already a Jesuit priest and physician, was considering career directions. His conversation with Pellegrino helped guide him toward 14 formative years working in academic medicine.
This month, Sheehan returns to academia, and closes the loop on that long-ago conversation, when he becomes director of the Pellegrino Center, taking up the legacy of leadership set in motion by Pellegrino. "I wasn't sure I wanted to come back to academics, because I thought that that part of my life was over," he said. A Jesuit retreat in March 2019 brought a clarifying message: "God told me to go to Georgetown."
Called to God and Medicine
Sheehan's first calling was medicine. Pursuing a desire to follow in the footsteps of his father, an anesthesiologist, Sheehan attended Dartmouth College, then Dartmouth Medical School. He completed his residency in internal medicine at Beth Israel Hospital in Boston.
He started to consider the priesthood during medical school, but held off at the recommendation of a Jesuit vocations director. Following his residency, he entered the Society of Jesus in 1985 and began his journey in earnest.
Meanwhile, he also pursued master's degrees in philosophy and health care ethics at Loyola University in Chicago and completed a two-year geriatric medicine fellowship at Harvard Medical School. Sheehan earned a master of divinity with distinction from the Weston School of Theology in Cambridge, Mass., and was ordained as a Jesuit priest in 1994.
Any challenges presented by living the dual roles of priest and physician have long-since been resolved. "After a while the identity becomes one," Sheehan said.
His pivotal discussion with Pellegrino, combined with the guidance of others, persuaded Sheehan to accept a professorship at Loyola University's Stritch School of Medicine in 1995. There he devoted himself to teaching and academic research that focused on improving end-of-life care in Catholic hospitals, while also practicing as a specialist in geriatric medicine. In 2000, he was named senior associate dean at the Stritch School of Medicine and the Ralph P. Leischner Professor and Chair of the Leischner Institute for Medical Education.
Sheehan departed Loyola in 2009 to become Provincial for the New England Province Society of Jesus (now part of the USA East Province), an administrative position. Though it meant leaving medicine, the opportunity gave him greater involvement with Jesuit life. In 2015, Sheehan became the Provincial Delegate for senior Jesuits for the Maryland and USA Northeast Provinces of the Society of Jesus, responsible for the spiritual lives of the senior Jesuits in four Jesuit health care facilities.
The Path to Georgetown
Georgetown entered Sheehan's life in 2018, when then-Pellegrino Center director Kevin Donovan, MD — Pellegrino's handpicked successor — invited him to present the annual John Collins Harvey Lecture on campus. This was followed the next year with an invitation to participate in the Christian and Muslim Perspectives on Palliative Care and End of Life Conference, hosted by Georgetown University Qatar. Both Donovan and Dan Sulmasy, MD, PhD, Andre Hellegers Professor of Biomedical Ethics with the Pellegrino Center and acting director of the Kennedy Institute of Ethics at Georgetown, encouraged Sheehan to consider coming to Georgetown.
Heeding his aforementioned divine message, Sheehan joined the Jesuit community at Georgetown University in January 2020. He became a faculty member at the Pellegrino Center, and began teaching students in the School of Medicine and the master's and certificate programs in Catholic clinical ethics, along with serving on the ethics consultation service and ethics committee at MedStar Georgetown University Hospital.
Following Donovan's decision to step down as Pellegrino Center director this fall, Sheehan was offered the opportunity to move into the role. "I am really excited about working with others at the campus and beyond, to bring Dr. Pellegrino's legacy into a new era for ethics as we look at issues of climate change, social justice, structural inequality, racial injustice, that need to be brought to bear as we better understand how we care for people in the hospital and the clinic," he said.
Plans for the Pellegrino Center
Sheehan views the Pellegrino Center as having a pivotal role in a constantly changing world, grappling with how basic philosophical questions pertain to present-day situations. "I think that the Pellegrino Center has, first, a broad perspective, but a lens that looks through the viewpoint of Catholic philosophy and theology, and really is searching to best articulate how we recognize and protect human dignity at a time when there are many forces that can compromise it and sometimes, either wittingly or unwittingly, denigrate it," he said.
Sheehan recognizes that he is building on a foundation firmly laid by the leaders who came before him. "I want to continue the excellent work done by Dr. Kevin Donovan in maintaining a strong teaching and ethical consult presence at the medical center," he said.
He sees opportunities to expand the center's influence through collaboration with the Kennedy Institute of Ethics and with new ethics centers focusing on environmental ethics and the ethics of big data. "The Pellegrino Center, with its emphasis on biomedical ethics, can not only be a crucial player in this network of ethics centers on the Georgetown campus, but allow us to move forward with research, scholarship and teaching on ethical issues that might seem to go beyond what happens in the hospital and in the clinic," he said.
"As a Jesuit, I just view this as a perfect opportunity, consistent with my vocation, to find God in the midst of health care, in dialogue with people with whom I agree and disagree, to see the ways in which God is calling us in rapidly changing times, with a variety of competing pressures," Sheehan said. "And in discovering God in this changing world, to be able to use the teaching and the clinical efforts and the research of the Pellegrino Center as a way that helps people grow and care for each other, and be more open to their experience of life, and if they would like, to find God in that."
Sarah Riehl
GUMC Communications