Hoyas Show Support for Ukraine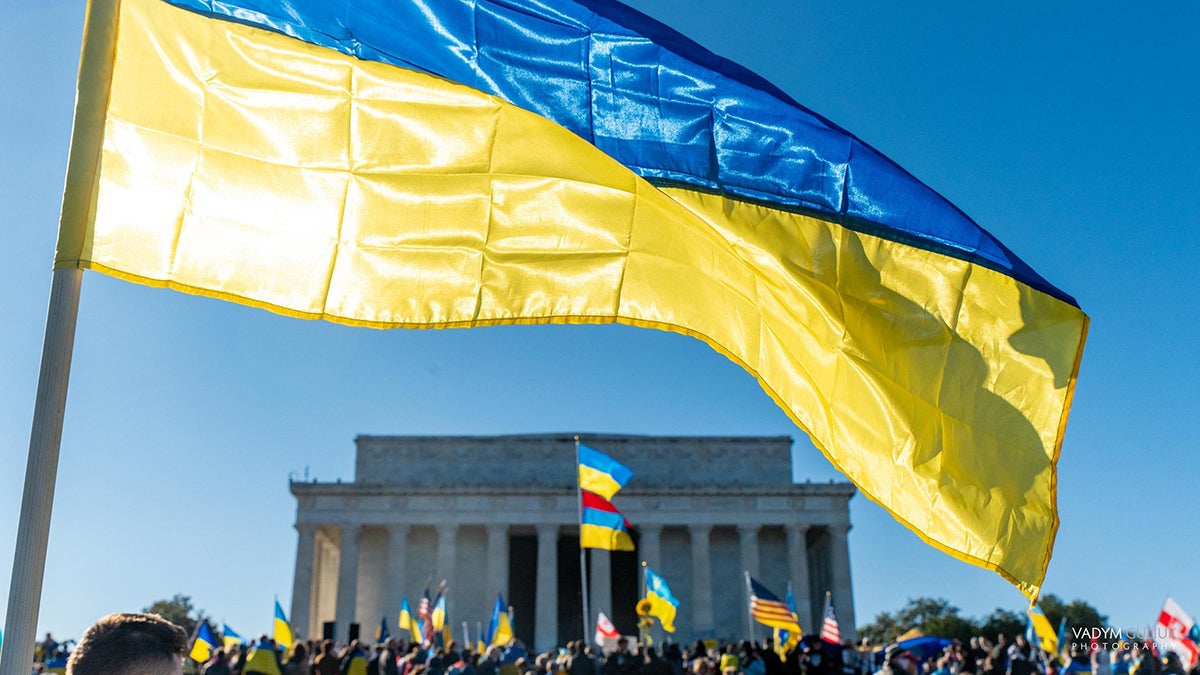 Posted in GUMC Stories | Tagged alumni, School of Nursing & Health Studies, service to others, Spirit of Georgetown
(April 14, 2022) — Since Russia launched a full-scale invasion of Ukraine on February 24, Hoyas from the medical center have provided support by training civilians to treat those wounded in the attacks, raising money to send critically needed supplies, and working with NGOs to assess and improve health care systems for refugees. In the midst of reports about the war's widespread violence and devastation, their work has been a source of hope and inspiration.
BGE Alumna and Biology Professor Raises Millions for Humanitarian Aid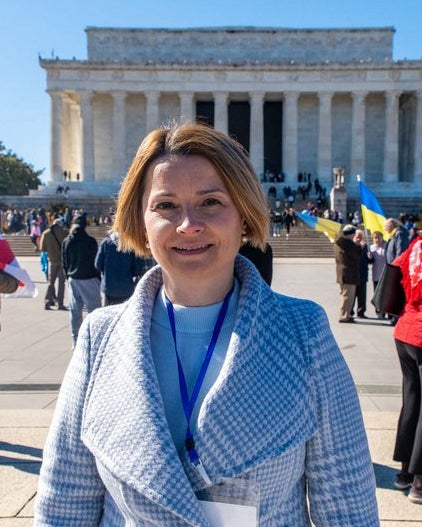 When Russia annexed Crimea in 2014, Maryna Baydyuk, PhD, assistant research professor in the biology department, worked with members of the local Ukrainian community to set up United Help Ukraine, a grassroots nonprofit organization dedicated to providing humanitarian relief in the country.
Donations to the organization have increased exponentially since the start of the Russia-Ukraine war. In the first week following the invasion alone, United Help Ukraine received more than $5 million in donations.
"The support has been overwhelming from all Americans, from the global community," Baydyuk said. "We'd certainly give all the money to not see what's happening in Ukraine, but now we're trying our best to get the aid over there quickly. It goes directly to those who need it right now."
Family Ties
Born in Kyiv, Baydyuk came to Georgetown in 2002 as a research assistant before earning her doctorate in pharmacology in 2010 through the Biomedical Graduate Education program. After working as a postdoctoral fellow at the NIH, she returned to Georgetown in 2015.
When the invasion started, Baydyuk called her family in Kyiv at 4:00 a.m. local time to tell them to go to the bomb shelter, where they stayed for a week. Her sister, mother and uncle evacuated to Lviv, where her sister now volunteers for United Help Ukraine.
Baydyuk's father stayed in Kyiv. "He's a doctor so he's working in his clinic," she said. "A lot of people like my father stayed back because they have to be there."
Here in the United States, the war inspired a sense of patriotism in Baydyuk's 12-year-old son. "He's really proud of Ukraine," she said. "He really tries to speak to us in Ukrainian only."
At a rally in honor of the children who have died during the invasion, Baydyuk's son read a letter he and his friends had written, addressed to children in Ukraine. "One day, you're going to come out and you're not going to be scared of bombs and shelling," he said. "You're going to see a clear sky that has no planes."
Supporting the Defenders
In early March, United Help Ukraine arranged for a shipping company to take supplies to a warehouse in Lviv in western Ukraine. From there, volunteers deliver supplies all over the country. "The time from the moment the item reaches our warehouse in Delaware to the moment it reaches our warehouse in Lviv is about seven days," Baydyuk said.
In addition to medical aid going to hospitals and humanitarian aid for internally displaced people, United Help Ukraine distributes medicine and protective gear to Ukrainian defenders. According to a blog, the organization spent more than $3 million in the first month of the war on supplies for the defenders, including individual first aid kits and tourniquets.
"We really focused on helping Ukrainian defenders who are civilians who were mobilized from territorial defense units," Baydyuk said. "They're college students, IT professionals, businessmen. They don't have any protection."
The need for medical aid in Ukraine is also especially critical. "The number of wounded is really, really high and many of the manufacturers that were providing supplies were bombed," she added. "I think over the past month, we have shipped over 200 tons of medical supplies to Ukraine."
When the conflict ends, United Help Ukraine will turn their attention to supporting efforts to rebuild Ukraine. "Even if the war stops tomorrow, the devastation and the damage are beyond understanding," Baydyuk said. "I'm sure Ukraine will get all of the support it needs, but it's going to be a long, long effort to rebuild the country."
'What Country is Next?'
In anticipation of the invasion, United Help Ukraine started working to raise awareness in early January. Baydyuk expressed frustration that the international community didn't do more to prevent the war in the first place.
"Even when Russia invaded, sanctions were slow to come," she said. "The economy will slow down in Russia, but that time means that every single second, Ukrainian lives will perish."
"If all of us stand together, we call our representatives, we demand certain things, our voices will be heard," Baydyuk said. "If we don't see the strong stance against Russia, what country is next?"
On the Ukrainian Border, NHS Alum Works to Improve Health Care Systems for Refugees
After fielding several requests from people interested in supporting humanitarian efforts in Ukraine, Helen Perry (NHS'18) was moved to post a general response on Facebook.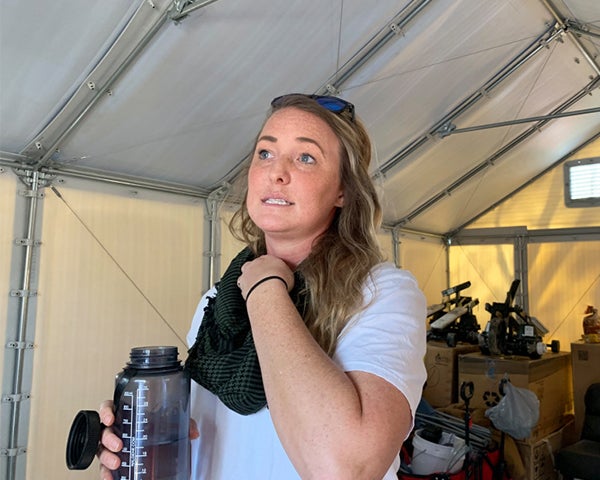 "I know everyone wants to help in Ukraine, and I truly believe that everybody can help," she said. "But if you don't have conflict experience, you should not be trying to inject yourself into the middle of Ukraine."
As a global health consultant for NGOs, Perry sets up medical care in low resource areas and evaluates existing health care programs to identify gaps. She has worked in areas affected by conflict and natural disasters, including Iraq, parts of Mexico that are largely controlled by drug cartels, the Bahamas after Hurricane Dorian and most recently, the Ukrainian border with Poland and Romania.
"You can't magically create a robust developed health care system in an underdeveloped country," she said. "Instead, what I focus on is setting up networks that are sustainable, efficient and effective for the resources that are at hand."
Refugees often struggle to navigate complex bureaucratic health care systems, and they're less likely to speak up when they encounter problems, especially when they don't speak the local language. Those challenges have a disproportionate impact on women and girls, who are higher risk for sexual violence and trafficking.
"Access to health care, particularly for women and girls, is lacking," Perry said. "We know that in a conflict that rates of rape and sexual assault increase significantly, but rates of reporting go down, because who do you call?"
Lessons Learned at Georgetown
The majority of medical research subjects are white men, so research findings may have limited relevance for Perry's patients. She credited Georgetown with teaching her how to think critically about research. "That's one thing that I really thank Georgetown for, is making me a critical thinker and helping me think outside the box," she said.
Perry was also grateful for the ethics training she received at Georgetown. "I loved my ethics course, because the examples were very real," she said. "The instructor who led it was very open to discussion, and in my time in public health, I have run into some very challenging ethical dilemmas where you really have to have a solid understanding of what your ethical compass is."
Having an education grounded in ethics helped Perry walk away from jobs with organizations that were acting unethically, giving her time to reprioritize and refocus. "It's allowed me to come back as a better professional to help people who need it," she said.
Kat Zambon
GUMC Communications