Grad Student Uses Skills Honed at Georgetown to Help DC Fight Coronavirus
Posted in GUMC Stories | Tagged 2019 Novel Coronavirus, biomedical education, Biomedical Graduate Education, biomedical research, coronavirus, COVID-19, graduate education, service to others
(October 9, 2020) — When the pandemic forced Georgetown University to move to a virtual setting and research labs were temporarily shuttered, Suzie Stephenson (G'17, G'22) drew upon her training in virology to make a difference.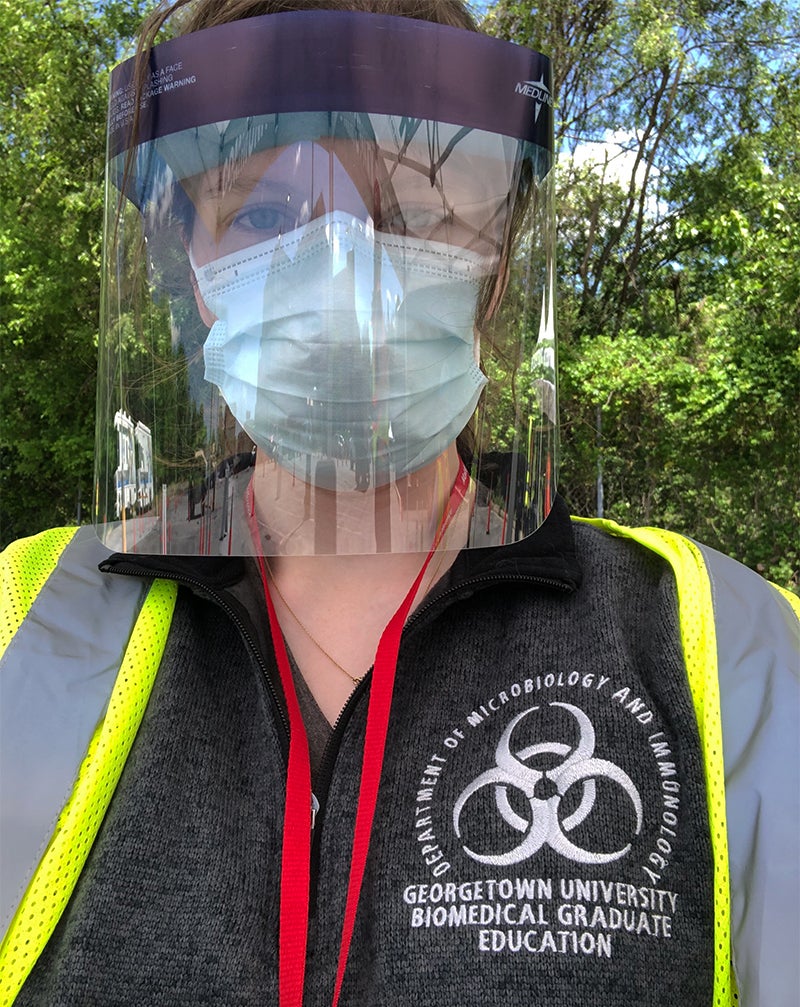 "You think, 'What are you going to do when something bad happens?'" said Stephenson, a PhD candidate in microbiology and immunology at Georgetown. "Are you going to do something or are you not going to? And I had the skill set and thought I should do something."
After her laboratory had been closed for about a week, Stephenson reached out to local departments of health to see if she could put her lab skills to use and landed a volunteer research internship with the DC Public Health Laboratory, part of the Department of Forensic Sciences.
From Animal Science to Virology
Initially interested in veterinary medicine, Stephenson took a class in microbiology while working on her undergraduate degree. "I took a virology class in undergrad and basically that was my favorite class I'd ever taken," she said. "I love virology because viruses are so fascinating. Something so tiny and relatively simple can cause so much damage."
Stephenson went on to graduate from the University of Vermont with a double major in animal science and microbiology. After six months in veterinary school, it was apparent her passion for microbiology would not abate. She pursued a master's degree in microbiology & immunology, a part of Georgetown's Biomedical Graduate Education, where she earned her Master of Science in 2017.
In her PhD research at Georgetown, Stephenson is studying the basic molecular biology of hepatitis D, a virus that can only infect those who already have hepatitis B. That background helped her in her role with the DC Public Health Laboratory. "My time at Georgetown definitely prepared me to do this," she said.
A Sense of Urgency
While volunteering with the lab, Stephenson helped collect samples from people being tested for COVID-19 at the city's testing site at United Medical Center in southeast DC and carried out quality assurance testing back at the public health lab. "I was kind of engaged at all phases of the testing," she said. "I received tests and did quality assurance to ensure they were good enough to do actual testing, and prepared samples to go in the instrument to do the testing."
Seeing how a public health lab adapts to address a public health emergency was part of her learning experience. "A basic science lab is about the curiosity of finding something out, and a public health lab is about doing as many tests as quickly as possible so we can save lives," Stephenson said. "It basically put an urgency to science that I had never really felt before."
"When you're working in the lab on the basic science level, if you make a mistake, you wasted time and money," she added. "In the public health lab, if you make a mistake and tell the wrong person that they're positive, that person is now walking around in the community making people sick and someone they make sick could die. You want to do your work well for your PhD, but if you don't do your work well in the public health lab, there are major consequences."
Gaining a New Perspective
Volunteering for the DC Public Health Laboratory gave Stephenson a new perspective on her work as a researcher. "When you're working in the lab and you're not even working with human or animal samples, you can forget why you're working on what you're working on," she said. "Seeing the people who were giving their samples showed who you're doing the work for. You see why you're doing what you're doing."
Though she has always been interested in becoming a professor, Stephenson's experience opened her eyes to career opportunities in public health, something she's seriously considering after she graduates.
"I think all bench scientists need to experience what it's like to be on the front lines because you just get very secluded and not understanding what you're doing your research for when you're constantly at the bench," she said. "So I think anyone should do it if they have the opportunity."
Kat Zambon
GUMC Communications