Georgetown's Jesse Goodman Leads Vaccine Analysis Team
Posted in GUMC Stories | Tagged community outreach, COVID-19, pandemic, public health, vaccination, Vaccine
(May 7, 2021) — If you've read news stories this past year about COVID-19 vaccines in The Washington Post or The New York Times, for example, or have heard stories on NPR, the journalists' reporting may well have been informed by input from a group of vaccine experts led by Georgetown infectious disease specialist Jesse Goodman, MD, MPH.
Among the many lessons learned early on in the coronavirus pandemic was that clear, accurate and unbiased communication is critical. In 2020, inconsistent messaging from government officials contributed to skepticism about best practices to reduce the risk of infection, including vaccination.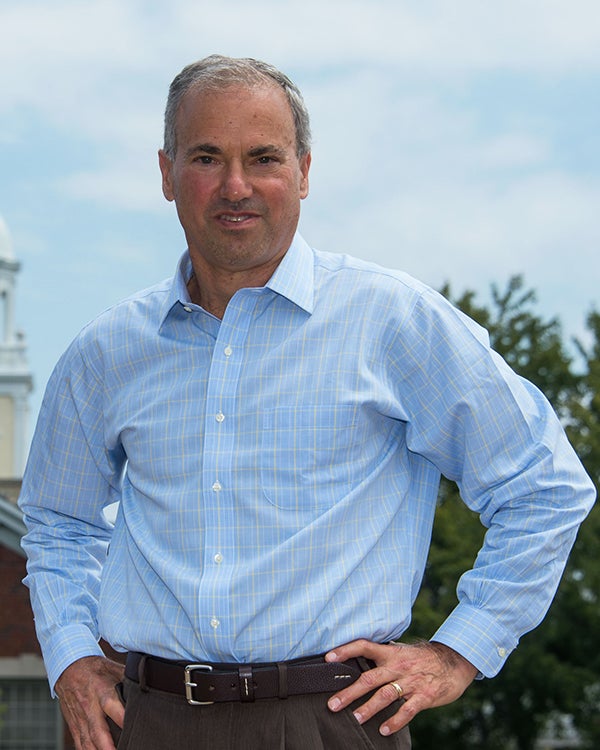 "In the fall, when much controversy was swirling and pressure on the FDA from the White House was fierce, there was palpable and constant concern about COVID-19 vaccine development, review and authorization, and about the vaccines themselves," Goodman notes.
To begin addressing these issues, Goodman, a former FDA chief scientist and now professor of medicine and infectious diseases at Georgetown University Medical Center, and John D. Grabenstein, RPh, PhD, of the Immunization Action Coalition, formerly head of the U.S. Department of Defense's immunization programs, formed COVAT, the COVID-19 Vaccine Analysis Team.
To fill out the COVAT roster, they assembled 10 volunteer experts — including former government leaders — with expertise in clinical trials, vaccine safety, vaccination programs, virology, the regulatory process and health communications.
"Our experts include former FDA, CDC, White House, DOD and HHS scientific leaders, leading academic experts from around the country, and media and public health experts," Goodman says. "We've all worked together in some capacity over the years."
COVAT's blue-ribbon panel of experts include a former commissioner of health for New York City, the former directors of both the Office of Vaccines Research and Review and the Division of Epidemiology at FDA, the former director for medical and biodefense preparedness at the National Security Council, the previous director of the National Vaccine Program Office at HHS, the former communications director for the CDC, and two leading academic vaccine developers.
View a List of COVAT Members
Mary Bassett, MD, MPH, François-Xavier Bagnoud Professor of the Practice of Health and Human Rights, director of the François-Xavier Bagnoud Center for Health and Human Rights; former commissioner of health for New York City
Norman Baylor, PhD, president and CEO, Biologics Consulting; former director of FDA's Office of Vaccines Research and Review
Luciana Borio, MD, vice president In-Q-Tel; former director for Medical and Biodefense Preparedness at the National Security Council; former FDA acting chief scientist
M. Miles Braun, MD, MPH, adjunct professor, Georgetown University School of Medicine; former director of FDA's Division of Epidemiology
Bruce Gellin, MD, MPH, president, Global Immunization, Sabin Vaccine Institute; former deputy assistant secretary for health and director of the National Vaccine Program Office, U.S. Department of Health and Human Services
Jesse L. Goodman, MD, MPH, COVAT chair; professor of medicine and infectious diseases, Georgetown University; former FDA chief scientist and former director of the FDA Center for Biologics Evaluation and Research
John D. Grabenstein, RPh, PhD, COVAT co-chair; colonel, U.S. Army (retired); editor for Immunization Action Coalition; general manager of Vaccine Dynamics; former global executive director of medical affairs, Merck Vaccines; former senior scientist and director for U.S. Department of Defense military immunization program
Peter Hotez, MD, PhD, dean, National School of Tropical Medicine; professor of pediatrics and molecular virology & microbiology, Baylor College of Medicine; director, Texas Children's Hospital Center for Vaccine Development
Glen Nowak, PhD, strategic communications advisor to COVAT; director, Center for Health and Risk Communication, professor of advertising, University of Georgia; former director of media relations at CDC and communications director for CDC's National Immunization Program
Paul A. Offit, MD, director, Vaccine Education Center, professor of pediatrics, division of infectious diseases, Children's Hospital of Philadelphia; Hilleman Professor of Vaccinology, Perelman School of Medicine, University of Pennsylvania
Walter A. Orenstein, MD, professor of medicine, epidemiology, global health and pediatrics, Emory University; associate director, Emory Vaccine Center; director, vaccine policy and development; former deputy director, Immunization Programs, Gates Foundation; former director, CDC National Immunization Program
COVAT's aim is "to objectively analyze rapidly evolving, challenging and complex science for the public, media, health care providers and elected officials."
One of the best ways to reach these populations is through the mass media.
"Since the end of October, COVAT has hosted weekly on-the-record media briefings on COVID-19 vaccines and immunization, attended by some of the most trusted names in medical and science journalism," Goodman says.
Frequent attendees of these informal and highly interactive meetings include journalists from The New York Times, The Associated Press, The Washington Post, NPR, Science, STAT, USA Today, and Reuters among others. Anywhere from six to 12 journalists join the Zoom meetings, with their combined reach in the tens of millions.
At the start, the briefings addressed vaccine development, safety and efficacy. The focus of the meetings quickly turned to the FDA process of granting emergency use authorization for the novel vaccines and how this differs from licensing new vaccines; the ethics of unblinding the randomization status in vaccine/placebo trials; and the implications of vaccinating those in a placebo arm before a trial's completion. Once the vaccine-makers submitted data to the FDA for emergency use authorization, the questions pivoted to analysis and review of the strengths and weaknesses of the data, as well as the FDA's Vaccines and Related Biological Products Advisory Committee and the CDC's Advisory Committee on Immunization Practices, and their roles in identifying safe and effective vaccines.
More recently, COVAT members have answered questions about vaccine safety, including the rare clotting events that have been reported with the authorized Johnson & Johnson vaccine, and ways of communicating about safety and risk. The latest meeting on May 5 included discussion of the Pfizer-BioNTech request to have FDA authorize use of its vaccines in adolescents.
COVAT experts examine not only the potential importance of specific scientific findings, but also possible gaps in understanding, implications and future directions.
"Almost every week after a media briefing, I hear from the journalists who express their gratitude for having access to these highly regarded vaccine experts," says Karen Teber, senior director of communications for Georgetown University Medical Center who coordinates the media calls.
"While these calls are on-the-record, they are casual, candid and courteous," she adds. "There's a terrific chemistry between our regular journalists and the experts."
In addition, COVAT members field questions between media briefings.
The team has published important perspectives including "Answering Key Questions on COVID-19 Vaccines" in JAMA, and "Vaccine Alone Won't Stop COVID-19: We Need a Trusted Plan For It" in STAT.
"At some point, we expect to reach a point where we may no longer be regularly needed, but as of now, the continuing interest in and understanding of emerging information on COVID vaccines, and their role in controlling the pandemic is robust," Goodman says.
In addition to the contributions of its diverse group of experts, COVAT receives logistic support from Georgetown University's Center for Global Health and Security, the GUMC Office of Communications, and from Talus Analytics, a company specializing in data solutions and visualization.
Beth N. Peshkin
GUMC Communications