Georgetown HIV Expert Co-Authors Report on HIV in America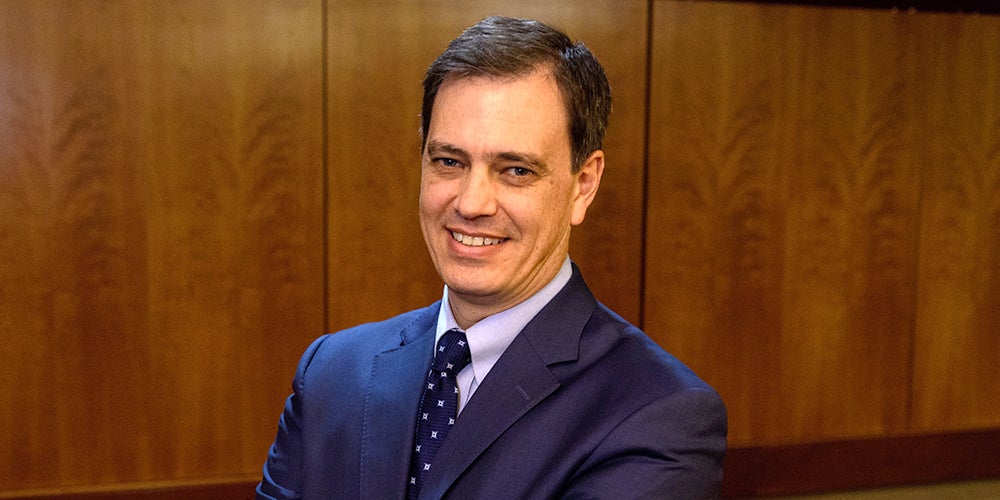 Posted in GUMC Stories | Tagged HIV, population health
(October 3, 2019) — In his 2019 State of the Union address, President Trump announced a new federal commitment to ending the HIV epidemic in 10 years. 
For infectious disease physician Charles Holmes, MD, faculty co-director of Georgetown's Center for Global Health Impact and Practice, the announcement was a door cracked open to an opportunity that could lead to more dedicated funding for HIV/AIDS treatment and prevention.
Throughout Holmes' career, he has held senior global health leadership roles in government, academia and non-governmental organizations, working to increase access to services for people vulnerable to and living with HIV in the U.S. and around the world.
There are 1.1 million people living with HIV in the United States and, according to the U.S. Centers for Disease Control and Prevention, nearly 40,000 new cases are diagnosed each year — a number that has plateaued in recent years. The President's FY 2020 budget requests an additional $291 million for the U.S. Department of Health and Human Services to eliminate new HIV infections.
Ambitious Study
"As a physician who has spent many years providing clinical services to people living with HIV, and through my global health and policy work in and out of the U.S. government, I feel a tremendous stake in ensuring the 'End the HIV Epidemic' plan is as successful as possible," Holmes says.
Holmes was offered an opportunity to work with colleagues at the Bipartisan Policy Center to examine potential avenues to further improve the nation's HIV response, including the evolving "End the HIV Epidemic" plan. He worked closely on the report with Naomi Seiler, JD, of George Washington University, and Anand Parekh, MD, of the Bipartisan Policy Center, among others.
"We undertook this ambitious study to focus on obtaining front-line data and insights from eight diverse jurisdictions," Holmes explains. "We synthesized the findings and tied them back to federal, state and local policy environments."
Key Recommendations
The Bipartisan Policy Center report, "Ending HIV in America: Policy and Program Insights From Local Health Agencies and Providers" (pdf) (new window), was launched at a Sept. 24 event at the Bipartisan Policy Center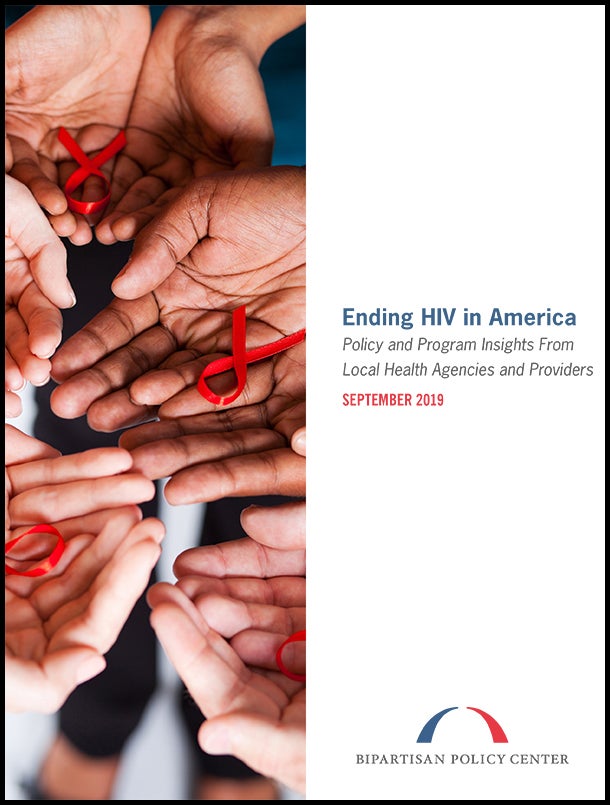 "The report outlines a series of key policy considerations to help achieve the goal of reducing new HIV infections by 90% in 10 years that we anticipate will be considered by policymakers at the federal, state and local level who have a role in improving the U.S. response to HIV infection," Holmes says.
Key among the policy considerations was to continue and strengthen support for the Ryan White HIV/AIDS Program, which provides primary medical care, essential social support services, and medications for low-income people living with HIV who are uninsured and underserved.
Other considerations include expansion of insurance coverage, investing in telemedicine and transport and other services to improve access to care in rural areas, reducing barriers to equitable access to HIV pre-exposure prophylaxis (PrEP) through addressing drug costs, provider education and addressing PrEP-related stigma, and targeting programs and resources for youth, particularly those at high risk for infection.
Holmes concludes, "Hearing the voices of providers and local health departments describing the challenges and opportunities they see on the front lines gives me great hope that we can see an end to the HIV epidemic in our country in the next decade."