Doctoral Students Showcase Work at Student Research Day 2018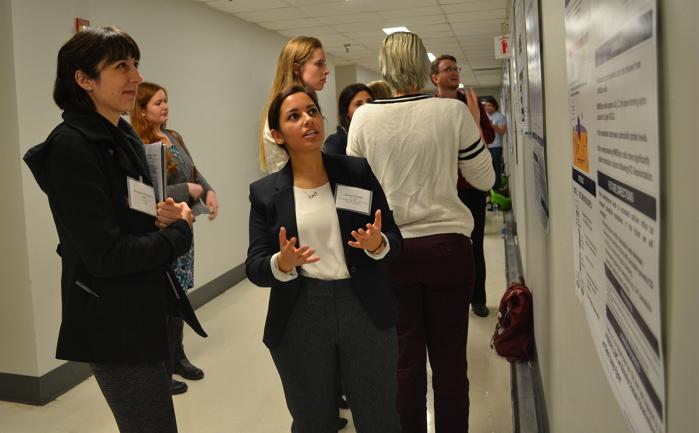 Posted in GUMC Stories | Tagged Biomedical Graduate Education, biomedical research, student research
(October 20, 2018) — The hallway of the Preclinical Science building buzzed with students, faculty and members of the Georgetown University Medical Center (GUMC) community during Student Research Day on October 16. Every fall, doctoral students are invited to showcase their research through oral presentations and poster sessions while judges select the best presentations in a variety of categories.
"Student Research Day is really important because it gives students the opportunity to develop their presentation skills, receive feedback on their work and share research with members of the GUMC community," said Caleb McKinney, PhD, assistant dean of graduate & postdoctoral training & development in the Biomedical Graduate Education (BGE) program's Office of Career Strategy and Professional Development.
A Case for Rigor in Biomedical Research
Along with highlighting student research, the event also included a keynote speaker. This year, NPR reporter and award-winning journalist Richard Harris discussed the importance of rigor in research in a talk titled, "Science Friction: What's Slowing Progress in Biomedicine?"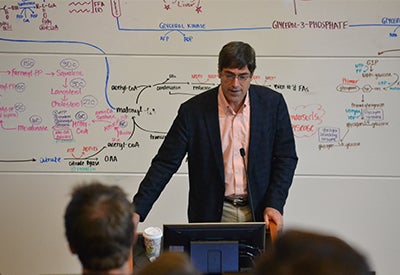 One of the key issues Harris highlighted was reproducibility in biomedical research and the importance of rigor within academic institutions. Some scientists consider reproducibility to be a crisis in the current scientific landscape but Harris offered a different perspective.
"I actually don't think there's a crisis because this isn't 'new' in many ways," Harris said. "I see this as an awakening — which is much better than a crisis because people are becoming aware that there are issues. And once you're aware that there are issues, you can resolve them."
McKinney found Harris' message incredibly relevant for students.
"It's really important to instill foundational rigorous research principles in our student body and in our research infrastructures," he said. I thought [reproducibility] was a really appropriate topic for this particular time."
Spotlight on First-Year PhD Students
Although Student Research Day has been around for over 25 years, there was one new element to the event in 2018 — first-year PhD students were able to present their research.
"We wanted them to have the opportunity to start developing these presentation skills earlier in the process," said McKinney.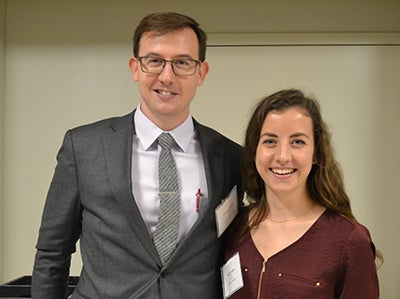 To highlight their accomplishments, a special category for the poster session was created for first-year students, with Marissa Laws (G'23) and Plamen Nikolov (G'23) receiving first and second place respectively.
When asked about the experience, Nikolov expressed surprise at winning.
"My only goal was to explain, coherently, what the project aims were and it's especially difficult to do that when you can have an audience from any program," he said.
"Having won, for me, was validation of being able to explain the concept. Getting your feet wet in a laboratory and presenting the idea to anyone is really cool."
Laws and Nikolov agreed that the experience helped them continue to develop their presentation skills.
"I think it's always advantageous to get more experience when you can," Laws said. "When you're presenting, getting the listener excited about what you're talking about is the most important thing. It takes practice."
Opportunity for Interdisciplinary Connections
While Student Research Day is primarily a space intended for students to share their work, it's also an opportunity for the community to learn about research at GUMC.
Nikolov expressed that seeing the work of his peers in other fields was especially beneficial.
"I really like when different programs come together and you can see what else is going on," he said. "When you see what's happening in different fields there's a chance you bring a small idea from a completely different discipline to solve your problem."
However, the audience at this year's Student Research Day expanded beyond the PhD students presenting.
"I do want to emphasize that the amount of traffic we've seen at the posters and oral presentations [this year] has increased," said McKinney. "I'm really happy to see how supportive our institution is of our students and their work. Let's keep that momentum going."
Giuliana Cortese
GUMC Communications
Please see below for the list of Student Research Day award winners.
---
Student Research Day Oral & Poster Presentation Winners
Oral Presentations
First Place:
Paige Brooks, Biology
Erin Wenzel, Pharmacology
Second Place:
Adam Caccavano, Interdisciplinary Program in Neuroscience (IPN)
First-Year Rotation Posters
First Place:
Marissa Laws, IPN
Second Place:
Plamen Nikolov, IPN
Biologies
First Place:
Ivana Brekalo, Chemistry
Second Place:
Yang Yang, Biochemistry
Third Place:
Manasa Suresh, Microbiology & Immunology
Anjelika Gasilina, Biochemistry
Neuroscience
First Place:
Gabrielle-Ann Torre, IPN
Second Place:
Katherine O'Connell, IPN
Pharmacology
First Place:
Mai Abdel-Ghani, Pharmacology
Seham Alaiyed, Pharmacology