Direct-To-Consumer Genetic Testing: Getting it 'Morally Right'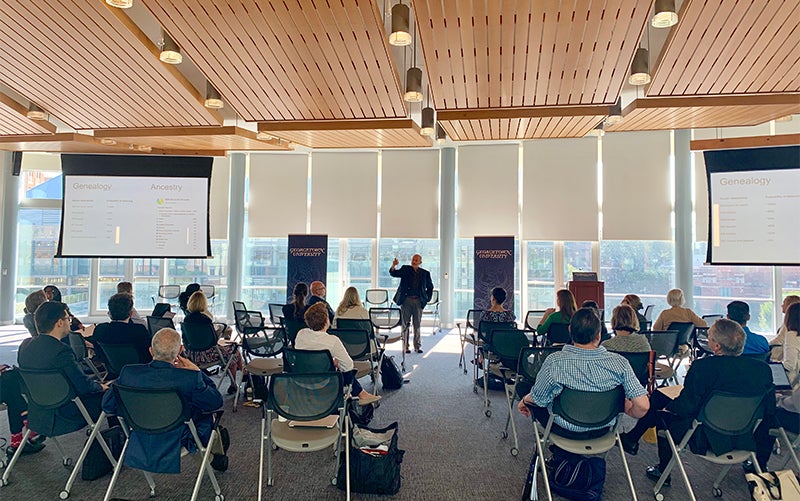 Posted in GUMC Stories | Tagged bioethics, genetic testing, medical ethics
(September 18, 2019) — The TV advertisements for DNA testing are ubiquitous: there's one with the young man who thought he was part German until genetic testing led him to trade his lederhosen for a kilt, and there's a woman pictured taking exciting trips to various parts of the world — from Scandinavia to West Africa — exploring her roots revealed through ancestry testing.
And while the ads show fun outcomes of genetic testing, the emergence of companies offering direct-to-consumer (DTC) genetic testing to determine ancestry and predictive markers of diseases has generated debate.
Many Concerns
"Issues of privacy, informed consent, accuracy and integrity of the results, protection of genetic information, understanding the implications of getting tested and the significance and limitations of the results, are concerns to many of us," said geneticist Bassem Haddad, MD, a Georgetown professor of oncology, and obstetrics and gynecology.
To begin addressing the complex issues of DTC genetic testing, Haddad and his colleagues brought together leaders from industry –– including 23andMe and AncestryDNA — attorneys, geneticists, ethicists, researchers and others for a two-day workshop, "Direct-To-Consumer Genetic Testing: What Needs to be Done to Get this Business 'Morally Right'?" on September 12 and 13 at Georgetown.
"Given the wide range of implications of DTC genomic testing, it's more important than ever that we gather as many stakeholders as possible to share perspectives," said Georgetown oncology professor and genetic counselor Beth Peshkin, MS, LCGC. "I'm very encouraged to see key industry players engaged in this discussion."
'Shocking' Discovery
The need for the conference was sharply defined by a geneticist who shared her very personal story with ancestry testing, which started as a fun family pursuit with results that dramatically impacted her family.
Through genetic testing, she discovered that her parents used a sperm donor to conceive when it was determined her father couldn't have children — something she hadn't been told. In addition, it was revealed that her biological father was of Ashkenazi Jewish descent, a population that often carries important health risks including an increased risk of developing breast and ovarian cancer.
She described the discovery as "shocking. … You just never know," she said.
Haddad commented that while there were positives to come from her experience — learning about her ancestry is important to her medical history — there were more serious societal and privacy challenges.
Ultimate Aim
Conference co-organizer and bioethicist Kevin FitzGerald, SJ, PhD, of Creighton University, asked the attendees, "How can we all come up with a better way" of balancing the benefits and challenges that arise from DTC genetic testing?
"Our ultimate aim is to identify steps that can be taken to get this business 'morally right,'" Haddad said.
Describing the workshop as a good start, Haddad said, "I believe that the candid and informative discussions we had during this workshop positioned us well so we can reach that aim."
He said he hopes to continue the discussion and propose ideas for best practices, many of which were identified during the workshop.
The workshop was funded by a Georgetown University International Collaborative Grant, a program administered by the Office of the Vice President for Global Engagement to support convenings that foster collaboration across Georgetown units and with international partners. In addition to Haddad and FitzGerald, business professor Luc Wathieu was also a co-organizer of the workshop.