BGE Lunar New Year Celebration Offers Opportunity To Celebrate Student Diversity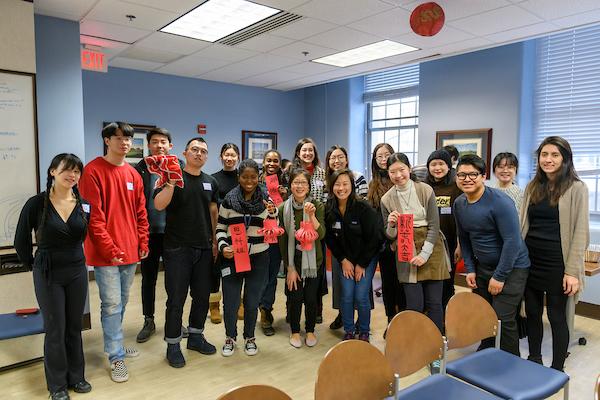 Posted in GUMC Stories | Tagged Biomedical Graduate Education, diversity
(February 15, 2019) — With Chinese food, games, dumpling making lessons and more, students filled a room in the Medical-Dental Building recently during the Biomedical Graduate Education (BGE) annual Lunar New Year celebration.
Replicating the grand, longstanding celebration in Asia, the party started several years ago to help international students feel welcomed to the Georgetown community.
"It's a huge decision for them and their families to make," said Caroline Goon, director of BGE student recruitment and partnerships. "These families are often pulling together everything to make sure their kids can study in the U.S."
The Lunar New Year celebration reflects the diversity of BGE's students. More than 22 percent of BGE students are international students from countries including China, India and Pakistan, and several are the first students in their families to study in the U.S.
Nurturing Social Support Networks
Hosting social events like the Lunar New Year party helps students connect with each other, which is critical for their success in the program and beyond, Goon said.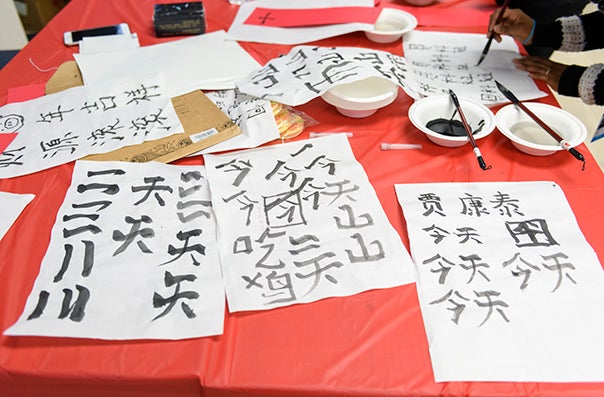 "The students who were the most successful — meaning they did well in their program, were able to get a good job and were socially and emotionally happy. They're the ones that really make friends with the other students in the program, get to know their faculty members and join clubs and extracurricular activities," Goon said.
Siyuan Zhao (G'15) and Zach Weisner (G'15) fondly remembered attending the Lunar New Year celebration when they were biochemistry students. "I even learned how to make dumplings better than Siyuan," Weisner joked.
Other than their participation in the program and both having an end-of-alphabet last name, they noted, they have little in common. Weisner is from a small town in Pennsylvania, and Zhao was born in northern China just outside of Beijing. But they became close friends in the BGE program.
"She would tell me a little about China and her family and how she came here and I would share stories about my family," said Weisner, who is now a second-year medical student at Lake Erie College of Osteopathic Medicine and is a second lieutenant in the U.S. Army.
Having completed her biochemistry degree, Zhao is pursuing a PhD in neuroscience at Rutgers University. She and Weisner continue to stay in touch.
Overcoming Language Barriers
About 54 percent of the students in BGE's master's in biotechnology program are international students, from countries including Korea, Panama, Mexico, Paraguay, Spain and Monaco—providing the global environment reflective of the biotechnology industry. For the last 20 years, Karen Brotherton-Julien, biotechnology program manager, has supported them through the cultural and language transitions they experience.
"It's so nice because when their parents come for graduation, they're always so happy to meet us because they know we've taken care of them while they were in another country," Brotherton-Julien added.
Language barriers can be a significant concern for international students. "I think a lot of them are afraid of saying the wrong thing—using the wrong tense or the wrong verb," Brotherton-Julien said.
For the past three years, Brotherton-Julien has taught "Conversational English for International Students," a course designed to be a casual, comfortable space to discuss topics as basic but important as ordering food at a restaurant and more complex subjects like current events.
Fostering Post-Graduation Success
Ensuring international students feel confident in their pursuit of jobs and PhD programs after graduating is important to BGE administrators.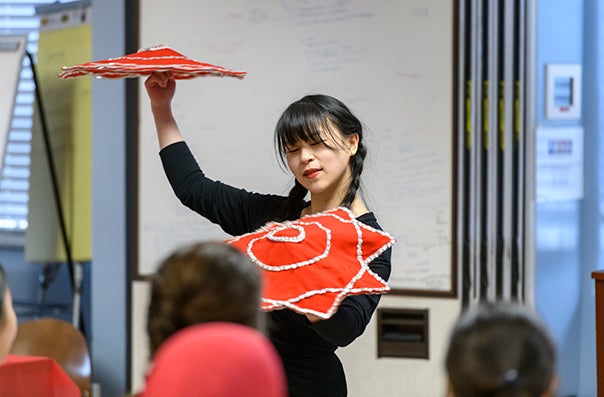 "Something we do very well at BGE is understanding who these students really are, and meeting them where they're at and taking them to the next level," said Goon, who has helped students with applications to PhD programs, interviewing skills, and evaluating and negotiating job offers.
All BGE students have access to its office of career strategy and professional development, where Caleb C. McKinney, PhD, assistant dean of graduate and postdoctoral training and development, provides relevant job postings, one-on-one career advising, and a portal with advice on finding a mentor, transferring one's skills across various industries and information about professional memberships.
McKinney also hosts the Workplace Dynamics Series, which helps students develop the soft skills they may need in their career to complement their science and mathematics knowledge. Topics include conflict resolution, teamwork and diversity and self-awareness and emotional intelligence.
"Interpersonal skill development is key to student formation and career success. These workshops are particularly important for international students to hone cross cultural communication skills, and perform effectively on diverse teams during their educational journey with us and beyond," said McKinney.
Seren Snow
GUMC Communications