BGE Graduates Praise Program's Faculty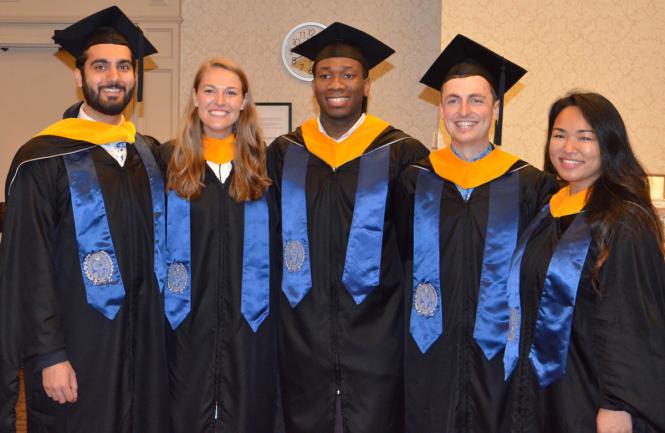 Posted in GUMC Stories | Tagged Biomedical Graduate Education, Graduation 2018
(May 21, 2018) — Feelings of excitement and triumph filled the air on May 18, as Biomedical Graduate Education (BGE) students attended commencement and a reception to celebrate their success with loved ones. This year 515 students graduated from BGE master's degree programs conferred by the Graduate School of Arts & Sciences, and 23 graduated from doctoral programs.
"Congratulations to our BGE graduates as you continue your mission of improving human health through scientific inquiry," said Barbara Bayer, PhD, senior associate dean of biomedical graduation education. "Let your Georgetown values guide you."
Excellent Faculty in a Rigorous Program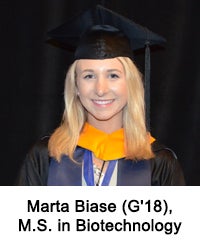 For as long as he can remember, Shawn Kripalani (G'18) has wanted to become a doctor, he said. However, physicians Kripalani spoke to encouraged him to learn about the intersection of medicine and business before starting medical school — an experience he got from the master's in biotechnology program. "My favorite part of the program was the seamless intersection of business and biology courses for a well-rounded education," he said.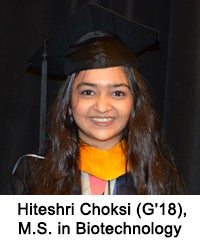 Marta Biase (G'18), another recent biotechnology program graduate, praised the program for having professors who have deep experience working in the biotechnology industry. "The best part of the biotechnology program was the professors. A number of our instructors have impressive careers in the industry, whether it is in patent law, project management or commercialization," Biase said.
The program's combination of challenging assignments and presentations prepared Hiteshri Choksi (G'18) for the real world, she said. "This is a great program — it's quite intense, but will deliver quality education to the students," she added.
New Integrative Neuroscience Program Graduates First Class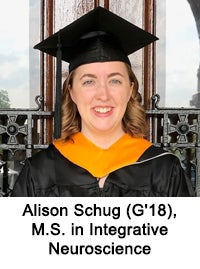 While 2017 marked the 20th anniversary of the master's in biotechnology program, it was also the first year that the master's in integrative neuroscience was offered. Like the biotechnology graduate program, the first class of integrative neuroscience master's degree students praised the program's faculty.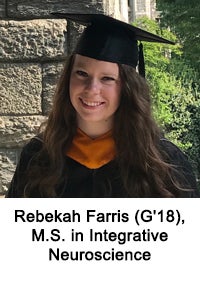 "The best part of the program is the people. The department is so supportive and everyone is so invested both in our success in the program and our success in our futures," said Alison Schug (G'18). Rebekah Farris (G'18) concurred. "All of the faculty and staff truly want us all to be the best and smartest students and scientists that we can be and were always willing to meet with us if we had questions or needed help with anything," she said.
"BGE believed in each and every one of us"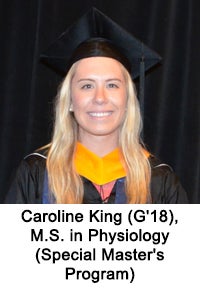 For some BGE students, like Caroline King (G'18), the natural next step is medical school. As a graduating student in the Special Master's Program in Physiology (SMP), King will be staying at Georgetown, joining the School of Medicine's Class of 2022 this August.
"Georgetown BGE believed in each and every one of us and saw our potential and what we had to offer to the medical community," King said.
Schug will also be staying at Georgetown to complete a Ph.D. through the interdisciplinary program in neuroscience. "I am looking forward to continuing to learn from the outstanding faculty and continuing my education as a Hoya," she said.
Choksi is planning to work in the pharmaceutical industry before pursuing a degree in business. "I am glad that I made the decision to come to Georgetown, because I wouldn't have found such a perfect blend of a phenomenal program, excellent professors, great opportunities and the opportunity to meet students from such diverse cultures and backgrounds in any other university," she said.
Seren Snow
GUMC Communications