A Match Day Like No Other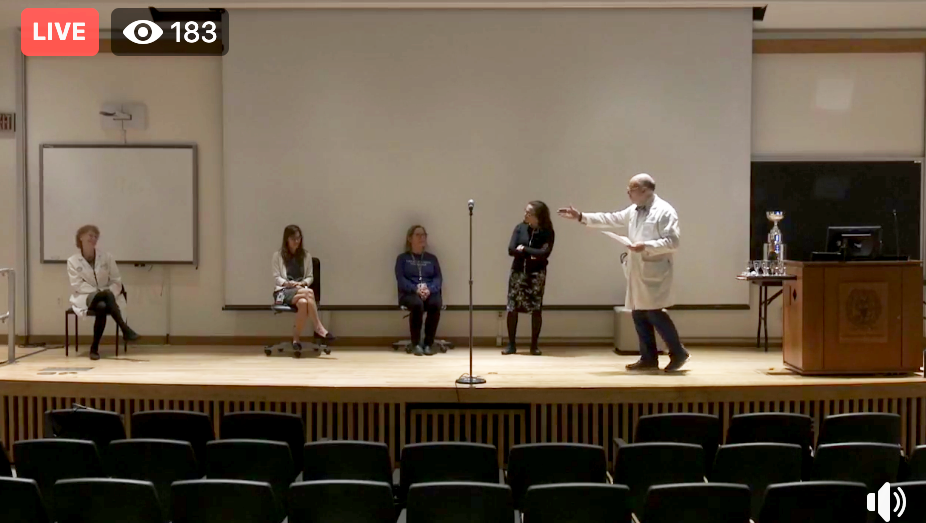 Posted in GUMC Stories | Tagged Match Day, School of Medicine
(March 27, 2020) — Match Day. It is one of the most highly anticipated days in a medical student's life. For most, it is a day filled with excitement and butterflies; a day shared with classmates, faculty, family and friends; a day when students are awaiting the exact second when they learn where their journey will take them for their residency.
That is a typical Match Day. This year's Match Day 2020 broke with tradition because of the COVID-19 outbreak, but it still held the same important significance to the students. A virtual Match Day took place nationwide.
To preserve Georgetown's Match Day tradition, Stephen Ray Mitchell, MD, MBA, dean for medical education at the School of Medicine, delivered his usual blend of comedic and heartfelt remarks via Facebook Live on the same stage in the cavernous lecture hall known as LA6 where he has stood for many previous Match Days.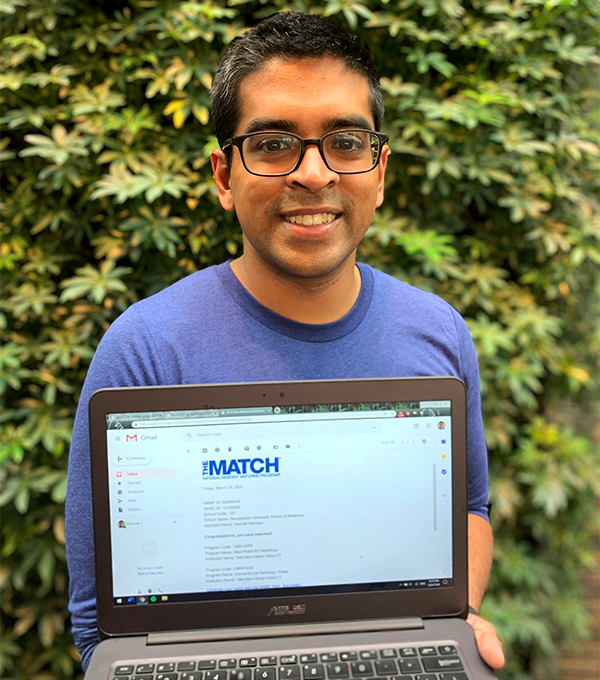 "Some of you have been to Match Day before, and the stage is full — full of our faculty. Right now it is full of four wonderful people and two others in the audience," said Mitchell, as he remained six feet away from the faculty members who accompanied him on stage. He acknowledged the unusual Match Day circumstances while reminding over 350 live viewers to "look at this as a chance to celebrate."
Match Day 2020 was not only a day to celebrate the medical students, but to recognize Mitchell. "This is really sad for all of us that you're not here in this auditorium. It's really a special time, being Dean Mitchell's last Match Day," said Marian Wulf-Gutierrez, MD, associate dean for clinical education. Mitchell is stepping down as dean for medical education at the end of June. "We're just so incredibly appreciative for his leadership, his guidance, his sense of humor, and his love that help support all of us."
The Class of 2020 is made up of 190 students. Most received their life-changing match letter by email, observing the social distancing recommendation to not gather.
"Virtual Match Day was a little different than I expected, but I felt lucky to spend it with two friends and my family through a video chat," said Elizabeth "Libby" Wetterer (M'20). "We popped some champagne for the livestream with Dean Mitchell, and then when the email came, we printed each other's emails, stuffed them in envelopes, and opened them after a big deep breath. I matched into the Montefiore Family and Social Medicine Program in the Bronx!"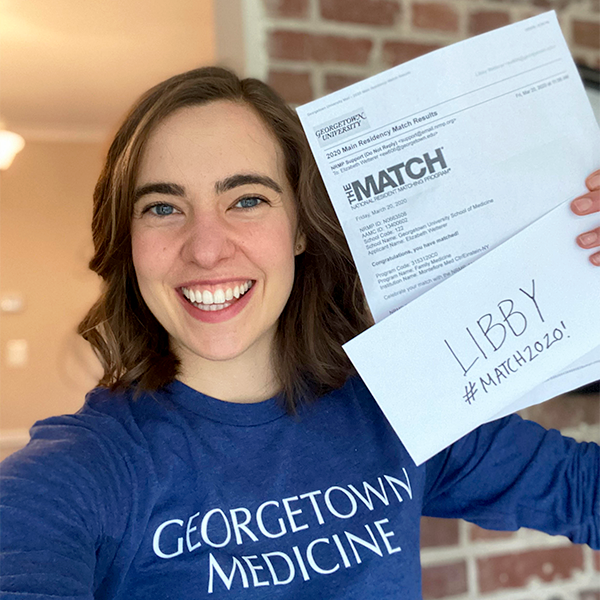 Wetterer is among 17 students who matched with a family medicine specialty, one of the top three specialties for the 2020 Georgetown School of Medicine class. The other top match specialties were internal medicine with 33 students, general surgery with 18 students, and orthopedics and family medicine, which tied with 17 Georgetown students each.
About 35 percent of Georgetown's students matched into primary care, higher than the national average.
The Class of 2020 also had the shortest list of students since the beginning of Mitchell's tenure who didn't match initially and needed to enter the Supplemental Offer and Acceptance Program (SOAP).
In the absence of the typical large Match Day gathering, social media played an important role in maintaining the essence of the momentous day. Students shared photos before, during and after receiving their match results using #GUMatch and #Match2020 and tagging the respective profiles. Faculty, departments, alumni, staff, supporters and more shared congratulations and inspiring thoughts.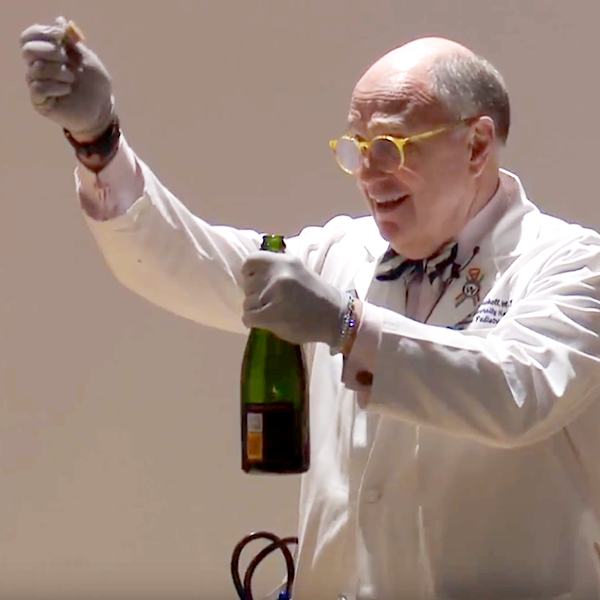 "Congratulations on your amazing accomplishment! As you begin your clinical practice, remember you are more than just a provider of healthcare. You are a provider of hope, knowledge, support, truth, and trust," said Georgetown alumna Mary Ojo-Carons, MD (M'10). "Please let the principles of GUSOM guide you as you continue to learn and take care of people. Care for the whole person should always be your goal."
To end the Facebook Live broadcast, Mitchell donned gloves, poured champagne for the six people in the auditorium, and led a virtual toast to the students that began in his typical humorous way: "Remember, you should never be more than six feet away from a bottle of alcohol for the next few hours."
Tyisha Henderson
GUMC Communications
---
Match Day by the Numbers
Applicants participating in the Main Residency Match according to the National Resident Matching Program: 40,084
Available positions in the match: 37,256
Available first-year positions: 34,266 (2,072 more positions than in 2019, a 6.4% increase)
Most popular specialties among School of Medicine students who matched:
Internal medicine: 33
General surgery: 18
Family medicine: 17
Orthopaedic surgery: 17
Emergency medicine: 15
Pediatrics: 14
Anesthesiology: 11
OB: 10
Most popular destinations for School of Medicine students who matched:
District of Columbia (33 students)
California (28)
New York State (26)
Maryland (17)
Illinois (13)
Number of states where School of Medicine students matched: 31, plus the District of Columbia, and Canada
Number of lives School of Medicine students will impact throughout their careers: Countless!