GUMC Update

GUMC Update is a biweekly online newsletter highlighting recent events, news stories and more from the Georgetown University Medical Center community.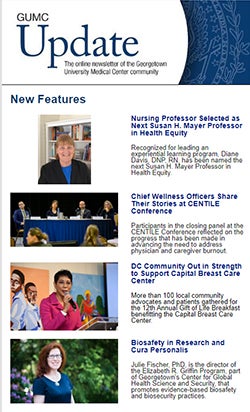 November 3, 2019
Highlights Include:
– Recognized for leading an experiential learning program, nursing professor Diane Davis, DNP, RN, has been named the next Susan H. Mayer Professor in Health Equity.
– Chief wellness officers participating in the closing panel at the CENTILE Conference reflected on the progress that has been made in advancing the need to address physician and caregiver burnout.
– More than 100 local community advocates and patients gathered for the 12th Annual Gift of Life Breakfast benefitting the Capital Breast Care Center.
– Julie Fischer, PhD, directs the Elizabeth R. Griffin Program — part of Georgetown's Center for Global Health Science and Security — that promotes evidence-based biosafety and biosecurity practices.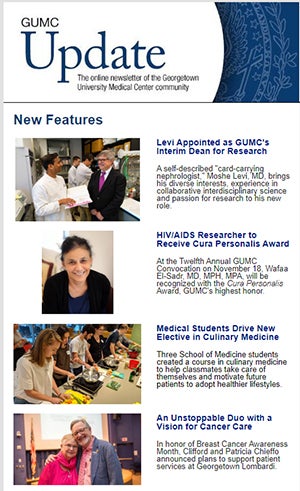 October 20, 2019
Highlights Include:
– Moshe Levi, MD, is named GUMC's Interim Dean for Research.
– HIV/AIDS researcher Wafaa El-Sadr, MD, MPH, MPA, will be recognized with this year's Cura Personalis Award.
– Three School of Medicine students created an elective course in culinary medicine.
– In honor of Breast Cancer Awareness Month, Clifford and Patricia Chieffo announced plans to support patient services at Georgetown Lombardi.
– Medical student Alex Luta (C'16, M'20) won a Grand Prize at MIT Hacking Medicine's DC Grand Hack 2019.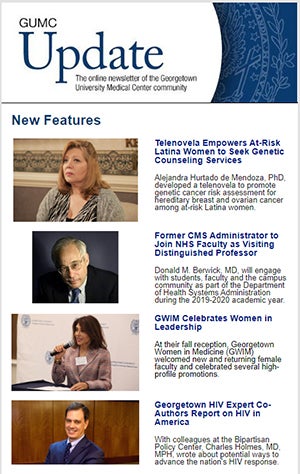 October, 7, 2019
Highlights Include:
– Alejandra Hurtado de Mendoza, PhD, developed a telenovela to promote genetic cancer risk assessment for hereditary breast and ovarian cancer among at-risk Latina women.
– Former CMS Administrator Donald M. Berwick, MD, joins the NHS faculty during the 2019-2020 academic year.
– At their fall reception, Georgetown Women in Medicine welcomed new and returning female faculty and celebrated several high-profile promotions.
– With colleagues at the Bipartisan Policy Center, Georgetown HIV expert Charles Holmes, MD, MPH, wrote about potential ways to advance the nation's HIV response.
– Ethicist and NHS educator Carol Taylor, PhD, will be inducted as a fellow of the American Academy of Nursing later this month.
---
2019 GUMC Update Archive
---
• December 9, 2018
• November 25, 2018
• November 4, 2018
• October 21, 2018
• October 8, 2018
• September 23, 2018
• September 9, 2018
• August 26, 2018
• August 12, 2018
• July 29, 2018
• July 15, 2018
• July 1, 2018
• June 17, 2018
• June 3, 2018
• May 21, 2018
• May 13, 2018
• April 29, 2018
• April 15, 2018
• April 1, 2018
• March 18, 2018
• March 4, 2018
• February 19, 2018
• February 5, 2018
• January 22, 2018
• January 7, 2018
---
• December 10, 2017
• November 26, 2017
• November 5, 2017
• October 22, 2017
• October 9, 2017
• September 24, 2017
• September 10, 2017
• August 20, 2017
• August 7, 2017
• July 24, 2017
• July 9, 2017
• June 18, 2017
• June 4, 2017
• May 22, 2017
• May 8, 2017
• April 23, 2017
• April 10, 2017
• March 26, 2017
• March 12, 2017
• February 26, 2017
• February 12, 2017
• January 29, 2017
• January 16, 2017
• January 4, 2017
---
• December 21, 2016 (Special Edition)
• December 11, 2016
• November 27, 2016
• November 13, 2016
• October 30, 2016
• October 16, 2016
• October 3, 2016
• September 18, 2016
• September 5, 2016
• August 14, 2016
• July 31, 2016
• July 17, 2016
• July 5, 2016
• June 19, 2016
• June 5, 2016
• May 23, 2016
• May 15, 2016
• May 1, 2016
• April 17, 2016
• April 3, 2016
• March 20, 2016
• March 6, 2016
• February 21, 2016
• February 7, 2016
• January 24, 2016
• January 10, 2016
---
• December 20, 2015
• December 6, 2015
• November 22, 2015
• November 8, 2015
• November 1, 2015
• October 18, 2015
• October 4, 2015
• September 20, 2015
• September 7, 2015
• August 23, 2015
• July 12, 2015
• June 28, 2015
• June 14, 2015
• May 31, 2015
• May 18, 2015 (Commencement)
• May 3, 2015
• April 19, 2015
• April 5, 2015
• March 22, 2015
• March 8, 2015
• February 28, 2015
• January 25, 2015
• January 11, 2015
---
• December 14, 2014
• November 30, 2014
• November 9, 2014
• October 26, 2014
• October 13, 2014
• September 28, 2014
• September 14, 2014
• September 1, 2014
• August 17, 2014
• August 3, 2014
• July 20, 2014
• July 6, 2014
• June 22, 2014
• June 8, 2014
• May 26, 2014
• May 20, 2014
• May 11, 2014
• April 27, 2014
• April 13, 2014
• March 30, 2014
• March 16, 2014
• March 2, 2014
• February 17, 2014
• February 2, 2014
• January 20, 2014
• January 5, 2014