GUMC Update

GUMC Update is a biweekly online newsletter highlighting recent events, news stories and more from the Georgetown University Medical Center community.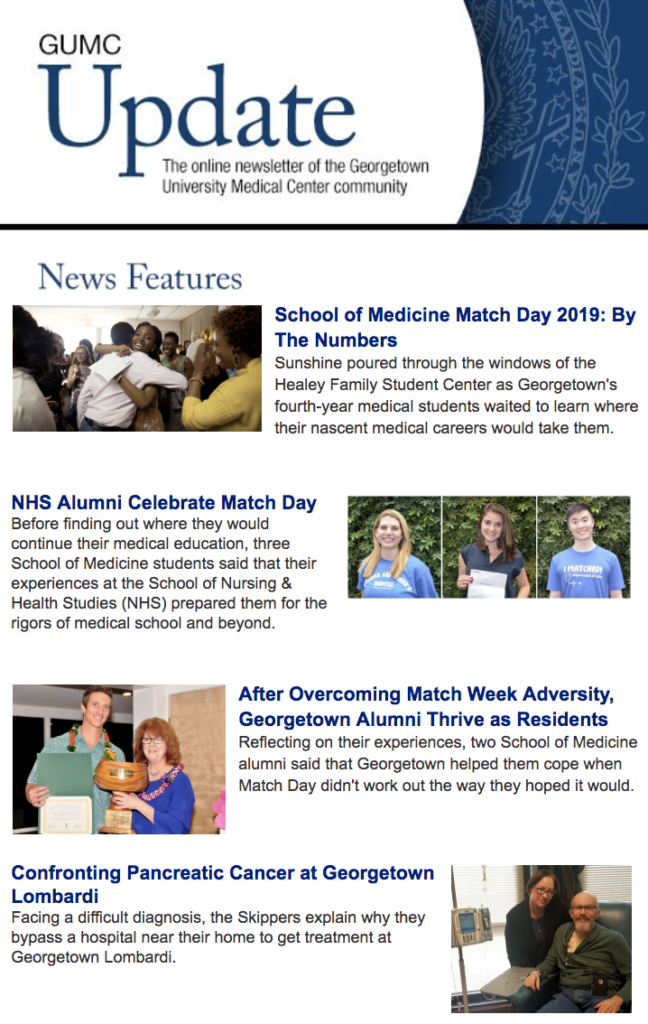 March 17, 2019
Highlights Include:
– On Match Day 2019, members of the School of Medicine Class of 2019 waited alongside friends and family members to learn where their nascent medical careers would take them.
– Three School of Medicine students said that their experiences at the School of Nursing & Health Studies (NHS) prepared them for the rigors of medical school and beyond.
– Reflecting on their experiences, two School of Medicine alumni said that Georgetown helped them cope when Match Day didn't work out the way they hoped it would.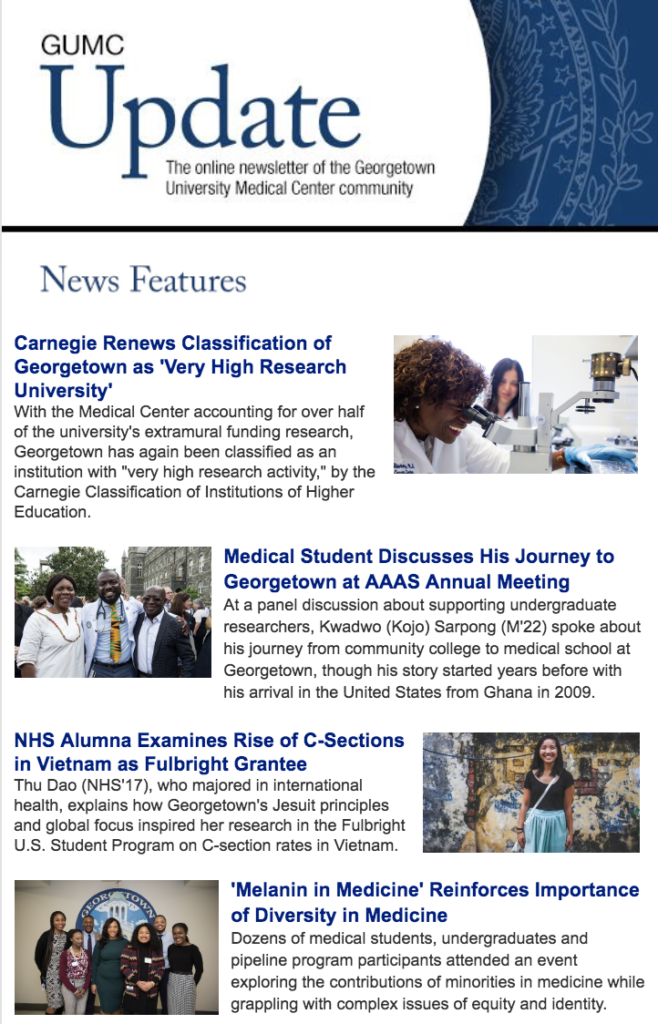 March 3, 2019
Highlights Include:
– Georgetown has again been classified as an institution with "very high research activity," by the Carnegie Classification of Institutions of Higher Education.
– At a panel discussion, Kwadwo (Kojo) Sarpong (M'22) spoke about his journey from community college to medical school at Georgetown.
– Thu Dao (NHS'17) explains how Georgetown's Jesuit principles and global focus inspired her research in the Fulbright U.S. Student Program.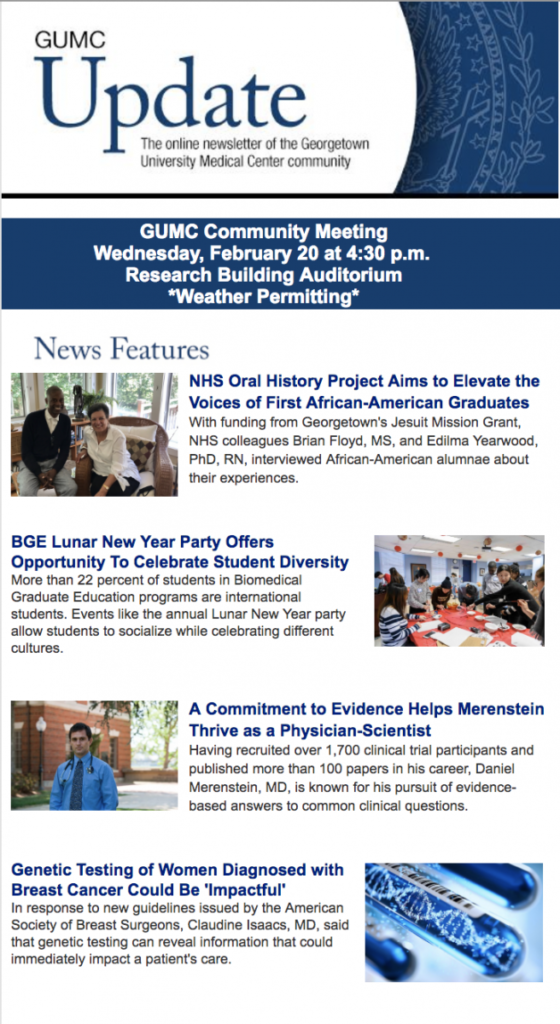 February 18, 2019
Highlights Include:
– In celebration of Black History Month, colleagues at the School of Nursing & Health Studies have been working on an oral history of the first two African-American nursing students.
– Events like Biomedical Graduate Education's annual Lunar New Year party allow students to socialize while celebrating different cultures.
– Having recruited over 1,700 clinical trial participants and published more than 100 papers in his career, Daniel Merenstein, MD, is known for his pursuit of evidence-based answers to common clinical questions.
---
2019 GUMC Update Archive
---
• December 9, 2018
• November 25, 2018
• November 4, 2018
• October 21, 2018
• October 8, 2018
• September 23, 2018
• September 9, 2018
• August 26, 2018
• August 12, 2018
• July 29, 2018
• July 15, 2018
• July 1, 2018
• June 17, 2018
• June 3, 2018
• May 21, 2018
• May 13, 2018
• April 29, 2018
• April 15, 2018
• April 1, 2018
• March 18, 2018
• March 4, 2018
• February 19, 2018
• February 5, 2018
• January 22, 2018
• January 7, 2018
---
• December 10, 2017
• November 26, 2017
• November 5, 2017
• October 22, 2017
• October 9, 2017
• September 24, 2017
• September 10, 2017
• August 20, 2017
• August 7, 2017
• July 24, 2017
• July 9, 2017
• June 18, 2017
• June 4, 2017
• May 22, 2017
• May 8, 2017
• April 23, 2017
• April 10, 2017
• March 26, 2017
• March 12, 2017
• February 26, 2017
• February 12, 2017
• January 29, 2017
• January 16, 2017
• January 4, 2017
---
• December 21, 2016 (Special Edition)
• December 11, 2016
• November 27, 2016
• November 13, 2016
• October 30, 2016
• October 16, 2016
• October 3, 2016
• September 18, 2016
• September 5, 2016
• August 14, 2016
• July 31, 2016
• July 17, 2016
• July 5, 2016
• June 19, 2016
• June 5, 2016
• May 23, 2016
• May 15, 2016
• May 1, 2016
• April 17, 2016
• April 3, 2016
• March 20, 2016
• March 6, 2016
• February 21, 2016
• February 7, 2016
• January 24, 2016
• January 10, 2016
---
• December 20, 2015
• December 6, 2015
• November 22, 2015
• November 8, 2015
• November 1, 2015
• October 18, 2015
• October 4, 2015
• September 20, 2015
• September 7, 2015
• August 23, 2015
• July 12, 2015
• June 28, 2015
• June 14, 2015
• May 31, 2015
• May 18, 2015 (Commencement)
• May 3, 2015
• April 19, 2015
• April 5, 2015
• March 22, 2015
• March 8, 2015
• February 28, 2015
• January 25, 2015
• January 11, 2015
---
• December 14, 2014
• November 30, 2014
• November 9, 2014
• October 26, 2014
• October 13, 2014
• September 28, 2014
• September 14, 2014
• September 1, 2014
• August 17, 2014
• August 3, 2014
• July 20, 2014
• July 6, 2014
• June 22, 2014
• June 8, 2014
• May 26, 2014
• May 20, 2014
• May 11, 2014
• April 27, 2014
• April 13, 2014
• March 30, 2014
• March 16, 2014
• March 2, 2014
• February 17, 2014
• February 2, 2014
• January 20, 2014
• January 5, 2014