GUMC Update

GUMC Update is a biweekly online newsletter highlighting recent events, news stories and more from the Georgetown University Medical Center community.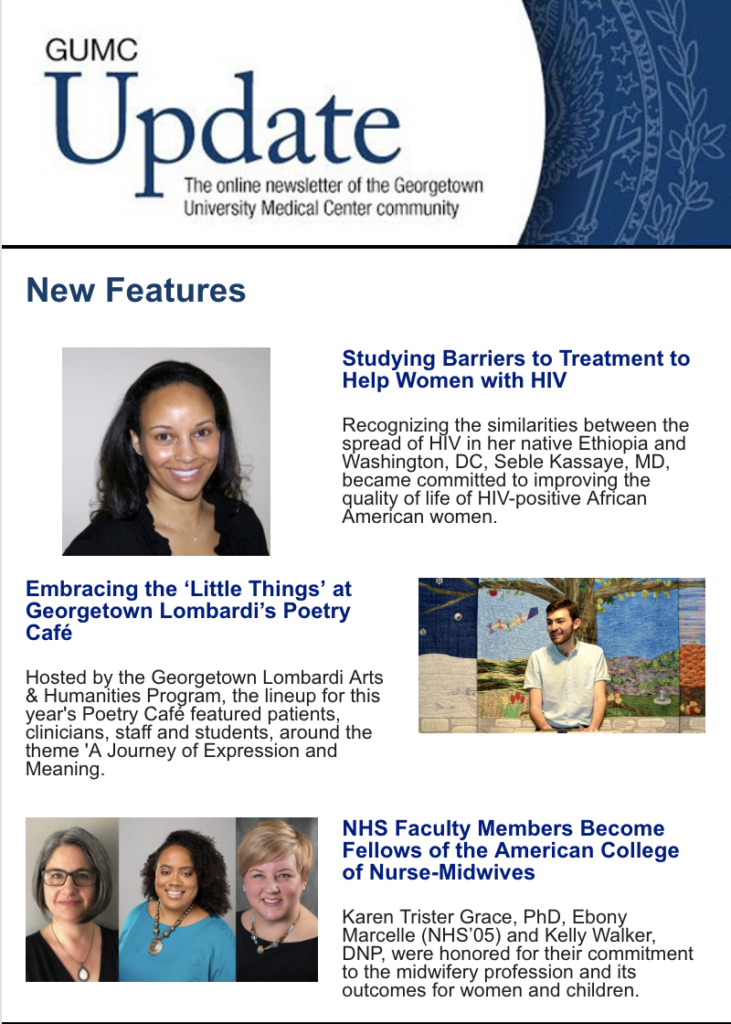 June 16, 2019
Highlights Include: 
– Seble Kassaye, MD, became committed to improving the quality of life of HIV-positive African American women after seeing similarities between the spread of HIV in her native Ethiopia and Washington, DC.
– The lineup for this year's Poetry Café featured patients, clinicians, staff and students, around the theme 'A Journey of Expression and Meaning.
– Karen Trister Grace, PhD, Ebony Marcelle (NHS'05) and Kelly Walker, DNP, were honored for their commitment to the midwifery profession and its outcomes for women and children.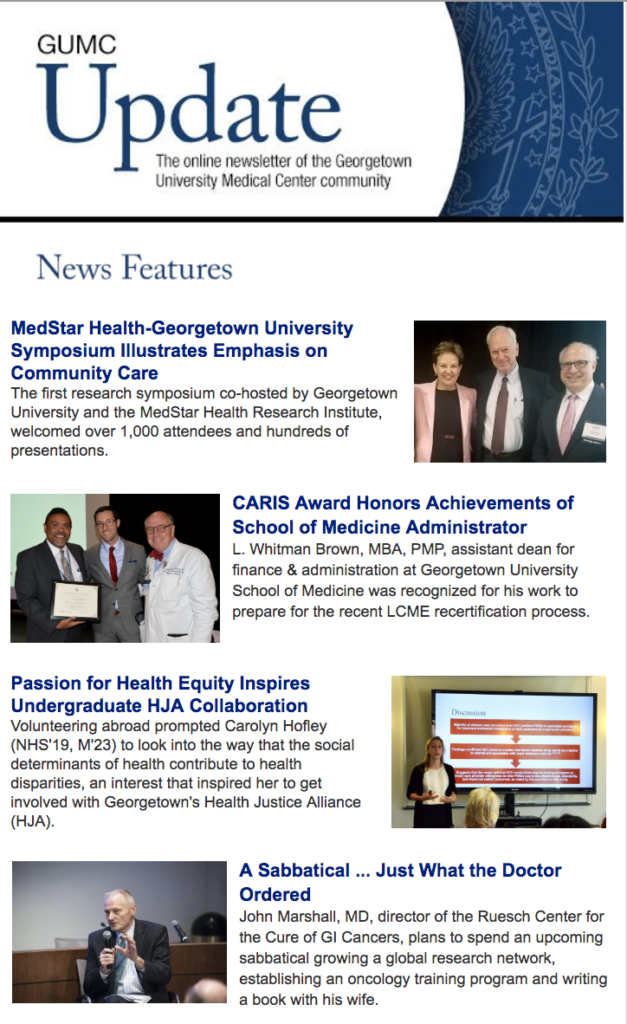 June 2, 2019
Highlights Include:
– The first research symposium co-hosted by Georgetown University and the MedStar Health Research Institute, welcomed over 1,000 attendees and hundreds of presentations.
– L. Whitman Brown, MBA, PMP, assistant dean for finance & administration at the School of Medicine, was recognized for his work to prepare for the recent LCME recertification process.
– Volunteering abroad prompted Carolyn Hofley (NHS'19, M'23) to look into the way that the social determinants of health contribute to health disparities, an interest that inspired her to get involved with the Health Justice Alliance.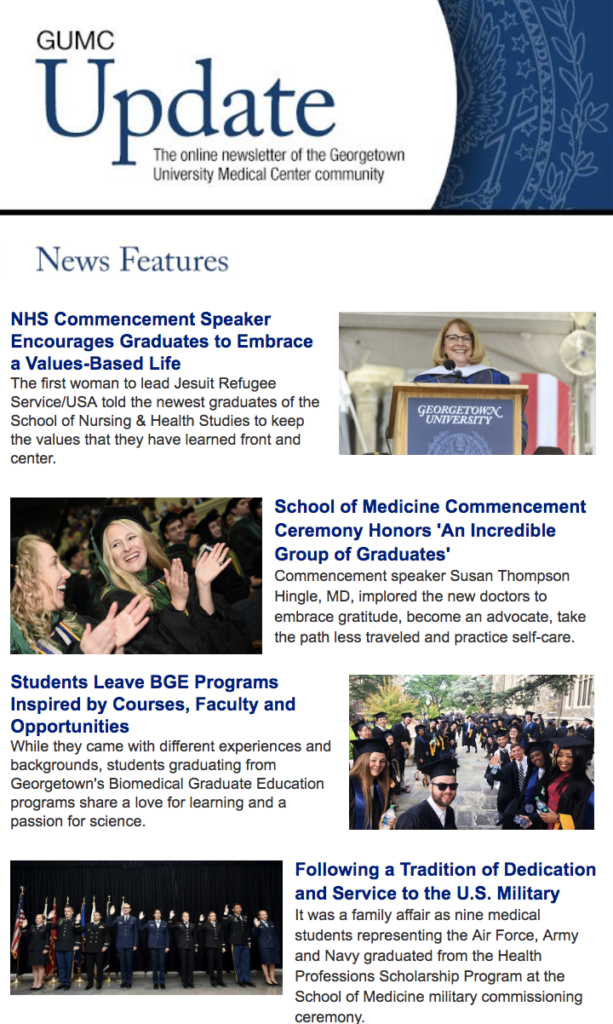 May 20, 2019 (Commencement Edition)
Highlights Include:
– The first woman to lead Jesuit Refugee Service/USA told the newest graduates of the School of Nursing & Health Studies to keep the values that they have learned front and center.
– Commencement speaker Susan Thompson Hingle, MD, implored the new doctors to embrace gratitude, become an advocate, take the path less traveled and practice self-care.
– While they came with different experiences and backgrounds, students graduating from Georgetown's Biomedical Graduate Education programs share a love for learning and a passion for science.
---
2019 GUMC Update Archive
---
• December 9, 2018
• November 25, 2018
• November 4, 2018
• October 21, 2018
• October 8, 2018
• September 23, 2018
• September 9, 2018
• August 26, 2018
• August 12, 2018
• July 29, 2018
• July 15, 2018
• July 1, 2018
• June 17, 2018
• June 3, 2018
• May 21, 2018
• May 13, 2018
• April 29, 2018
• April 15, 2018
• April 1, 2018
• March 18, 2018
• March 4, 2018
• February 19, 2018
• February 5, 2018
• January 22, 2018
• January 7, 2018
---
• December 10, 2017
• November 26, 2017
• November 5, 2017
• October 22, 2017
• October 9, 2017
• September 24, 2017
• September 10, 2017
• August 20, 2017
• August 7, 2017
• July 24, 2017
• July 9, 2017
• June 18, 2017
• June 4, 2017
• May 22, 2017
• May 8, 2017
• April 23, 2017
• April 10, 2017
• March 26, 2017
• March 12, 2017
• February 26, 2017
• February 12, 2017
• January 29, 2017
• January 16, 2017
• January 4, 2017
---
• December 21, 2016 (Special Edition)
• December 11, 2016
• November 27, 2016
• November 13, 2016
• October 30, 2016
• October 16, 2016
• October 3, 2016
• September 18, 2016
• September 5, 2016
• August 14, 2016
• July 31, 2016
• July 17, 2016
• July 5, 2016
• June 19, 2016
• June 5, 2016
• May 23, 2016
• May 15, 2016
• May 1, 2016
• April 17, 2016
• April 3, 2016
• March 20, 2016
• March 6, 2016
• February 21, 2016
• February 7, 2016
• January 24, 2016
• January 10, 2016
---
• December 20, 2015
• December 6, 2015
• November 22, 2015
• November 8, 2015
• November 1, 2015
• October 18, 2015
• October 4, 2015
• September 20, 2015
• September 7, 2015
• August 23, 2015
• July 12, 2015
• June 28, 2015
• June 14, 2015
• May 31, 2015
• May 18, 2015 (Commencement)
• May 3, 2015
• April 19, 2015
• April 5, 2015
• March 22, 2015
• March 8, 2015
• February 28, 2015
• January 25, 2015
• January 11, 2015
---
• December 14, 2014
• November 30, 2014
• November 9, 2014
• October 26, 2014
• October 13, 2014
• September 28, 2014
• September 14, 2014
• September 1, 2014
• August 17, 2014
• August 3, 2014
• July 20, 2014
• July 6, 2014
• June 22, 2014
• June 8, 2014
• May 26, 2014
• May 20, 2014
• May 11, 2014
• April 27, 2014
• April 13, 2014
• March 30, 2014
• March 16, 2014
• March 2, 2014
• February 17, 2014
• February 2, 2014
• January 20, 2014
• January 5, 2014