GUMC Update

GUMC Update is a biweekly online newsletter highlighting recent events, news stories and more from the Georgetown University Medical Center community.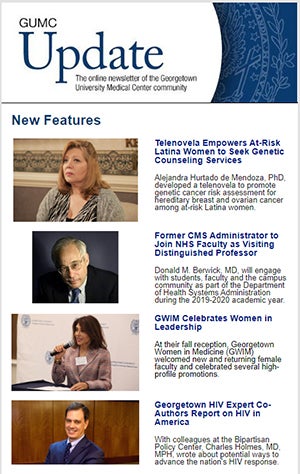 October, 7, 2019
Highlights Include:
– Alejandra Hurtado de Mendoza, PhD, developed a telenovela to promote genetic cancer risk assessment for hereditary breast and ovarian cancer among at-risk Latina women.
– Former CMS Administrator Donald M. Berwick, MD, joins the NHS faculty during the 2019-2020 academic year.
– At their fall reception, Georgetown Women in Medicine welcomed new and returning female faculty and celebrated several high-profile promotions.
– With colleagues at the Bipartisan Policy Center, Georgetown HIV expert Charles Holmes, MD, MPH, wrote about potential ways to advance the nation's HIV response.
– Ethicist and NHS educator Carol Taylor, PhD, will be inducted as a fellow of the American Academy of Nursing later this month.
September 23, 2019
Highlights Include:
– As National Postdoc Appreciation Week comes to a close, learn how some of Georgetown's postdocs are advancing biomedical and health care research.
– More than 150 attendees participated in the First International Systems and Network Medicine Conference.
– Leaders in direct-to-consumer genetic testing met at Georgetown to discuss complex issues related to consent, ethics, privacy and more.
– Having the opportunity to spend a semester abroad convinced aspiring physician Julian Marable (NHS'20) to major in global health.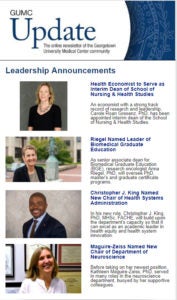 September 9, 2019
Highlights Include:
– Carole Roan Gresenz, PhD, an economist with a strong track record of research and leadership, has been appointed interim dean of the School of Nursing & Health Studies.
– As senior associate dean for Biomedical Graduate Education, research oncologist Anna Riegel, PhD, will oversee PhD, master's and graduate certificate programs.
– In his new role as chair of Health Systems Administration, Christopher J. King, PhD, MHSc, FACHE, will build upon the department's capacity so that it can excel as an academic leader in health equity and health system innovation.
– Kathleen Maguire-Zeiss, PhD, has been named new chair of the Department of Neuroscience.
---
2019 GUMC Update Archive
---
• December 9, 2018
• November 25, 2018
• November 4, 2018
• October 21, 2018
• October 8, 2018
• September 23, 2018
• September 9, 2018
• August 26, 2018
• August 12, 2018
• July 29, 2018
• July 15, 2018
• July 1, 2018
• June 17, 2018
• June 3, 2018
• May 21, 2018
• May 13, 2018
• April 29, 2018
• April 15, 2018
• April 1, 2018
• March 18, 2018
• March 4, 2018
• February 19, 2018
• February 5, 2018
• January 22, 2018
• January 7, 2018
---
• December 10, 2017
• November 26, 2017
• November 5, 2017
• October 22, 2017
• October 9, 2017
• September 24, 2017
• September 10, 2017
• August 20, 2017
• August 7, 2017
• July 24, 2017
• July 9, 2017
• June 18, 2017
• June 4, 2017
• May 22, 2017
• May 8, 2017
• April 23, 2017
• April 10, 2017
• March 26, 2017
• March 12, 2017
• February 26, 2017
• February 12, 2017
• January 29, 2017
• January 16, 2017
• January 4, 2017
---
• December 21, 2016 (Special Edition)
• December 11, 2016
• November 27, 2016
• November 13, 2016
• October 30, 2016
• October 16, 2016
• October 3, 2016
• September 18, 2016
• September 5, 2016
• August 14, 2016
• July 31, 2016
• July 17, 2016
• July 5, 2016
• June 19, 2016
• June 5, 2016
• May 23, 2016
• May 15, 2016
• May 1, 2016
• April 17, 2016
• April 3, 2016
• March 20, 2016
• March 6, 2016
• February 21, 2016
• February 7, 2016
• January 24, 2016
• January 10, 2016
---
• December 20, 2015
• December 6, 2015
• November 22, 2015
• November 8, 2015
• November 1, 2015
• October 18, 2015
• October 4, 2015
• September 20, 2015
• September 7, 2015
• August 23, 2015
• July 12, 2015
• June 28, 2015
• June 14, 2015
• May 31, 2015
• May 18, 2015 (Commencement)
• May 3, 2015
• April 19, 2015
• April 5, 2015
• March 22, 2015
• March 8, 2015
• February 28, 2015
• January 25, 2015
• January 11, 2015
---
• December 14, 2014
• November 30, 2014
• November 9, 2014
• October 26, 2014
• October 13, 2014
• September 28, 2014
• September 14, 2014
• September 1, 2014
• August 17, 2014
• August 3, 2014
• July 20, 2014
• July 6, 2014
• June 22, 2014
• June 8, 2014
• May 26, 2014
• May 20, 2014
• May 11, 2014
• April 27, 2014
• April 13, 2014
• March 30, 2014
• March 16, 2014
• March 2, 2014
• February 17, 2014
• February 2, 2014
• January 20, 2014
• January 5, 2014