GUMC Update

GUMC Update is a biweekly online newsletter highlighting recent events, news stories and more from the Georgetown University Medical Center community.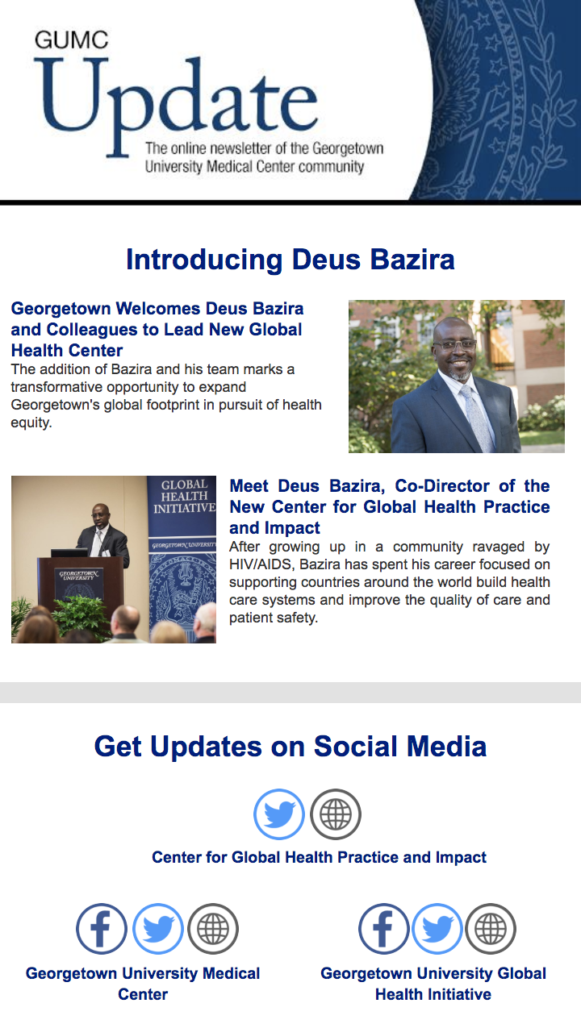 April 15, 2019 (Special Edition)
Highlights Include: 
– The addition of Deus Bazira and his team marks a transformative opportunity to expand Georgetown's global footprint in pursuit of health equity.
– After growing up in a community ravaged by HIV/AIDS, Deus Bazira has spent his career focused on supporting countries around the world build health care systems and improve the quality of care and patient safety.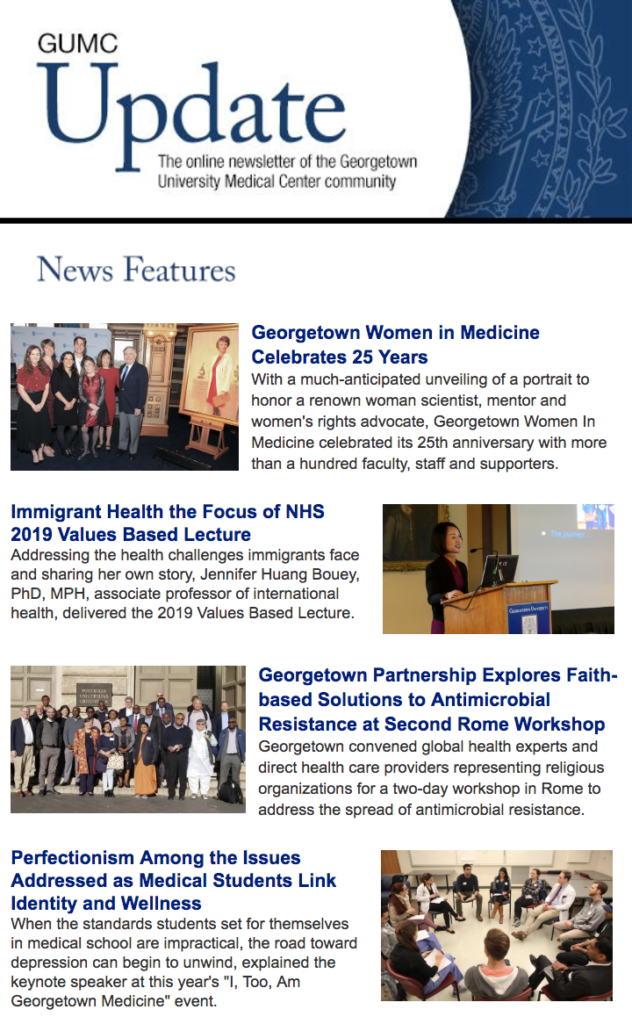 April 14, 2019 
Highlights Include: 
– Georgetown Women In Medicine (GWIM) celebrated its 25th anniversary with more than a hundred faculty, staff and supporters.
– Jennifer Huang Bouey, PhD, MPH, associate professor of international health, delivered the 2019 Values Based Lecture on the health challenges immigrants face.
– Georgetown convened global health experts and direct health care providers representing religious organizations for a two-day workshop in Rome to address the spread of antimicrobial resistance.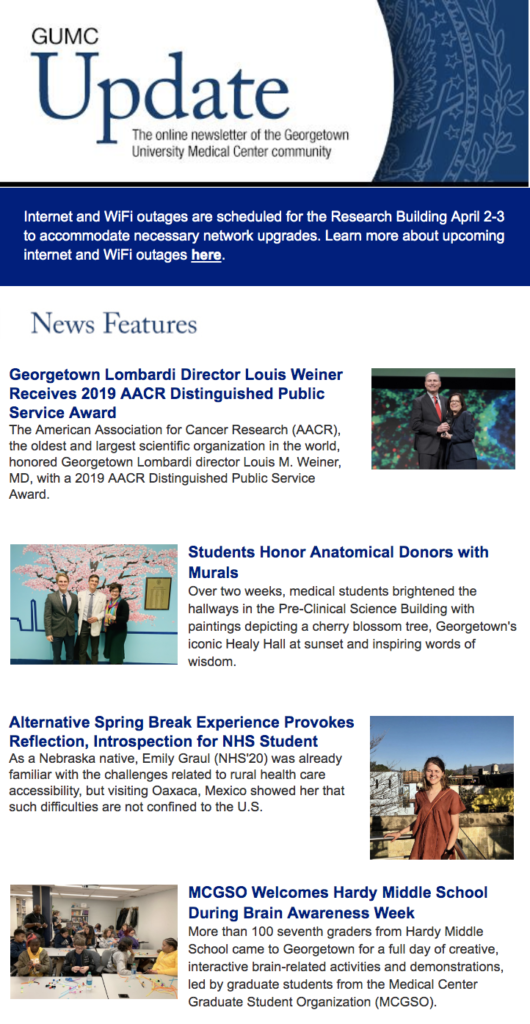 March 31, 2019
Highlights Include:
– Georgetown Lombardi Director Louis Weiner Has Received a 2019 AACR Distinguished Public Service Award.
– Over two weeks, medical students brightened the hallways outside the anatomy lab of the Pre-Clinical Science Building with paintings depicting a cherry blossom tree, Georgetown's iconic Healy Hall at sunset and inspiring words of wisdom.
– An alternative spring break experience to Oaxaca, Mexico provoked both reflection and introspection for this NHS student.
---
2019 GUMC Update Archive
---
• December 9, 2018
• November 25, 2018
• November 4, 2018
• October 21, 2018
• October 8, 2018
• September 23, 2018
• September 9, 2018
• August 26, 2018
• August 12, 2018
• July 29, 2018
• July 15, 2018
• July 1, 2018
• June 17, 2018
• June 3, 2018
• May 21, 2018
• May 13, 2018
• April 29, 2018
• April 15, 2018
• April 1, 2018
• March 18, 2018
• March 4, 2018
• February 19, 2018
• February 5, 2018
• January 22, 2018
• January 7, 2018
---
• December 10, 2017
• November 26, 2017
• November 5, 2017
• October 22, 2017
• October 9, 2017
• September 24, 2017
• September 10, 2017
• August 20, 2017
• August 7, 2017
• July 24, 2017
• July 9, 2017
• June 18, 2017
• June 4, 2017
• May 22, 2017
• May 8, 2017
• April 23, 2017
• April 10, 2017
• March 26, 2017
• March 12, 2017
• February 26, 2017
• February 12, 2017
• January 29, 2017
• January 16, 2017
• January 4, 2017
---
• December 21, 2016 (Special Edition)
• December 11, 2016
• November 27, 2016
• November 13, 2016
• October 30, 2016
• October 16, 2016
• October 3, 2016
• September 18, 2016
• September 5, 2016
• August 14, 2016
• July 31, 2016
• July 17, 2016
• July 5, 2016
• June 19, 2016
• June 5, 2016
• May 23, 2016
• May 15, 2016
• May 1, 2016
• April 17, 2016
• April 3, 2016
• March 20, 2016
• March 6, 2016
• February 21, 2016
• February 7, 2016
• January 24, 2016
• January 10, 2016
---
• December 20, 2015
• December 6, 2015
• November 22, 2015
• November 8, 2015
• November 1, 2015
• October 18, 2015
• October 4, 2015
• September 20, 2015
• September 7, 2015
• August 23, 2015
• July 12, 2015
• June 28, 2015
• June 14, 2015
• May 31, 2015
• May 18, 2015 (Commencement)
• May 3, 2015
• April 19, 2015
• April 5, 2015
• March 22, 2015
• March 8, 2015
• February 28, 2015
• January 25, 2015
• January 11, 2015
---
• December 14, 2014
• November 30, 2014
• November 9, 2014
• October 26, 2014
• October 13, 2014
• September 28, 2014
• September 14, 2014
• September 1, 2014
• August 17, 2014
• August 3, 2014
• July 20, 2014
• July 6, 2014
• June 22, 2014
• June 8, 2014
• May 26, 2014
• May 20, 2014
• May 11, 2014
• April 27, 2014
• April 13, 2014
• March 30, 2014
• March 16, 2014
• March 2, 2014
• February 17, 2014
• February 2, 2014
• January 20, 2014
• January 5, 2014