GUMC Update

GUMC Update is a biweekly online newsletter highlighting recent events, news stories and more from the Georgetown University Medical Center community.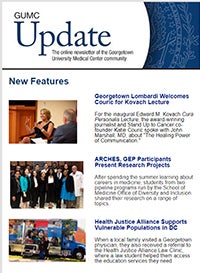 August 18, 2019
Highlights Include:
– For the inaugural Edward M. Kovach Cura Personalis Lecture, the award-winning journalist and Stand Up to Cancer co-founder Katie Couric spoke with John Marshall, MD, about "The Healing Power of Communication."
– After spending the summer learning about careers in medicine, students from two pipeline programs run by the School of Medicine Office of Diversity and Inclusion shared their research on a range of topics.
– When a local family visited a Georgetown physician, they also received a referral to the Health Justice Alliance Law Clinic, where a law student helped them access the education services they need.
August 4, 2019
Highlights Include:
– The annual White Coat Ceremony, held Friday for the 203 members of this year's entering class of medical students, caps orientation week.
– As the basic medical sciences learning facilitator for the Georgetown Experimental Medical Studies (GEMS) program, Christopher Kaingo, MD, is called to "coat" several mentees at the White Coat Ceremony.
– School of Medicine students led campers in basketball, soccer, jump rope, roller skating and more at the HoyaMed Summer Sports Camp.
– With a focus on humanitarian challenges around the world, NHS students met with Jesuit leaders to learn more about service and career programs and "create positive change" at the Jesuit Universities Humanitarian Action Network Conference.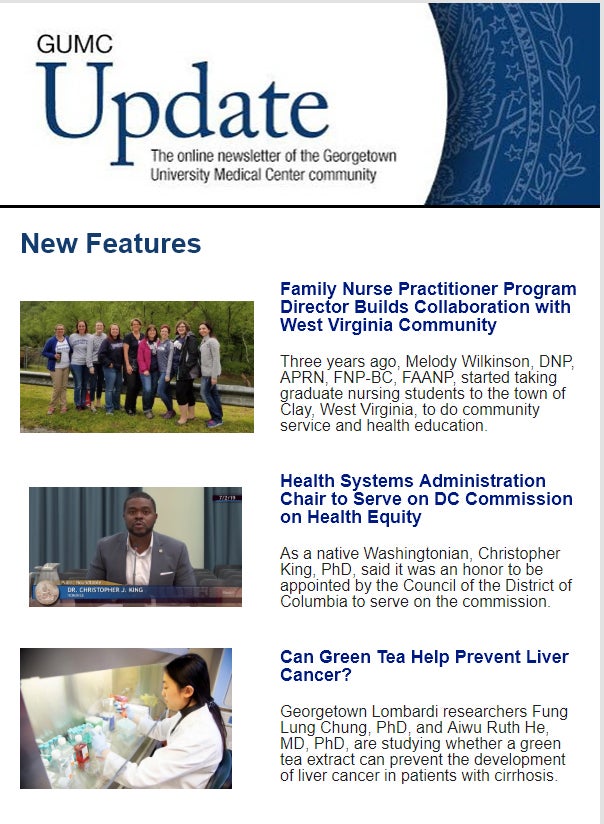 July 21, 2019
Highlights Include:
– Three years ago, Family Nurse Practitioner Melody Wilkinson, DNP, APRN, FNP-BC, FAANP, started taking graduate nursing students to the town of Clay, West Virginia, to do community service and health education.
– As a native Washingtonian, Christopher King, PhD, Health Systems Administration chair, said it was an honor to be appointed by the Council of the District of Columbia to serve on the DC Commission on Health Equity.
– Georgetown Lombardi researchers Fung Lung Chung, PhD, and Aiwu Ruth He, MD, PhD, are studying whether a green tea extract can prevent the development of liver cancer in patients with cirrhosis.
---
2019 GUMC Update Archive
---
• December 9, 2018
• November 25, 2018
• November 4, 2018
• October 21, 2018
• October 8, 2018
• September 23, 2018
• September 9, 2018
• August 26, 2018
• August 12, 2018
• July 29, 2018
• July 15, 2018
• July 1, 2018
• June 17, 2018
• June 3, 2018
• May 21, 2018
• May 13, 2018
• April 29, 2018
• April 15, 2018
• April 1, 2018
• March 18, 2018
• March 4, 2018
• February 19, 2018
• February 5, 2018
• January 22, 2018
• January 7, 2018
---
• December 10, 2017
• November 26, 2017
• November 5, 2017
• October 22, 2017
• October 9, 2017
• September 24, 2017
• September 10, 2017
• August 20, 2017
• August 7, 2017
• July 24, 2017
• July 9, 2017
• June 18, 2017
• June 4, 2017
• May 22, 2017
• May 8, 2017
• April 23, 2017
• April 10, 2017
• March 26, 2017
• March 12, 2017
• February 26, 2017
• February 12, 2017
• January 29, 2017
• January 16, 2017
• January 4, 2017
---
• December 21, 2016 (Special Edition)
• December 11, 2016
• November 27, 2016
• November 13, 2016
• October 30, 2016
• October 16, 2016
• October 3, 2016
• September 18, 2016
• September 5, 2016
• August 14, 2016
• July 31, 2016
• July 17, 2016
• July 5, 2016
• June 19, 2016
• June 5, 2016
• May 23, 2016
• May 15, 2016
• May 1, 2016
• April 17, 2016
• April 3, 2016
• March 20, 2016
• March 6, 2016
• February 21, 2016
• February 7, 2016
• January 24, 2016
• January 10, 2016
---
• December 20, 2015
• December 6, 2015
• November 22, 2015
• November 8, 2015
• November 1, 2015
• October 18, 2015
• October 4, 2015
• September 20, 2015
• September 7, 2015
• August 23, 2015
• July 12, 2015
• June 28, 2015
• June 14, 2015
• May 31, 2015
• May 18, 2015 (Commencement)
• May 3, 2015
• April 19, 2015
• April 5, 2015
• March 22, 2015
• March 8, 2015
• February 28, 2015
• January 25, 2015
• January 11, 2015
---
• December 14, 2014
• November 30, 2014
• November 9, 2014
• October 26, 2014
• October 13, 2014
• September 28, 2014
• September 14, 2014
• September 1, 2014
• August 17, 2014
• August 3, 2014
• July 20, 2014
• July 6, 2014
• June 22, 2014
• June 8, 2014
• May 26, 2014
• May 20, 2014
• May 11, 2014
• April 27, 2014
• April 13, 2014
• March 30, 2014
• March 16, 2014
• March 2, 2014
• February 17, 2014
• February 2, 2014
• January 20, 2014
• January 5, 2014