Emily Ko
Posted in Staff Spotlight
April 20, 2023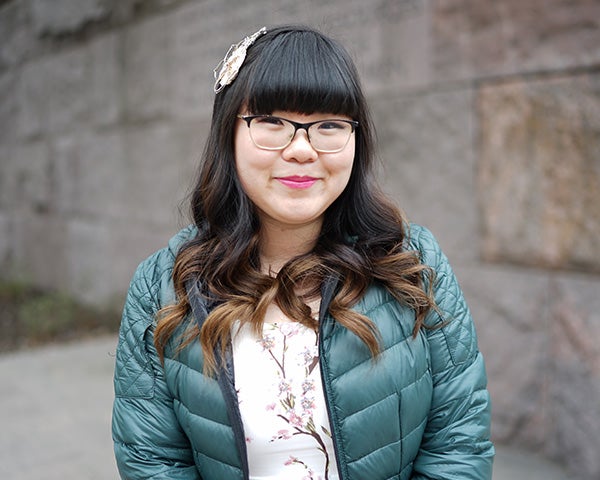 Name

Emily Ko

Title

CCSG Research Program Manager, Georgetown University's Lombardi Comprehensive Cancer Center

How long have you worked at Georgetown?

Five years

What led you to your position here at GUMC?

I first started working as a student intern focused on a Strategic Planning Project at the Lombardi Comprehensive Cancer Center (LCCC) as a Georgetown University undergraduate in the School of Health (formerly known as the School of Nursing & Health Studies). The exposure to a breadth of experiences that came from this Strategic Planning Project, which led to the formation of a Center-Wide Strategic Planning Retreat made me passionate to continue this work in a formal capacity. I transitioned from Strategic Planning initiatives into Cancer Center Support Grant (CCSG) efforts, which coincided with the LCCC Site Visit in 2018.

In your role, how do you interact with the GUMC community?

In my role, I work closely with my administrative team, senior leadership, researchers, oncology physicians and various other clinical partners to ensure the fulfillment of all CCSG related responsibilities.

What do you enjoy most about your job?

I enjoy being a part of a larger shared mission that promotes the overall Jesuit values that serve as the foundation for our University. I love seeing the intersection between various roles in our cancer center specifically, whether they are administrative, research, patient-centered or community outreach focused. As I work to ensure the smooth renewal of the Cancer Center Support Grant, it becomes even more clear how critical every facet within the cancer center is in the overall success of furthering its mission to "pursue transformative research and its application in order to more effectively prevent and treat cancer, while eliminating disparities at the individual, community and global levels, guided by the principle of cura personalis, care for the whole person."

What is a skill you have that might surprise people?

I am a classically trained pianist and once considered pursuing music!

What did you learn about yourself as a professional during the pandemic?

I learned how to navigate the uncertainty of the pandemic by prioritizing what areas I knew I had control over, while acknowledging the many things that remained out of my control, and how to be okay with that. It is important not to get bogged down by factors outside of one's control, and to learn to coexist in a happy medium amongst all those factors.

What do you like to do in your free time?

I enjoy traveling and trying new restaurants in town. I'm originally from California, where we have a large driving culture, so I also enjoy going on scenic drives and road trips.

What is your greatest achievement (personal or professional)?

Helping play a role in the successful recompetition of the last CCSG was incredibly impactful. I am looking forward to submitting the grant again this year with the help of so many partners and stakeholders; it will be a busy but fulfilling year!

What is the best lesson you have learned from working at GUMC?

People are living resources; invest in them, as they are your organization's greatest asset.