Edith De Leon
Posted in Staff Spotlight
June 9, 2023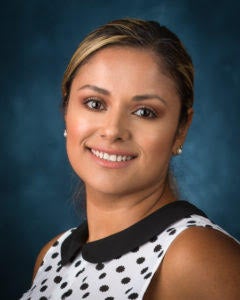 Name

Edith De Leon

Preferred Pronouns

She, her, hers

Title

Director of Admissions, Georgetown University School of Nursing

How long have you worked at Georgetown?

5 1/2 years

What led you to your position here at GUMC?

Prior to working at Georgetown, I worked at MedStar Georgetown University Hospital for 18 years as a program manager in the Department of Anesthesiology. The department was being restructured, and I decided it was an opportunity for me to see what else was out there for me. I was approached by the Doctor of Nurse Anesthesia Practice Program director and offered [my previous role at the School of Nursing as program manager for the DNAP Program] on the spot.

In your role, how do you interact with the GUMC community?

I collaborate with other departments, such as academic affairs and student affairs, and leadership on a regular basis to ensure cohesiveness and effective flow of the admissions process at the School of Nursing.

What do you enjoy most about your job?

My team, the opportunities that my role present in terms of problem-solving skills, critical thinking, and collaboration with my counterparts.

What is a skill you have that might surprise people?

More than a skill, it's a trait… I am an introvert at heart.

What did you learn about yourself as a professional during the pandemic?

That I can possess a great ability to stay organized and focus.

What do you like to do in your free time?

I enjoy going to the gym, hiking, bike-riding and cooking.

What is your greatest achievement (personal or professional)?

To be a first-generation college grad, and to have landed this job!

What is the best lesson you have learned from working at GUMC?

I've learned to appreciate diversity and inclusion, and to embrace change.