Celebrating Dean Brian Floyd's 2023 Vicennial Medal Recognition
Posted in Staff Spotlight
On March 21, Brian Floyd, assistant dean for academic affairs in the School of Health, received the Vicennial Medal in honor of his 20 years of service to Georgetown. In this tribute, global health major Abby Donnelly (H'23) reflects on Floyd's tenure.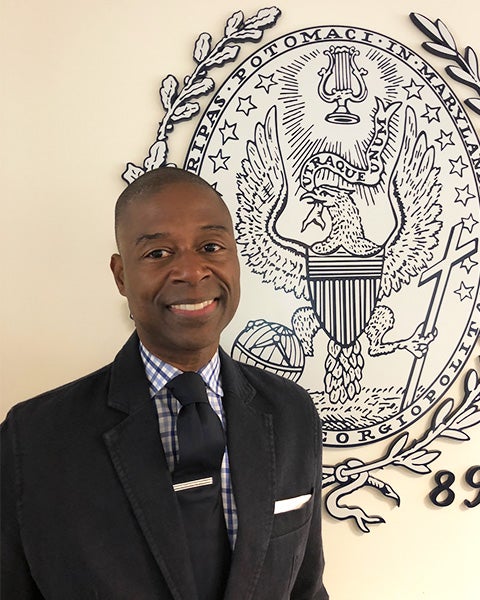 (March 24, 2023) — Academic advising deans have the power to create an engaging and positive culture on campus. For the last 20 years, Dean Brian Floyd at the School of Health (formerly the School of Nursing & Health Studies) has devoted his work to excellence and education, leading to lasting change beyond Georgetown's campus. He has achieved in scholarship, educated the next generation, advised countless students in the development of campus groups, and promoted interventions to reduce health inequities, while forming meaningful relationships with students, faculty and the Georgetown community. Floyd has created a culture more positive, passionate and purpose-driven than when he began.
As a 2023 Vicennial Medal recipient, Dean Floyd models the Georgetown University value of cura personalis through his leadership as an academic advising dean at the School of Health, his ongoing commitment to craft and improve educational programs, and his work to promote and provide fair and just opportunities for everyone for optimal health and well-being. The Vicennial Medal honors "excellence that comes with longevity," which Floyd has demonstrated from his advising of the Minority Health Initiative Council to extensive academic teaching to health equity focused scholarship. Students have benefitted from Floyd's unwavering support, guidance and character since the beginning of his career.
Within the School of Health, Dean Floyd supports students from the onset of their academic career at Georgetown to navigating post-graduate opportunities. For many students, this entails coming to Floyd's office to discuss their future goals, navigate internships and jobs, and create class schedules, leaving with his encouragement to do their best. He not only shares advice and feedback on any and every subject, but offers confidence and motivation.
Supporting Students
Alumni Hannah Kelley (NHS'18) describes Floyd's constant belief in her, always pushing her to say "yes."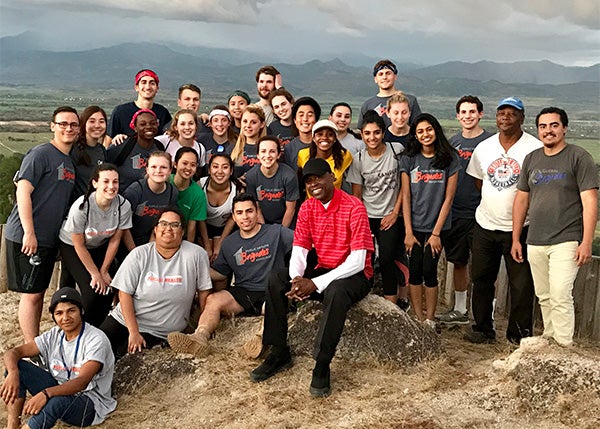 "Yes, you can do well in organic chemistry. You've got this!"
"Yes, I think it's a great idea for you to apply to the collegiate EMS service and join a community!"
"Yes, of course I'll accompany you and 40 other college kids to Honduras for the Georgetown University Public Health Brigade!"
With his support, Kelley chased her dreams of becoming a doctor. "Because of Dean Floyd's emphatic ear and persistent positivity, I did go to medical school" she said. "The art of 'saying yes' is something I have carried with me into my practice." She aims to continue embodying Floyd's character to be a better provider, professional and caretaker, mirroring his work throughout his years of service.
Under Floyd's leadership, students like Kelley each year go on to succeed in medical and law school, among other impactful career paths. Floyd's assurance and advocacy for his students has allowed the students he advises to excel in their undergraduate career and graduate with confidence. He stands behind his students, ready with letters of recommendation, an open door to talk over options, while providing individual mentorship. "It is with no exaggeration to say that I would not have graduated from Georgetown without the guidance, wisdom and support of Dean Floyd," said Jordan Smith (NHS'17).
Uplifting Marginalized Communities
In 2010, Floyd served as a founding advisor of the Minority Health Initiative Council (MHIC), a student-led group that seeks to promote health equity and to support minority students in their academic and professional aspirations. Under Dean Floyd's leadership, the MHIC has impacted students far beyond their time as undergraduates by fostering development into global leaders that work towards greater health equity. Not only has the MHIC created space for inclusivity and community among students, but it has spread a spirit of diversity, change and multiculturalism beyond Georgetown's campus.
"The perspective on health care access, particularly for Black and Brown peoples that I was first introduced to with the MHIC, has carried forth in my post-Georgetown work on HIV/AIDS in South Africa, anti-malarial genomics in West Africa, and opioid and substance use in rural America," said alumni Justin Jones (NHS'13).
Other students have carried the mission of the MHIC into the creation of health interventions from Honduras to Hawaii. Former MHIC member Smith now works to implement evidence-based public health interventions to address systemic health disparities for Native Hawaiian and other Pacific Islanders. Smith was encouraged to join the MHIC by Floyd, which she says "has now been the foundation of my career."
Like Smith, May-Linh Huynh ( NHS '19) applied her experiences on the MHIC to global health programs that seek to improve health care access across the country. "Because of Dean Floyd, I am now in a role supporting teams across 13 different states to serve 5 million Medicaid members and advocate for racial equity through policy work," she said . Countless other students share a career and personal commitment formed by the MHIC community.
Floyd's commitment to the mission of the MHIC extends beyond his role as a founding advisor . With Derrick Cudjoe (NHS'19), who served as a research assistant, Floyd worked on an oral history project researching the lived experiences of the first African-American women to graduate from Georgetown's School of Nursing .
"This showcased Dean Floyd's dedication to equity, inclusion and recognition of the contributions of marginalized communities while uplifting their voices," said Cudjoe. One of the courses Floyd co-teaches, Mastering the Hidden Curriculum, further champions this mission by welcoming low-income and first-generation first-year students on campus and creating a network of support and available resources.
Supporting students within the MHIC, encouraging them to say "yes," and creating a culture of inclusion has pivoted students towards paths of impactful and widespread change in their respective professional careers and personal initiatives. Floyd's character has held a transformational role in the life of students, as he has grown from an educator and academic leader, to a respected role model and mentor.
"He sees potential in students even when they don't see it themselves. He respects and supports your vision, but will push you out of your comfort zone to a space where you're able to grow," said Huynh.
Making an Impact Beyond the Hilltop
Outside of campus, Floyd pursues his interests in health equity research and service by examining how social, political, economic and cultural conditions and contexts contribute to intergroup differences in health outcomes. His work uses health education, cultural competency, social justice and public policy as a foundation for designing and implementing solutions to promote health equity. His deep perseverance within the issue of reducing health disparities has contributed to meaningful change in various environments.
Currently serving a two-year term for the U.S State Department of Educational and Cultural Affairs through the Benjamin A. Gilman Advisor Ambassador Program, Floyd deploys a deep passion for creating new opportunities, access points and quality care with resources that will improve health outcomes for underserved and underrepresented populations. He previously served on a regional Health Equity Council for the U.S Department of Health & Human Services and was a Health Disparities Institute Scholar for the National Institute on Minority Health and Health Disparities at the National Institutes of Health. This commitment to bettering the world around him has brought change from the crafting of health interventions to undergraduate advising and classroom instruction for Georgetown students.
Despite challenges like COVID-19, Floyd had pushed students to face trials with resilience and perseverance. "When I took a semester off due to the pandemic, Dean Floyd was extremely supportive and helped me figure out a plan to stay on track," said Mia Young (H'23). "I wouldn't have been able to return to campus and have the college experience I've had without his support during that tough time."
Like Kelley, students across class years have underscored Floyd's unwavering support, crediting their academic, postgraduate and personal success to Floyd. "Because starting off with a 'yes' leaves the door open for students," Kelley said. "Yes to new opportunities, yes to changing plans, and yes to making it work, even if it's not the most direct route."
Going forward, Floyd will continue to contribute as a pivotal member of the School of Health and make the Georgetown campus more positive, inclusive, and engaged.
In two decades of service, Dean Floyd's constant "yes" has sparked his students to excel past what was expected, achieve more than they set out for, and dream beyond limitations and setbacks. "He encouraged me to be inspired by the world around me, and instilled the belief that if I carry a positive mindset with me, I can one day inspire others to do the same," Kelley said.
— Abby Donnelly (H'23)