Roett Recognized with AMSA Women Leaders in Medicine Award
Posted in Special Stories | Tagged faculty honors, medical education, mentorship, School of Medicine, women in STEM
(March 12, 2021) — Michelle Roett (M'03), MD, MPH, often shares the story about her first meeting with the chair of the Department of Family Medicine as a medical student. "He asked me where I wanted to be in 10-15 years, and I said I wanted to be a hospitalist, primary care physician, deliver babies, perform community-based research, and engage with community partners in working with the underserved," she said. "He asked how I would do that and I said, 'I would like your job.'"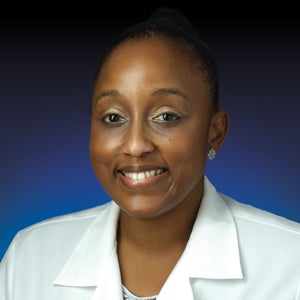 Nearly 20 years later, Roett serves as the chair of the Department of Family Medicine and described the former chair, Jay Siwek, MD, as a "tremendous advocate" for her, and he remains her mentor to this day. Receiving the American Medical Student Association (AMSA) Women Leaders in Medicine Award, Roett spoke to students about the importance of mentoring and supporting each other. 
"I urge you to seek out mentors among those doing the work you are passionate about, lean on each other for support, celebrate each other's achievements and encourage each other to do more for the most vulnerable in the communities we serve," she said March 7 at the AMSA Convention and Exposition.
'Your Voice Matters!'
The AMSA Women Leaders in Medicine Awards were created in 2008 to celebrate the achievements of women physicians and educators "who are changing the face of medicine through their lives, their professions or their teaching." While the selections are made by members of the Action Committee on Gender and Sexuality, the national president and AMSA staff, the nominations come from medical and premedical students.
"Many of our past award recipients have considered their Women Leaders in Medicine award a truly meaningful honor because it comes directly from the voice of students," according to the website.
Roett praised Georgetown medical students as "activated, engaged students who have been incredibly inspiring agents of change regarding diversity, equity and inclusion, particularly racial equity, social justice and advancing health equity." 
"Remember, we've all been there and are here to support you on your journey, whether it be honing your clinical skills, career paths, academic interests, research development, community engagement or advocacy," she said. "Your voice matters!"
Kat Zambon
GUMC Communications