Society for Neuroscience Honors Karen Gale for Mentoring, Promoting Women
Posted in News Release
WASHINGTON (Nov. 18, 2014) — The Society for Neuroscience (SfN) has posthumously awarded Karen Gale, PhD, with its Bernice Grafstein Award for Outstanding Accomplishments in Mentoring.
The Bernice Grafstein Award recognizes individuals dedicated to promoting women's advancement in neuroscience, specifically by mentoring women to facilitate their entry into and retention in the field.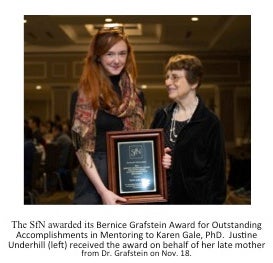 Gale was a professor of pharmacology at Georgetown University Medical Center until her death in August. She was an accomplished scholar and educator, widely published in national and international journals and a regular presenter at scientific conferences. Her research probed neural networks in the brain and their role in neurological disorders, but her seminal contribution at Georgetown was in founding the Interdisciplinary Program in Neuroscience. She served as the first program director, and today, the IPN boasts more than 50 faculty members from 11 departments campus-wide. Her colleagues describe the IPN as her "pride and joy," exemplifying her unyielding dedication to mentoring postdoctoral trainees.
Gale was also a founding member and immediate past co-president of Georgetown Women in Medicine, which promotes the professional advancement of women faculty at GUMC.
"During her more than 35 years at Georgetown, Karen left an indelible mark as a researcher, educator and stalwart advocate for faculty, students and staff," said Howard J. Federoff, MD, PhD, executive vice president for health sciences at Georgetown University Medical Center and executive dean of its School of Medicine.
Gale was one of four scientists honored with an SfN achievement award today at Neuroscience 2014, the annual meeting of the Society for Neuroscience.
"This group of very talented individuals has not only served to advance the field of neuroscience through discovery but also in their support of future leaders in the field," SfN President Carol Mason said.
Gale's daughter, Justine Underhill, accepted the award Nov. 18 at Neuroscience 2014 in her mother's honor.
About Georgetown University Medical Center
Georgetown University Medical Center (GUMC) is an internationally recognized academic medical center with a three-part mission of research, teaching and patient care (through MedStar Health). GUMC's mission is carried out with a strong emphasis on public service and a dedication to the Catholic, Jesuit principle of cura personalis — or "care of the whole person." The Medical Center includes the School of Medicine and the School of Nursing & Health Studies, both nationally ranked; Georgetown Lombardi Comprehensive Cancer Center, designated as a comprehensive cancer center by the National Cancer Institute; and the Biomedical Graduate Research Organization, which accounts for the majority of externally funded research at GUMC including a Clinical and Translational Science Award from the National Institutes of Health.
###