Novel Brain Map Tracks Early Brain Atrophy From HIV Infection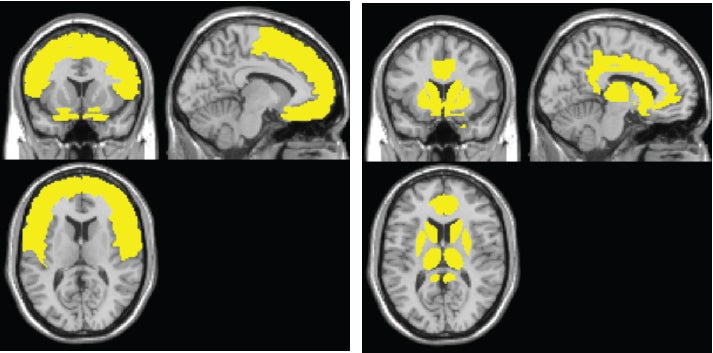 Posted in News Release | Tagged brain, HIV, neurocognitive disorders, neuroimaging
MEDIA CONTACT:
Karen Teber
km463@georgetown.edu
WASHINGTON (March 28, 2019) — A new map of brain tissue in people with HIV shows atrophy in several areas including a primary neurocognitive control center where shrinkage and loss of function can be seen in scans before clinical symptoms appear.
The map and other findings from researchers at Georgetown University Medical Center, are published in the journal Human Brain Mapping.
The brain map paints a two-stage model of what exposure to HIV does to the brain, says the senior author, Xiong Jiang, PhD, director of the Cognitive Neuroimaging Laboratory at Georgetown.
"The drugs we use to keep HIV at bay work wonderfully well in the body, but they cannot easily reach the brain due to the blood-brain barrier," says Jiang. "We have long known about neurocognitive impairment resulting from HIV, but this is the first time we have a neural model to relate neurocognitive impairment severity to injury in certain brain structures." HIV-associated neurocognitive disorders are known as HAND.
The model shows the sweep of atrophy that occurs as time passes from initial viral infection. It suggests that early on in HIV+ disease, the virus affects the frontal lobe, considered to be the essential hub of brain networks, responsible for such high-level tasks as attention and executive and cognitive functioning. By contrast, the injury to the caudate/striatum area, a subcortical region and part of the motor and reward system, becomes more prominent when individuals develop clinical HAND symptoms.
Inspired by work in Alzheimer's disease, the Georgetown model was proposed to relate neurocognitive impairment to neural underpinnings, says Jiang.
"There is a strong desire for a neural model of HAND severity, which currently is solely defined by neurobehavioral assessments using standard neuropsychological tests," he says. "This model, while highly simplified, might have the potential to help to develop targeted treatment, which in turn might be more effective."
The method researchers used to assess brain atrophy across 25 published studies, called colocalization-likelihood estimation (CLE), was developed by Peter E. Turkeltaub, MD, PhD, an associate professor of neurology at Georgetown and a co-author of the study.
The researchers found that the frontal region (including anterior cingulate cortex, or ACC) is the most frequently affected brain region in HIV+ adults, whereas the neural injury to the caudate/striatum was consistently linked to neurocognitive impairment.
These results suggest a two-stage model of HAND in the context of brain atrophy, with a frontal/ACC stage that links to HIV disease and likely other comorbidities, such as substance abuse, and a caudate/striatum stage that links to neurocognitive impairment. "These two areas likely play different roles in HAND," Jiang says.
"It is our theory, and others, that the frontal/ACC area damage is due to a number of factors, but which importantly includes damage to the dopaminergic region," he says. "Also, we believe the caudate might be one of the key HIV reservoirs in the brain.
"This model is limited, but it has, we believe, meaningful theoretical and practical implications in HAND clinical diagnosis, management, treatment, and future research," Jiang says, "It will be of a great interest for future studies to explicitly test the model's predictions."
---
In addition to Jiang and Turkeltaub, study co-authors include Sarah M. Israel, Shiva Hassanzadeh-Behbahani, and David J. Moore, PhD, all of Georgetown, and Ronald J. Ellis, MD, PhD, from the University of California, San Diego.
The authors report having no personal financial interests related to the study.
The research was supported in part by the National Institutes of Health (1R01MH108466).
---
About Georgetown University Medical Center
Georgetown University Medical Center (GUMC) is an internationally recognized academic health and science center with a four-part mission of research, teaching, service and patient care (through MedStar Health). GUMC's mission is carried out with a strong emphasis on public service and a dedication to the Catholic, Jesuit principle of cura personalis — or "care of the whole person." The Medical Center includes the School of Medicine and the School of Nursing & Health Studies, both nationally ranked; Georgetown Lombardi Comprehensive Cancer Center, designated as a comprehensive cancer center by the National Cancer Institute; and the Biomedical Graduate Research Organization, which accounts for the majority of externally funded research at GUMC including a Clinical and Translational Science Award from the National Institutes of Health. Connect with GUMC on Facebook (Facebook.com/GUMCUpdate) and Twitter (@gumedcenter).