Center for Cellular Reprogramming Created To Drive Laboratory Breakthrough
Posted in News Release | Tagged cancer, cancer research, Center for Cell Reprogramming, Georgetown method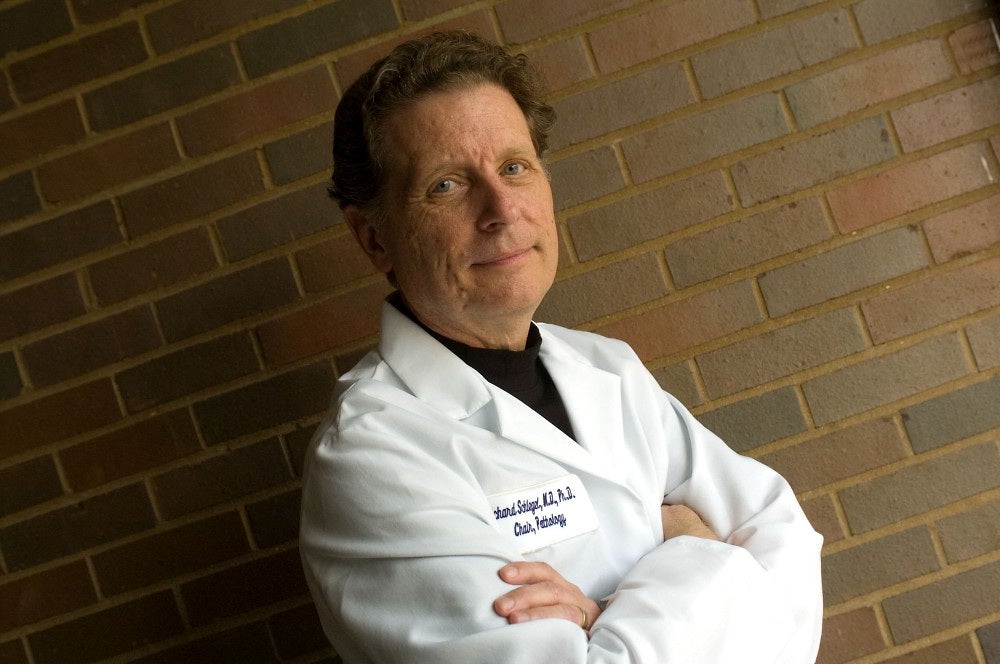 WASHINGTON (December 12, 2013) — Georgetown University Medical Center announces the launch of the Center for Cellular Reprogramming, a global center of excellence whose mission is to promote intra- and extramural collaborations, education and development, centered around the use of stem-like cells. The Center has already drawn scientists from across the world to learn the method for establishing conditionally reprogrammed cells (CRCs), a procedure also known as the "Georgetown Method."
"In short, we discovered a way to grow normal and tumor cells from the same patient — forever — and nobody has been able to do that," says Richard Schlegel, MD, PhD, chairman of the department of pathology at GUMC and a professor of oncology at Georgetown Lombardi Comprehensive Cancer Center, a part of GUMC.
Schlegel serves as the new center's director. Chris Albanese, PhD, director of experimental pathology at Georgetown Lombardi, is deputy director. The Schlegel and Albanese labs will act as the center's hub, but its spokes already include 15 collaborators throughout Georgetown Lombardi and GUMC, and 10 from around the country — including investigators from Yale University School of Medicine, MD Anderson Cancer Center, Massachusetts General Hospital and the National Institutes of Health.
Georgetown Lombardi investigators already are using CRCs to pursue biology-based studies in prostate, breast cancer, thymoma, head and neck and many other cancers, and they are being used to support two phase I clinical trials within the MedStar Georgetown Cancer Network. Researchers at Yale, the University of North Carolina and Memorial Sloan Kettering Cancer Center are also investigating the utility of CRCs in a variety of diseases. The National Cancer Institute is using CRCs in studies of head, neck and genitourinary cancers.
"This new technology could provide a transformational, dynamic platform for personalized cancer therapy," says Louis M. Weiner, MD, director of Georgetown Lombardi.
While immortalized tumor cell lines did and still do exist, they have changed so much over the decades that researchers say they do not resemble natural cancer cells any more. "Normal cell cultures for most organ systems can't be established in the lab, so it wasn't possible previously to compare normal and tumor cells directly," Schlegel explains.
Schlegel, along with his colleague Xuefeng Liu, MD, discovered that adding two different substances (a Rho kinase inhibitor and fibroblast feeder cells) to cancer cells or to normal cells pushes them to morph into stem-like cells that stay alive indefinitely. When the two substances are withdrawn from the cells, they revert back to the type of cell they once were. They dubbed these cells conditionally reprogrammed cells. This discovery was published by the Schlegel and Albanese labs, along with other colleagues, in the American Journal of Pathology in 2012.
The advance immediately was recognized for its potential to personalize cancer medicine. In fact, a case study authored by Schlegel and his team, also reported in 2012 in the New England Journal of Medicine, demonstrated how CRCs derived from normal and tumor cells of a 24-year-old man with a rare type of tumor allowed physicians to identify an effective therapy. These cells were used to screen potential treatments and in this way, the scientists were able to see which therapies were active against the tumor cells and less harmful to the normal cells.
"Our first clinical application utilizing this technique represents a powerful example of individualized medicine," Schlegel said at the time. But he cautioned, "It will take an army of researchers and solid science to figure out if this technique will be the advance we need to usher in a new era of personalized medicine."
Albanese says much more work needs to be done before the Georgetown Method can be approved by the U.S. Food and Drug Administration. "But with so many researchers excited about the potential of CRCs, validation should come soon."
Georgetown University has filed a patent application on the technology described in this paper. Schlegel and Liu are inventors on the patent. The research described here was funded by a grant to Schlegel from the National Institutes of Health (R01 OD011168), a Department of Defense Prostate Synergistic Idea Development award and an RO1 National Cancer Institute grant (CA129003) to Albanese.
About Georgetown University Medical Center
Georgetown University Medical Center is an internationally recognized academic medical center with a three-part mission of research, teaching and patient care (through MedStar Health). GUMC's mission is carried out with a strong emphasis on public service and a dedication to the Catholic, Jesuit principle of cura personalis — or "care of the whole person." The Medical Center includes the School of Medicine and the School of Nursing & Health Studies, both nationally ranked; Georgetown Lombardi Comprehensive Cancer Center, designated as a comprehensive cancer center by the National Cancer Institute; and the Biomedical Graduate Research Organization (BGRO), which accounts for the majority of externally funded research at GUMC including a Clinical Translation and Science Award from the National Institutes of Health.