Zavoyna Honored with C.A.R.I.S. Award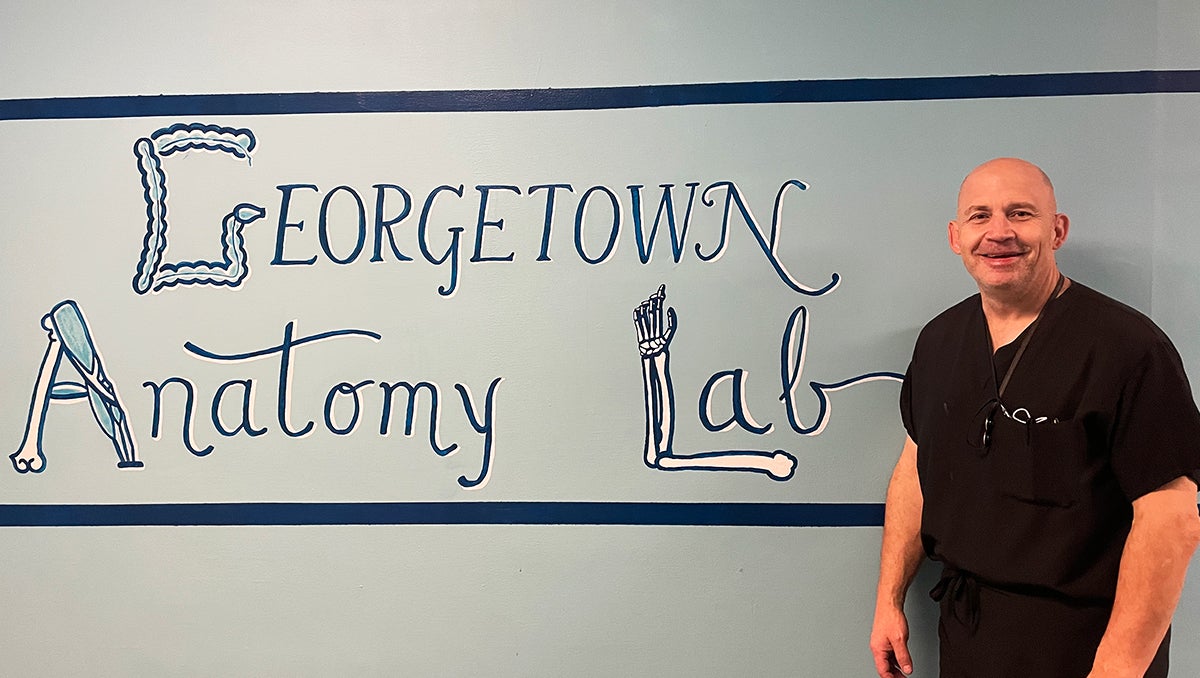 Posted in GUMC Stories | Tagged anatomical donor program, CARIS Award, Staff/AAP
(December 17, 2021) — In recognition of his service, Mark Zavoyna, operations manager of the anatomical donor program at the School of Medicine, was awarded the C.A.R.I.S. Award at the December 15 GUMC community meeting.
The C.A.R.I.S. Award, which stands for "compassion, achievement, respect, inspiration and service," is given to staff and academic and administrative professionals (AAPs) who exemplify these values at the medical center.
"Thanks to his tireless efforts, countless future doctors, nurses and researchers at Georgetown and beyond have had unique and transformative experiences in the anatomy lab," said Sean Hawkins, chief of staff for the office of the executive vice president at GUMC and director of special projects at GUMC.
'Bringing Human Anatomy to Life'
A licensed mortician since 1990, Zavoyna manages all aspects of the gross anatomy lab, helping faculty members with "bringing human anatomy to life." He also leads the anatomical donor program on his own, coming to campus before dawn nearly every day to prepare anatomical donors for students.
Leading the anatomical donor program during the pandemic is Zavoyna's greatest professional achievement, he said.
"There were so many things I had never done before, and no one could give me sound advice, because this was a whole new world," he said. "I accomplished some big things by trusting in myself."
Supporting Students
Interacting with people is one of Zavoyna's favorite parts of his job, and he's known for building lasting relationships with students. From offering the use of his office to a student who needed a quiet place to study to officiating the wedding of a former student, he has repeatedly demonstrated his dedication to students.
When students said they were interested in writing fictional obituaries about the anatomical donors, Zavoyna helped students write real obituaries by connecting them with the donors' families. He also coordinates the anatomical donor mass to celebrate the donors' lives and legacy.
Zavoyna has also helped students literally leave their mark on the medical center. After students planned to paint murals in the hallway around the anatomy lab in honor of the anatomical donors, he supported them every step of the way, helping them find supplies and taking photographs of the murals while they painted.
"We very much felt like he was looking out for us, helping us make it possible," one student said.
'I Just Provide the Canvas'
Prior to accepting his position at Georgetown in 2010, Zavoyna served as a combat medic in the U.S. Army, including service during Operation Desert Storm. He is a licensed mortician in Maryland and D.C., and he previously managed funeral homes in the Baltimore area.
Zavoyna felt humbled to receive the C.A.R.I.S. Award.
"If not for our amazing and incredibly gifted clinical gross anatomy faculty, all of the work that goes into our program would go unnoticed," he said. "They are the artists. I just provide the canvas."
Kat Zambon
GUMC Communications