Students Honor Anatomical Donors with Murals

Posted in GUMC Stories | Tagged anatomical donor program, School of Medicine, service to others
(March 29, 2019) — Transformed from a morbid space with photos of sliced cadaver parts, the hallway of the anatomy lab at Georgetown University School of Medicine (GUSOM) now dances with bright branches of a cherry blossom tree, iconic Healy Hall and inspiring words of wisdom.
On March 21, members of the Class of 2021 unveiled a series of murals painted in the Pre-Clinical Science building, a collaboration between three student groups: Arts and Medicine, Healing Through the Arts, and the 2021 Class Council. The murals were painted over a two-week period in honor of the donors to the Anatomical Donor Program, and also as a gift to future classes.
"Our goal was to give the hallway a bit of a facelift to make it a more enjoyable space to spend those long hours in the anatomy lab. With these murals, we hope that future classes of GUSOM will see them as reminder of the extraordinary gift from our donors and impart a sense of belonging here on the Hilltop," said Nellie Darling (M'21), president of Arts and Medicine.
Unexpected 'Cheerleaders'
Darling, Cameron Zachary (M'21), president of Healing Through the Arts, and Cooper Ehlers (M'21), 2021 class president, had all expressed interest in sponsoring a mural on campus at different points. Their ideas converged during a conversation around the time of the Anatomical Donor Mass, an annual ceremony that second-year medical students hold for the families of anatomical donors.
"It's really telling that three different students had the same idea. We all wanted to improve the space somehow," Darling said. "You spend a lot of time down in the anatomy lab, and the hallways are not always the most welcoming."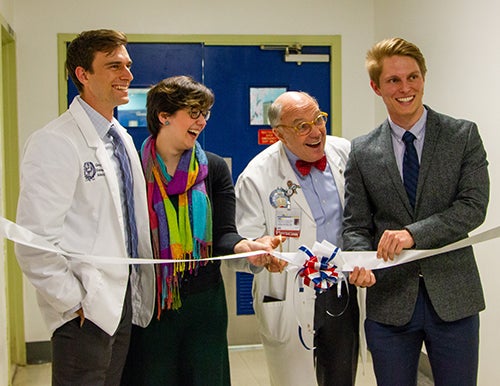 After discussing with Zachary and Ehlers, Darling pitched the idea to Stephen Ray Mitchell, MD, MBA, dean for medical education.
"I asked him for funding, expecting to negotiate, and he responded without hesitation," she said. "I wasn't expecting that kind of support so quickly. It was really helpful and he definitely got the ball rolling for us."
"When the students whose incredibly beautiful voices highlighted the Anatomical Donor Mass this year asked if they could add the medium of art and fresco to these spaces, it was a natural sequence," said Mitchell. "My response was, 'What took this talented group so long to ask?' "
He added, "The experience of dissection transforms each student. Now they have transformed the space where it occurs."
In addition to the dean's office, the head of the Anatomical Donor Program offered his support as well. Mark Zavoyna, operations manager, became their biggest "cheerleader," which helped the group execute the murals as quickly as they did.
"If we had forgotten supplies, he would dig around the closet and find them for us," Darling said. "He would take photos of us throughout different stages of the project — many times without us realizing it. We very much felt like he was looking out for us, helping us make it possible."
Meaningful Murals
The group initially planned for three murals, Zachary said, but their ideas grew along with interest from their classmates, leading to the creation of more intricate paintings. "There were people who joined us that I didn't know painted at all," he said. "They helped us put up these big murals, adding flowers, borders on walls — it was a humbling experience for me."
Covering the walls of Hallway E of the anatomy labs on the lower level of the Pre-Clinical Science building, the murals consist of a cherry blossom tree, an image of Georgetown University at sunset, two hands holding a heart, a tree sprouting from lungs, titled "The Giving Tree," and "The Elements of Self-Care."
One of the more collaborative murals, "The Elements of Self-Care" is inspired by the periodic table of elements and includes "fun molecules," such as caffeine and serotonin, along with other necessities for medical students, like sleep, prayer and Netflix.
"I love this wall because a bunch of artists came to work on it," Zachary said. "We had about 10 artists working on it at one time."
"We were lucky to have a team that really respected the artistic vision of different people," he added. "There was never a point when I felt that people were encroaching on my artistic abilities or each other's. Everyone was extremely supportive."
Another notable mural is the large cherry blossom tree surrounding the plaque dedicated to donors that reads, "Our Greatest Teachers." A group of dedicated students painted the tree in less than 24 hours the day before the unveiling of the murals, and it was chosen for its symbolism in connection to the donors' gift.
"There's something really beautiful about the tree, its vibrancy and its brightness," Darling said. "However, even in its beauty, there's a solemnness. The cherry blossom tree keeps giving its petals even after it dies, and these bodies are still giving something to us, even after death."
Giving Back to Future Classes and Beyond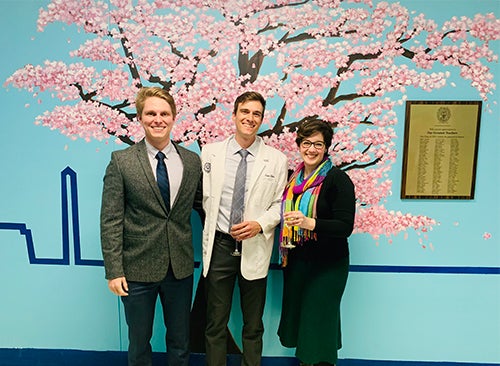 During the unveiling ceremony, Darling said that the students had focused on three guiding principles: a sense of belonging at Georgetown, a reminder of the sacred gift from donors, and as inspiration for students, encouraging them to have fun, breathe and make time for themselves.
The murals are already making an impact on future classes. According to Zachary and Darling, first-year students are planning to leave their own mark on the medical campus. "The next batch of student leaders transitioning into our roles have already expressed that they're excited to do their own mural, continuing this momentum that we've built around improving the space," said Darling.
Members of the Class of 2021 who wrote obituaries for donors have also shared pictures of the murals with donor families.
"I had several members of our class ask me if they could take a picture of the mural to send to the family they worked with," Darling said. "Our class was particularly passionate about the program, so the murals were a continuation of that spirit."
Giuliana Cortese
GUMC Communications