White Coat and Physicianship Ceremony Honors Class of 2024
Posted in GUMC Stories | Tagged medical education, School of Medicine, White Coat Ceremony
(March 20, 2022) — When the School of Medicine Class of 2024 started at Georgetown in August 2020, their White Coat Ceremony was held via Zoom due to the COVID-19 pandemic. On March 18, as they prepared to start their clinical education, the medical students belatedly celebrated the occasion in person with friends and family.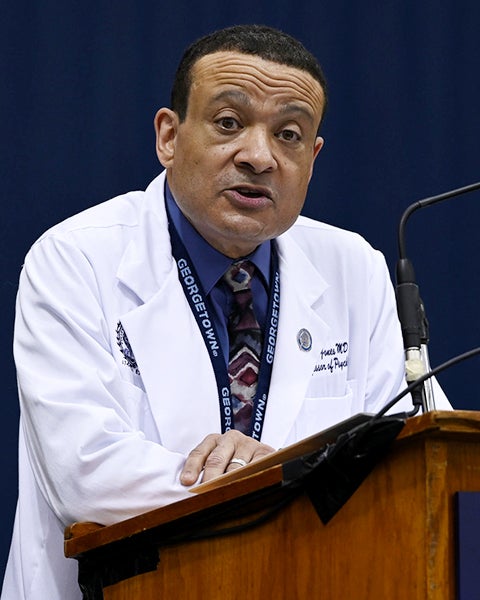 "I'm very pleased to formally welcome this class and their family and friends, and those who are with us around the world and around the country," said Lee Jones, MD, dean of medical education at the School of Medicine, at the White Coat and Physicianship Ceremony, held at McDonough Arena and broadcast online via Facebook. "Today is both the celebration of the accomplishments of the students, all of you, before you got here, as well as the important recognition of the next step."
"I'm sure all of you came here to be physicians to work with patients, and now you're going to get to do it," Jones added. "It's really important to sit and study, but medicine is doing that on your feet. So welcome to that next step."
Recognizing the Village
Jones encouraged students to recognize those who supported them throughout their preparation for medical school and beyond. "It takes a real village to get us all to where we are," he said. "And so I want to recognize all the people that have contributed to this."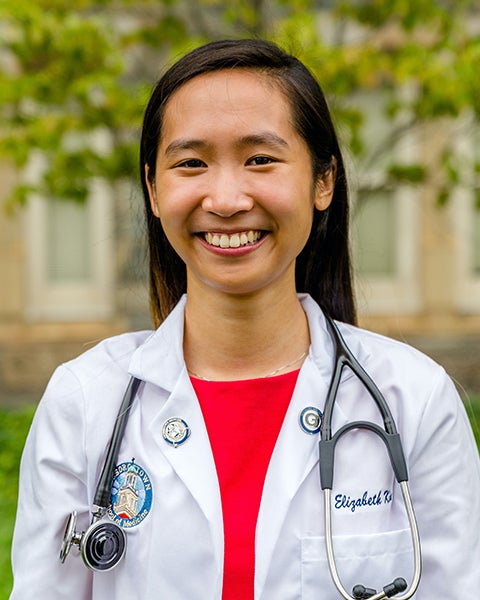 For many students, having an in-person event was an important way to express their appreciation for the village that helped them along the way to medical school.
"The virtual white coat ceremony when I began medical school was difficult for me, because my family couldn't travel because of COVID-related reasons," said Lizzy Kim (M'24). "I'm so grateful that the ceremony is in person this time so I can celebrate this important moment with my family."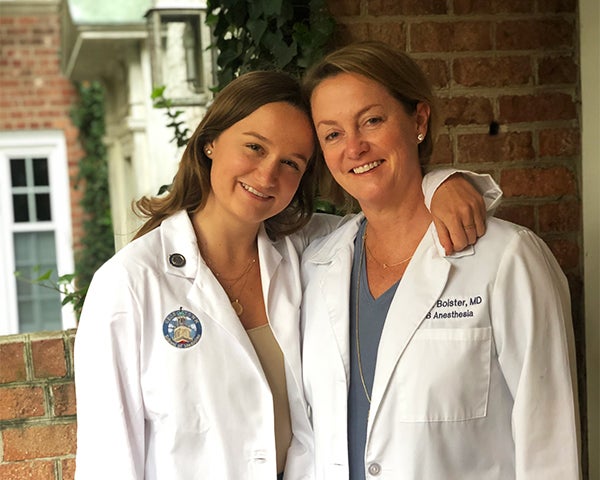 After the pandemic prevented her from having a college graduation and starting medical school with an in-person white coat ceremony, the family of Drew Bolster (M'24) flew to be with her in DC for the virtual event. Bolster was coated by her mother at both the virtual ceremony and the in-person event.
"Her dedication to her work as a physician inspired me to become a doctor," she said. "Having her place my white coat on me gave me a great sense of gratitude and excitement for this next part of my professional journey."
'Nothing Takes the Place of Kindness'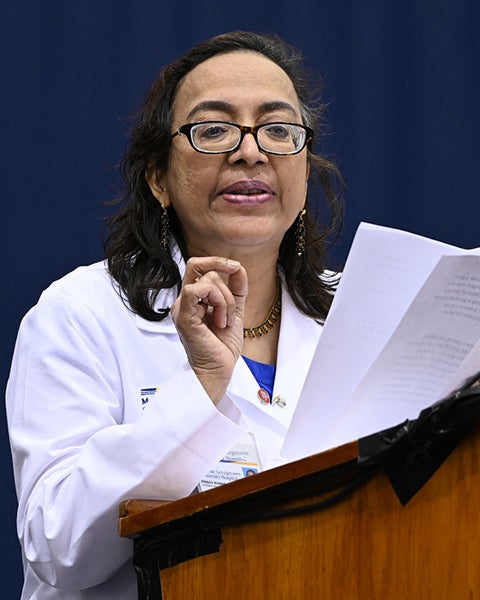 Sharing insights on what students can expect as they start their clinical rotations, Princy Kumar, MD, senior associate dean of students and professor of medicine, offered advice to the medical students in attendance.
"The core characteristics of what it means to be a good medical student in the wards has not changed over generations, just as the core characteristics for being a good physician will never change," she said. "Being a good physician means taking responsibility for your patient, truly feeling that you are the one responsible for what happens to them."
Kumar implored students to listen to the nurses they work with, as well as the patients, and to act with kindness toward everyone on their team. "When your days are long, nothing takes the place of kindness to other people on your team," Kumar said.
A Familiar Voice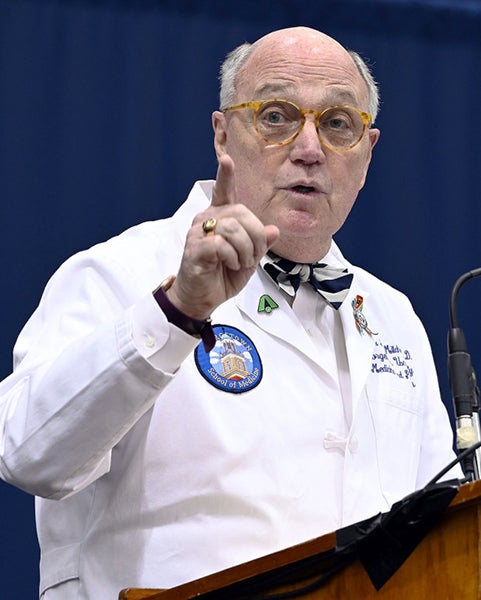 As applicants to the School of Medicine, members of the Class of 2024 learned that they had been accepted when they received a call from dean emeritus Stephen Ray Mitchell, MD. They heard from him again during the Edmund Pellegrino Professionalism Lecture at the ceremony.
"I'm honored, because you are the last class that I got to call," said Mitchell, the former dean of medical education at the School of Medicine. "And you will always be very special."
Mitchell reminded students of the importance of the Hippocratic Oath. "It's a promise — a promise to the patient, based on your faith, based on this profession, based on your own honor. You're offering to be a healer," he said. "You must uniquely reach out to the heart of every patient. It's a commitment to honor that relationship every time."
"I'm going to watch you," Mitchell added. "And I know you will deliver."
Taking the Oath Together
Traditionally, medical students recite the Hippocratic Oath together for the first time as a class at the White Coat Ceremony.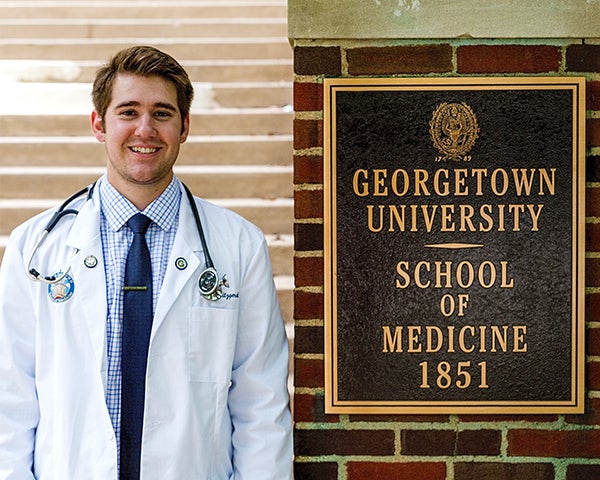 While it was a meaningful experience to recite the Hippocratic Oath with his classmates at the virtual White Coat Ceremony, Brian Fitzgerald (M'24) looked forward to taking the oath together in person. "By reciting the Hippocratic Oath as a class, we are collectively agreeing to be ethical and responsible healers who will act in the best interest of our future patients," he said.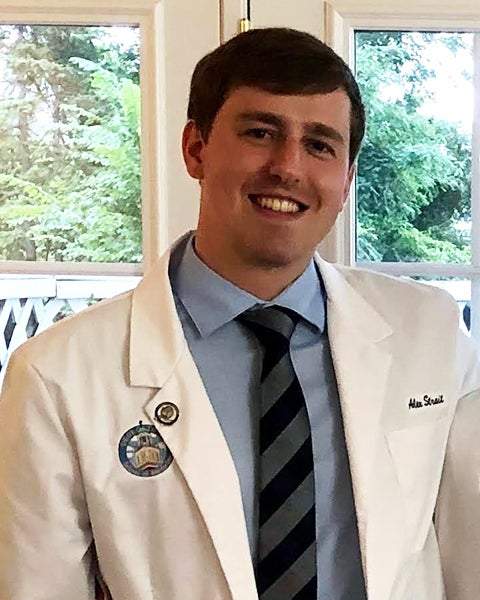 After taking the oath together in English, 18 students each read one line of the oath in different languages, including Yoruba, Bengali, Kurdish, Ekpeye, Filipino, Arabic, and Brazilian Portuguese, reflecting their diversity of the class and their future patients.
"I think it is an important day for us all to celebrate how far we have come," said Alexander Strait (M'24). "I am very excited to celebrate with all of my classmates and the faculty in person."
Kat Zambon
GUMC Communications