Walking Warriors Second Annual Walk Raises More Than $135,000 for Breast Cancer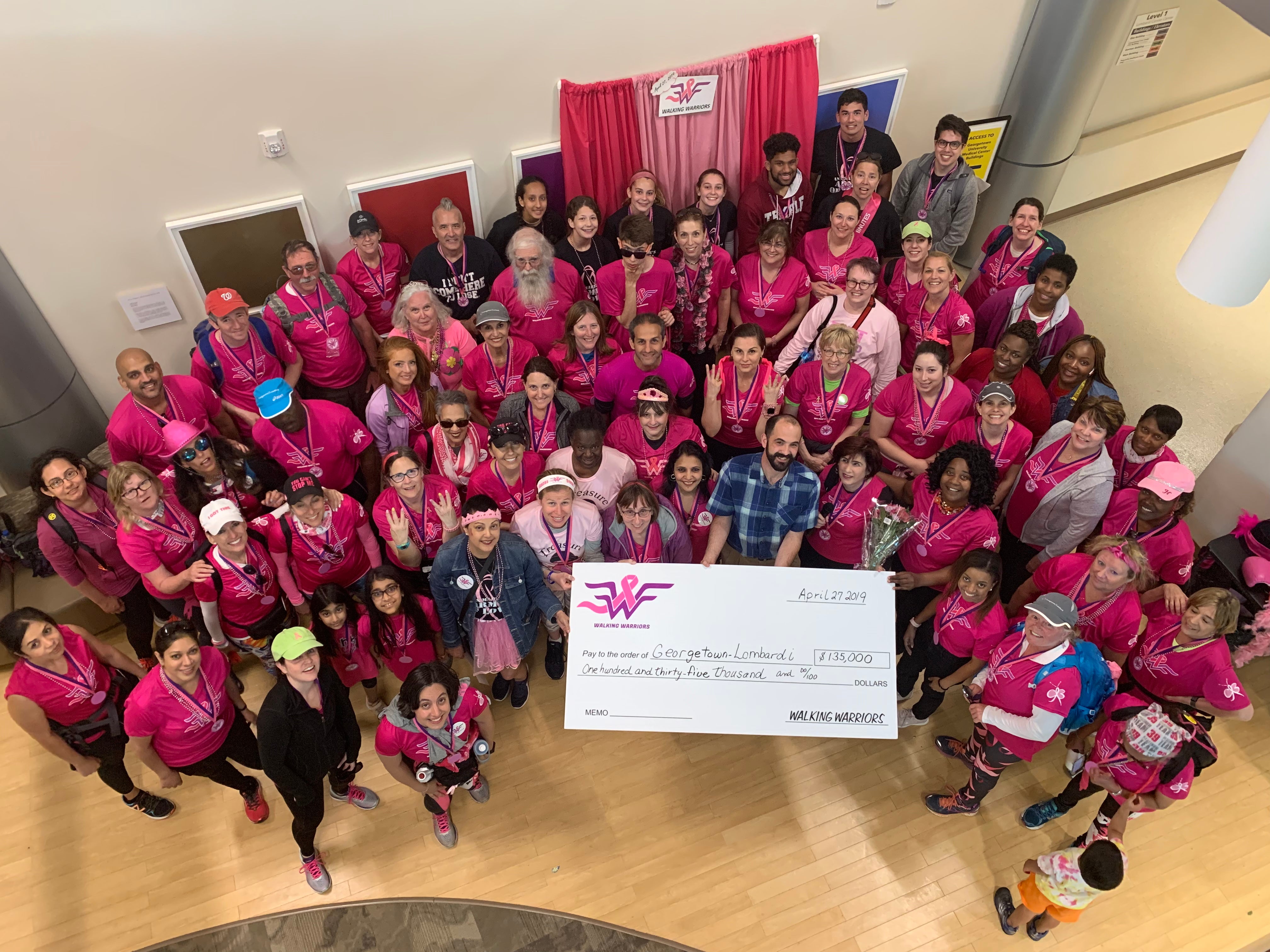 Posted in GUMC Stories | Tagged advocacy, breast cancer, community outreach, Ralph Lauren Center for Cancer Prevention
(April 28, 2019) — The Walking Warriors Battling Breast Cancer have raised more than $135,000 for breast cancer research, community service and education programs at Georgetown Lombardi Comprehensive Cancer Center.

The Walking Warriors held their second annual walk on April 27, which began at Georgetown Lombardi and wrapped around Washington, D.C.'s National Mall, spanning 10 miles for some walkers and 20 miles for others.

Led by Jeanne Mandelblatt, MD, MPH, the group launched this year's fundraising efforts with a party in January, which brought together both new participants and others whose cancer advocacy efforts each year make their bond even stronger.

Mandelblatt started the Walking Warriors with a group of women that previously participated in the AVON 39 Walk to End Breast Cancer — who as the official Georgetown Lombardi team raised more than $1.4 million in total proceeds.

This year's walk represents the persistence of that close-knit group and their determination to not only continue their fundraising walks, but expand them, increasing the visibility of the Walking Warriors as an organization and the pink they fervently wore across the city this Saturday.

Solidarity Contributes to Successful Year of Fundraising
Since last year, the Walking Warriors have nearly doubled the number of walkers. "While we're all affected by breast cancer in some way, what brings people together is the sense of community and camaraderie that we share," said Mandelblatt, a professor of oncology and medicine at Georgetown Lombardi.

Like Mandelblatt, each of them is motivated by a sense of solidarity and the desire to help women both prevent breast cancer and obtain treatment, particularly low-income women in the District of Columbia. Georgetown Lombardi's Capital Breast Care Center (CBCC), which provides community outreach and patient navigation services for underserved women in the region, is among the group's beneficiaries.

Having founded the CBCC in 2004, Mandelblatt's research has focused on various age and race- and ethnicity-related disparities in cancer care and outcomes. "I'm so incredibly proud that CBCC's work has been carried forward 15 years later," she said.

"This has been such an incredible day. Thank you for everything you've done to make our work possible at CBCC," said Rhonda Hamilton, a patient navigator at CBCC who was recognized by Mandelblatt in Saturday's closing ceremony.

"We are here to make sure patients — many who do not have health insurance or have never had a mammogram — are connected with essential resources. This includes increasing the mammography screening rate. Early detection saves lives," Hamilton continued.

It's this vision that has inspired the Walking Warriors, and the friends and family members who joined in to support them.

"Before we get going, please take a moment to look around at all the people in pink. At this moment, you are surrounded by some of the most amazing, wonderful people you will ever encounter anywhere," announced Carol Scott, a volunteer, to the Walking Warriors before this year's walk began.

"I have a tip for you: Get to know them. Find someone that you do not know this morning, and get to know them during the day. This day is about us and the people we walk for."

Young Investigator Becomes Honorary Walking Warrior
Part of the proceeds raised from last year's walk went toward establishing a grant to help a young investigator address an important question in metastatic breast cancer. After a rigorous review process, Phillip Miller, PhD, was awarded the $50K grant.

Miller joined Georgetown Lombardi as an assistant professor of oncology in July 2018, part of a group of researchers who trained and worked with physician-scientist Marc Lippman, MD, former director of Georgetown Lombardi, at the University of Miami's Sylvester Comprehensive Cancer Center.

"I'm thrilled to be here this afternoon as an honorary Walking Warrior and incredibly grateful to receive this inaugural Walking Warriors young investigator grant," Miller said.

"The research project that is funded by this grant really marks the beginning of our efforts to translate nearly a decade of research into a therapeutic pipeline to ultimately improve metastasis-free survival for breast cancer patients."

Mandelblatt expressed confidence in Miller's future work, both because of his excellence as a scientist, and because he was mentored by Lippman, who now serves as a professor of oncology at Georgetown Lombardi. "Dr. Lippman is one of the most brilliant men and best breast cancer researchers I know," Mandelblatt said.

"It's really critical to ensure we help train the next generation to carry research in breast cancer forward, and Miller's work is an important part of that."

Seren Snow
GUMC Communications