Virtual Reality Training Helps Medical Students Develop Real Empathy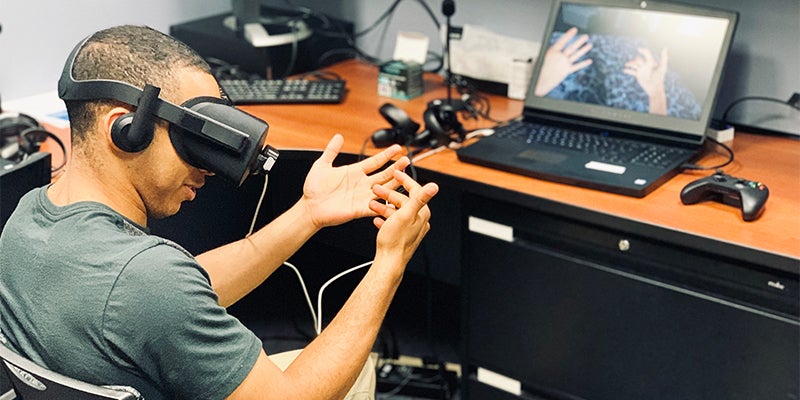 Posted in GUMC Stories | Tagged cura personalis, Dahlgren Memorial Library, geriatrics, medical education, School of Medicine, virtual reality
(June 28, 2019) — Imagine your favorite grandmother is showing signs of dementia. She progresses from forgetting who your son is, to forgetting what day it is and that she's supposed to host Easter dinner. When your family arrives that day, she doesn't seem to recognize you. She's still in her bathrobe and hasn't made her traditional soup.
But what's it like for her?
A new virtual reality software is allowing students at Georgetown University School of Medicine to get a better sense of what aging patients experience, and see the decisions and emotions that patients and their families may face at the end of their lives.
Using a virtual reality headset and Embodied Labs' software, students enter the body of a patient who is experiencing one of three conditions: macular degeneration and hearing loss; cancer and the end of life; or memory loss. Users watch and participate in a 3-D video as the patient's family members talk to them and expect them to respond and hear the thoughts of the person whose body they're in.
"The aim is to teach empathy," said Linda Van Keuren, assistant dean for resources and access management at Dahlgren Memorial Library, the graduate health and life sciences research library at Georgetown University Medical Center. "We think it's a unique combination."
For instance, in the dementia scenario, the viewer sees how difficult the experience is for the patient as well as her children, who are slow to realize how Alzheimer's disease is affecting her, in part because it's hard to let go of their expectations of who their mother is.
The library staff learned about the virtual reality system at a conference and then acquired it for the medical school. It is now used to supplement an elective geriatrics clerkship for fourth-year medical students, for which they follow specialists in the hospital and on home visits. Pamela Saunders, PhD, who directs the two-week clerkship, says the software helps students get exposed to different medical conditions, and helps them see what it's like to have a limitation like macular degeneration.
"There's that hole in your vision and you're moving your head all around to try to see a spot — it's hard to imagine that unless you get the opportunity" to use this type of virtual reality (VR) software, Saunders said. One of the clerkship participants wrote afterward that because of the VR's greater interactivity, the student felt a stronger connection to the patient's family members, and could see how the patient might be saddened by the effect his diagnosis has on them.
Saunders will also use the software with students in her role as the program director of a new master's program in aging and health at Georgetown University, and she plans to also use the software for students in the inaugural class this fall. She's seen an increase in the number of students interested in geriatrics, which is needed, she said, since about 10,000 people in the U.S. turn 65 every day.
The library also uses its Oculus Rift headsets in combination with an anatomy program that allows users to zoom in and around a human body, peeling away layers to reveal whatever structure they would like from any angle. In addition to helping anatomy students, the virtual reality headsets have been used to introduce human body systems to local fourth and fifth grade students in a community outreach program hosted at Georgetown University.
"The kids compare it to the 'Magic School Bus,'" said Angela Barr, reference and digital information services coordinator at Dahlgren Memorial Library. "Many of those kids have not had any experience with virtual reality before, and most of their responses are quite enthusiastic."
Dahlgren Memorial Library plans to expand its virtual reality resources as more high-quality software becomes available, Van Keuren said. New programs are being developed that take advantage of VR's realism to help people with phobias become acclimated to a trigger, and similarly assist people with post-traumatic stress disorder, she said. View a list of the library's medical VR resources.
Kathleen O'Neil
GUMC Communications