Victoria Shanmugam: Investigator receives $1.9M NIH Grant to Study Wound Healing
Posted in GUMC Stories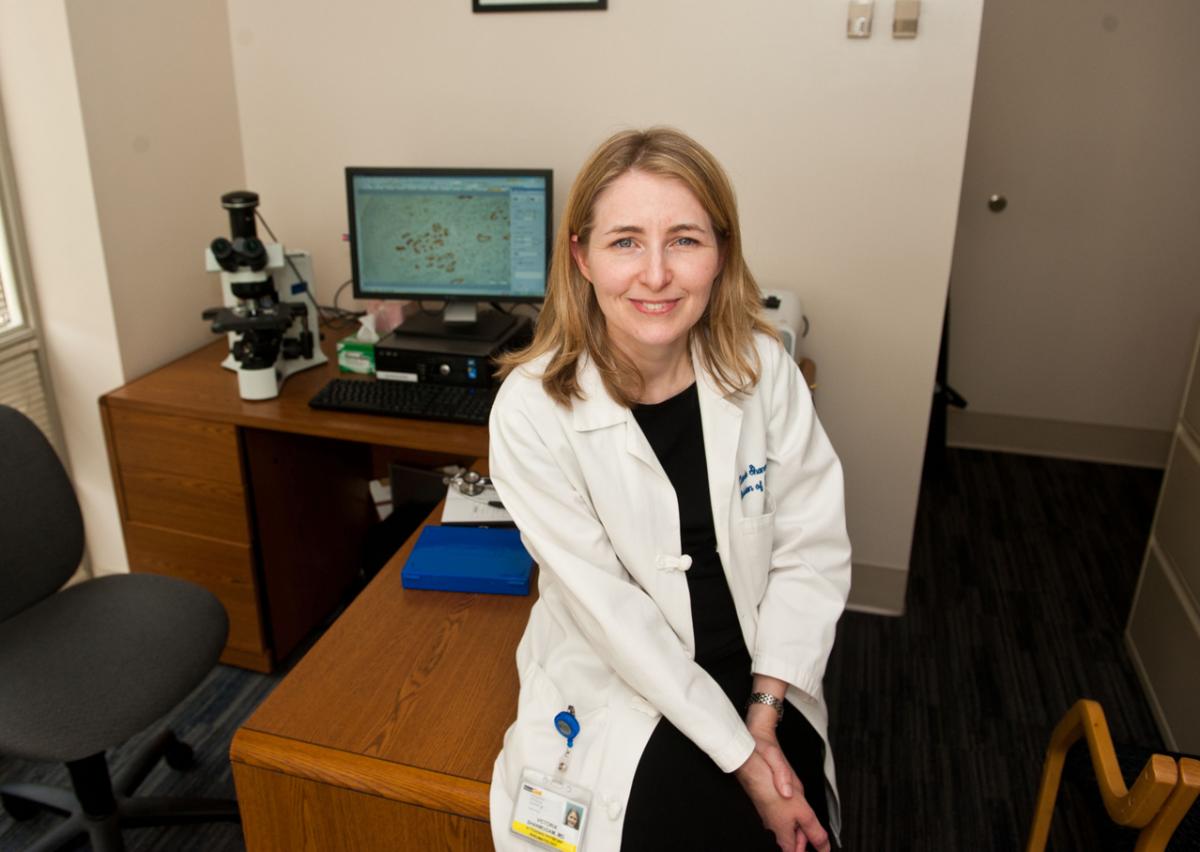 The National Institutes of Health has awarded an R01 grant in the amount of $1.9 million over five years to Georgetown University Medical Center (GUMC) in support of Victoria Shanmugam, M.D., assistant professor of medicine.
The grant, awarded by the NIH's National Institute for Nursing Research, aims to advance the wound care field by elucidating critical molecular pathways driving chronic wounds. In addition, study investigators will correlate these findings with patient-centric outcome measures including pain and wound healing.
Chronic wounds are a major public health problem affecting one percent of the U.S. population with an associated cost of approximately $25 billion a year, Shanmugam says. A rheumatologist, Shanmugam is the principal investigator for the Wound Etiology and Healing (WE-HEAL) study at GUMC in collaboration with colleagues at MedStar Georgetown University Hospital.
"Recent studies suggest that mortality in patients with chronic wounds approaches that seen in some malignancies," she says. "There is an urgent need to identify effective therapies that both improve ultimate wound outcome, and alleviate patient symptoms and suffering."
For this project, Shanmugam is collaborating with a multidisciplinary team including Jane Fall-Dickson, Ph.D., RN, assistant chair for research in the Department of Nursing at GUMC's School of Nursing & Health Studies; Christopher Attinger, M.D., director of the Georgetown Center for Wound Healing at MedStar Georgetown University Hospital; and Anton Wellstein, Ph.D., professor of oncology and pharmacology at Georgetown Lombardi Comprehensive Cancer Center. Utilizing the resources of the Georgetown-Howard Universities Center for Clinical and Translational Science, and in collaboration with investigators at the J. Craig Venter Institute, Shanmugam and her team will apply high-throughput genomic technologies to investigate the interplay between host immune and angiogenesis pathways, the bacterial biofilm in the wound bed, and patient reported pain and analgesic use.
"The goal of this research is to gain insights at a basic science level that ultimately will help improve wound outcomes and alleviate pain for patients with chronic wounds," Shanmugam says.
Joseph Verbalis, MD, co-director of the Georgetown-Howard Center for Clinical and Translational Science, says Shanmugam epitomizes how the NIH Clinical and Translational Science Award (CTSA) program is advancing research to speed improvements in human health.
"Shanmugam is a Clinical Scholar in our CTSA program, which provided her the protected time and the research resources to pursue the preliminary studies that culminated in this single NIH grant. Importantly, the applicants for the Clinical Scholar program must demonstrate that their research will be multidisciplinary and innovative, with a high likelihood of discovering new ways to diagnose and treat human diseases," he adds.
The NINR grant also aims to advance nursing science. "This is a very synergistic collaboration," says Fall-Dickson, who has accumulated almost 20 years of experience in clinical pain research. "Nurse scientists like me are committed to understanding human health and symptoms at the basic science level, and then translating that knowledge to promote multiple dimensions of health."
By Karen Mallet, GUMC Communications
The work described in this story is funded by NIH grant number 1R01NR013888-01.
(Published September 05, 2012)