Undergraduates Study Respiratory Viruses from Bench to Bedside in School of Health-Led Internship in Argentina
Posted in GUMC Stories | Tagged research, School of Health, student experience
(July 1, 2022) — Georgetown undergraduates taking part in the Translational Health Science Internship in Buenos Aires, Argentina, learned what patients with respiratory viruses experience by seeing how discoveries are made at the molecular level and then applying this knowledge to diagnosing patients.
The program, led by the School of Health's human science department, included nine human science majors, three biology majors, one global health major, and one student from the science, technology and international affairs program.
"One day started with a lecture by a pulmonologist, followed by looking at affected lung tissue in the lab with microscopes that she had just discussed," said Sofia Triplett (H'24). "Then we went and saw real patients in the hospital who were experiencing what we just saw in the lab."
The program introduces students to the mechanisms respiratory viruses use to cause diseases and how the human body defends itself. With this knowledge, students then devise interventions that directly benefit patients they see. They say the "bench to bedside" approach was a key element of the experience.
"The program is unique, because you can talk about what you see in a textbook in a class at Georgetown, but you're not able to go see a human sample on a slide and then go see a real patient in a hospital," said Calyn Brumley (H'23).
"The internship is in good alignment with the mission of the School of Health, which has experiential learning at its core," said Pablo Irusta, PhD, associate professor and chair of the human science department.
Classroom Instruction Before Clinics
"There are three main components of the program — classroom instruction, a combination of laboratory and epidemiological research, and clinical work," said Irusta.
The Buenos Aires program stemmed from a collaboration between Irusta and Fernando Polack, MD, of the Fundación Infant when the two worked at Johns Hopkins University.
Polack later moved to Argentina and started the research institute, where the students receive lectures on the basic mechanisms of viral pathogenesis and pursue laboratory and epidemiological projects focused on pediatric viruses.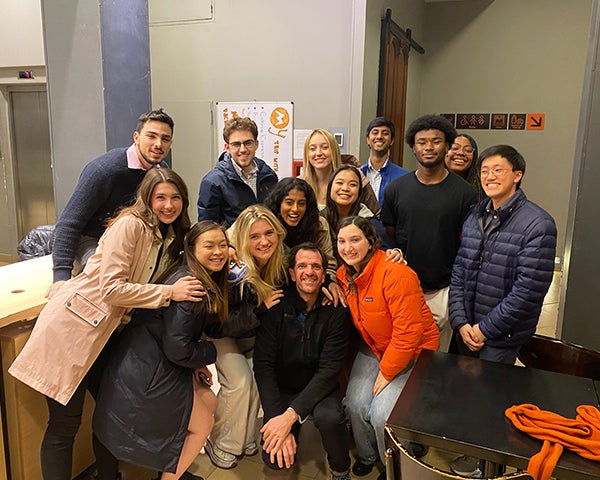 "In the labs, we are learning the techniques that researchers use in their published papers," Triplett said. "We were broken into groups to research different topics, such as does the number of antibodies present in a patient correlate to the number of people living in that household."
"[To answer our research question] we do things the researchers would do, like write a literature review and make a cell culture [to infect with a virus to test a hypothesis]," said Samika Hariharan (H'24).
For their clinical work, students shadow physicians in pediatric hospitals.
"Shadowing gives students firsthand knowledge of the viruses in the human population," Irusta said. "The timing of the program [May 27 – July 8] is at the beginning of winter in Buenos Aires, at the time when you see these respiratory viral diseases in children."
Comparing Health Care Systems
During their clinics, students noticed differences between the Argentine and American health care systems involving payment for care and technology.
"A lot of people from other South American countries come to receive their health care in Argentina and don't pay anything," said Hariharan. "Health care in Argentina is free to everyone below a certain income level, and on top of that you can buy private insurance."
"This puts a lot of pressure on the Argentinian health care system, but they are very proud that people can receive cancer and HIV treatments and don't have to pay for it," she added.
Students also noticed that hospitals did not use the newest technology for basic intake procedures, but that this did not seem to have an impact on care.
"For example, the EKG machines here are big and boxy," said Brumley. "In America, you would see a slim, iPad-size machine, but the machine functions the same way. It's interesting to see how well the health care system functions here with older technology."
Time for Weekend Travel
While students were busy with lab work, lectures and shadowing, they still found time for sightseeing.
"We have a full schedule for five days, but we are able to plan things for the weekend," Triplett said.
"We went to an estancia, a ranch, and rode horses. One group went to Uruguay and another to see the glaciers in Patagonia," Hariharan said.
"We also visited the part of Argentina that includes the Andes and saw mind-blowing scenery and ate amazing food," said Triplett.
"Next, we are going to visit Iguazu at the end of the Amazon and see the beautiful waterfalls," added Hariharan.
Impact of Experiential Learning
Both Hariharan and Triplett plan to apply to medical school in the future.
"Seeing the intersection between our lab and clinical work is really rewarding," said Hariharan, who plans to use the hands-on experience from Argentina for future research as a doctor.
"I can absolutely see myself applying what we've learned here to future patients," said Triplett, who was convinced to apply for the program by Hariharan. "It turned out to be the most amazing and fulfilling experience," she added.
Heather Wilpone-Welborn
GUMC Communications