Transforming the Future of Medicine
Posted in GUMC Stories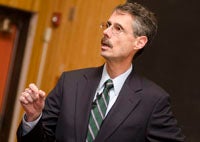 A strong case for a transformative, new look into the future of medicine emerged at the recent Georgetown School of Medicine Reunion entitled, "Georgetown University Medicine at the Leading Edge: Systems Medicine."
Howard J. Federoff, M.D., Ph.D., executive vice president for health sciences and executive dean of the school of medicine, addressed the distinguished group of medical alumni in C-104, the iconic lecture hall in the Med-Dent Building. The lecture was a centerpiece of the 2011 School of Medicine Reunion.
Federoff postulated that potent knowledge about human health lies hidden along the largely unexplored divide between mankind's knowledge of human genes and how environment forms – or deforms – those genes to cause disease.
To stratify and manage risk requires a thorough understanding of how the continuum between wellness and disease is a dynamic network that signals robust perturbation – or change – by producing disease symptoms, he said.
Time for a New Organizational Framework for Medicine
"Most of medicine is incredibly reductionist," Federoff said. He predicted "multi-modal therapy will emerge in the next few years." The future of medicine, Federoff argued, requires an organizational framework that integrates, understands, and describes the full range and complexity of dynamic living systems.
Near constant changes in the environment – whether in the womb, the hospital, the home or the community – at various times in our lives play an unheralded role in our health and wellness, Federoff said. The environment around us can shape how genes actually behave as opposed to how the marching orders of human DNA direct them to behave, he explained.
Changing Direction for a Boy Headed Toward Type II Diabetes
Using the theoretical case of a 10-year-old boy at risk for developing Type II diabetes, Federoff underscores the hitherto understated power of the interplay between human genes and the environment. This scenario illustrates how wellness-insuring lifestyle choices, combined with tests based on individual information gleaned in molecular biology, genomics and epigenetics will, in the near future, teach the patient and family to prevent or minimize risks.
Nutrition, he said, is linked to intergenerational diabetes.
And, he hopes that the results of high computation biomarker tests of the future and extensive genetically based family history could spark a candid conversation that would lead to better health for a patient.
In the diabetes scenario, a physician could discuss the boy's current health, future risk of developing disease, and alternative and healthier lifestyle choices. This conversation could include a preventative action plan, including increased exercise and a diet high in antioxidants and low in calories, carbohydrates and fructose.
Home health monitoring and other support systems might be useful, especially to reinforce behavior changes in people who are showing no symptoms. These types of measures would enable the boy's family to take an active role in minimizing or delaying the risks of future illness in their son.
Type II diabetes amounts to "a step-wise progression to exhaustion," Federoff added, and may be a risk factor in development of Alzheimer's Disease. Similarly, obesity produces a risk factor for dementia, he said.
Genes Can Be Altered in Myriad Ways
The body has 50,000 genes, Federoff said, and the U.S. Environmental Protection Agency regulates about 12,000 chemicals. Many of these chemicals are regarded as "punitive toxicants, those that produce disease," he said.
Unless progenitors or stem cells are involved, cellular damage is reversible: when the damaging stimulus is removed, the cells turn over, giving way to new, undamaged cells. During the nearly four decades of the federal agency's existence the permissible burden of the majority of these chemicals has been declining, he said.
"Other, very potent epigenetic factors can produce gene alteration in many places throughout the body," Federoff said. "Everything we thought we knew has to be re-examined. Our birth potentiality can be modulated our entire lifetime."
Medical Education Transformed
Under Federoff's leadership, GUMC is dedicated to pioneering a personalized, whole body approach that is systems medicine. Here, researchers are using high computations systems such as the Georgetown Database of Cancer (G-DOC) to aggregate large amounts of patient, disease and treatment data to guide best practice treatment.
A new curriculum, including a Masters of Systems Medicine, is transforming Georgetown's medical education into a new kind of education, grounded in leading edge, future-based medicine.
Georgetown University's current capital campaign focuses on increasing scholarship opportunities for all students – including medical students who are frequently saddled with debt burdens of $200,000 or more from four years of medical school. Georgetown is committed to attracting the nation's best and brightest young minds regardless of their socioeconomic status.
Finally, Georgetown's revered learning spaces, such as C-104 lecture hall, where Federoff gave his seminar, are being renovated with the latest technology to optimize the learning environment.
"This," said Federoff "is the new paradigm."
By Victoria Churchville, GUMC Science Writer
(Published January 03, 2012)