Top Cancer Minds of Tomorrow Spotlighted
Posted in GUMC Stories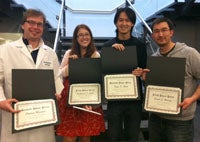 Hopeful students gathered in the top floors of the New Research Building at the Medical Center on March 1, 2012 as they eagerly the judges to view their scientific findings in cancer research.
The event was Lombardi Research Day, an annual event that allows Georgetown Lombardi Tumor Biology students and trainees to present their research to the senior researchers and faculty at Georgetown University Medical Center.
"The annual Lombardi Research Day is not only a great opportunity for trainees to showcase their research, but they also receive constructive feedback from faculty in preparation for the annual American Association for Cancer Research poster sessions," says Elizabeth Song, education coordinator for the Tumor Biology Training Program.
On Friday, March 2, 2012, the winners of Research Day were announced at an award ceremony. Georgetown Lombardi Director Louis M. Weiner, M.D., and Scientific Director, V. Craig Jordan, O.B.E., Ph.D., D.Sc., FMedSci, presented the awards.
Winners by category:
Undergraduate, Masters, Predoctoral
Winner
Tejaswita M. Karve won for her research on "B-cell translocation gene 2 (BTG2) stimulates cellular antioxidant defenses through the antioxidant transcription factor NFE2L2 in human mammary epithelial cells." Karve works in the laboratory of Eliot M. Rosen, M.D., Ph.D., professor of oncology at Georgetown Lombardi.
Second Place
Tytus D. Mak placed second for his research in "Selective paired ion contrast analysis: A novel algorithm for analyzing radiation metabolomic datasets possessing exceptionally high noise." Mak works in the laboratory of Albert J. Fornace, Jr., M.D., professor and molecular cancer research chair, who has spent his career studying what happens to cells when they are stressed or injured.
Postdoctoral/Junior Faculty
Winner
Katherine L. Cook placed first for her findings on "Glucose-regulated protein 78 controls crosstalk between apoptosis and autophagy to determine antiestrogen responsiveness." Katherine works in the lab of Robert Clarke, Ph.D., D.Sc., who is internationally recognized as a leader in breast cancer research.
Second Place
Philipp Maximov took second place for his research in "Modeling the pharmacological importance of endoxifen for the treatment of ER-positive breast cancer in premenopausal patients." Maximov works with Dr. Craig Jordan, scientific director for Georgetown Lombardi, whose research and leadership in the development of tamoxifen has improved the quality of life of countless women with breast cancer.
Clinical Fellow/M.D., Ph.D.
Winner
Joseph C. Murray won for his study on "Targeted RNAi screening of an EGFR network reveals molecular determinants of tumor cell sensitivity to antibody-dependent cellular cytotoxicity." Murray studies under Louis M. Weiner, M.D., director of Georgetown Lombardi.
By Alaina Farrish, Georgetown Lombardi Communications
(Published March 08, 2012)