This Week Is Security Week at GUMC – Please Join Us
Posted in GUMC Stories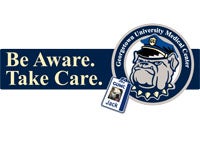 You are invited to join us for GUMC Security Week, Monday, June 18 –- Thursday, June 21 on the Medical Center campus.
During Security Week, we will begin to implement new policies such as GUMC's mandatory visible ID badge policy, as well as provide IT data security training, computer tagging, self-defense classes, and daily safety tips.
In order to combine our informative week with some fun, we will also have food trucks and walk-through giveaways.
Please join us and support a more secure and safe GUMC community.
To learn more about the new security policies and procedures and to view a list of activities for GUMC Security Week, please visit: https://blogs.commons.georgetown.edu/medthread/2012/06/13/gumc-security-week-calendar-june-18-through-21/
(Published June 18, 2012)