'The Right Time and the Right Direction:' NAM President Discusses Georgetown's Health Sciences Initiative
Posted in GUMC Stories | Tagged Health Sciences Strategy Initiative, School of Medicine, School of Nursing & Health Studies
(April 9, 2022) — In a conversation with Georgetown University President John J. DeGioia during a virtual community meeting, the president of the National Academy of Medicine characterized Georgetown's Health Sciences Strategy Initiative (HSSI) as an effort coming at the "right time and the right direction." Victor J. Dzau, MD, joined DeGioia on April 7 for a conversation about the HSSI and an article Dzau wrote in The Lancet outlining the importance of not only caring for individuals, but caring for the entire population.
Dzau posited that academic health systems should place a new emphasis on translating and implementing major discoveries to make a difference in the health of society.
"Hence the idea of an academic health sciences system as the integrator from one end of research, all the way to improving population [health]," he said.
Georgetown: 'Well Situated'
In 2019, DeGioia launched the HSSI at Georgetown to focus on five areas: to maximize the impact of the health sciences, expand opportunities for collaboration across campuses, strengthen the medical center's financial position, advance our partnerships, especially with MedStar Health, and broadly engage faculty across the university about future directions around a health sciences strategy.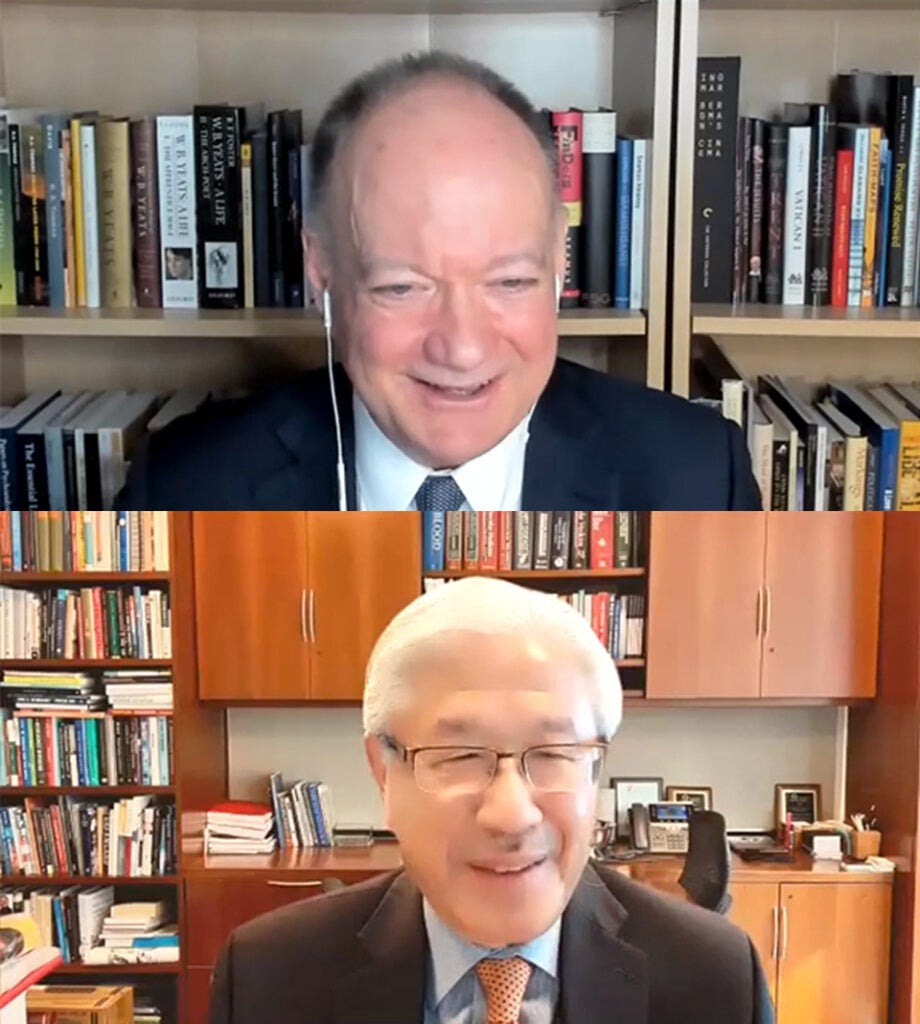 DeGioia invited Dzau to join him for the public conversation to share his vision on the evolution of academic health systems as a backdrop to the vision and identity work that lies ahead as the next phase of the HSSI.
During their conversation, Dzau contrasted advances made in the health sciences over the past decade – precision medicine, genome editing, artificial intelligence — with the many challenges further exposed by the pandemic — such as the rise in chronic disease, aging, fragmentation of the health system, and lack of equity.
"You're not going to solve the health problem without participating and solving the social problems," Dzau said. He described the need for a new academic health system model to address multiple factors around equity and bring together areas of scholarship in big data, social science, policy, economics, law and environmental health.
"Ultimately, what we want to do is bring them all together to improve health and improve society, which is why social responsibility and social actions are really needed in this redefined model," Dzau explained. "This is why Georgetown is so well situated, because that's your strength."
Fostering Integration Across Campus and Beyond
DeGioia tapped Dzau, the previous president and CEO of Duke University Medical Center, to address a common barrier at universities commonly described as "silos."
"Health and medicine are part of our medical center, but we have other health-related expertise across the university in our schools of public policy, law, business and our school of foreign service," DeGioia said, asking Dzau to share insights from his experience on the best ways to encourage cross-campus collaboration.
For Dzau, the answer was straightforward: vision and trust.
"I think having a shared vision, shared goals is really important," he said. "Bringing people together to recognize we're all trying to solve the same thing, and that we can do so much better by coming together.
"We need to develop trust around each other's strength, and have a synergy," he added.
Dzau encouraged developing a trust around each other's strength, and creating a mutually beneficial synergy.
"Having a shared vision, shared goals is really important," Dzau said. "Bringing people together to recognize we're all trying to solve the same thing, and that we can do so much better by coming together."
Dzau also addressed the importance of academic health systems having global partners.
"You understand how important it is, because we live in an interconnected world," he said. "So unless we work together, learn from each other, we're never going to be able to achieve what we want to achieve."
He also highlighted the importance of bidirectional learning.
"We learn as much as we teach others," he noted. "I think the whole idea of globalization is so important for a university such as yours."
COVID's Impact
When asked how COVID-19 will change the future of academic health systems, Dzau pointed out the important attributes they offer such as research, tracking and forecasting, but acknowledged that data collection has also highlighted gaps and inequities.
"I think it's totally changed the way the academic health system has thought about this," he said. "I think it's modernized itself to be better prepared in the future. [COVID] is going to change the United States in terms of the public health system, which needs to be fixed. It's going to have better integration of care delivery with public health."
Dzau also gave kudos to health care providers who have sacrificed so much during the pandemic and underscored the need to better support them.
"I think burnout and moral distress for the health care workers is not a reflection of their lack of resilience. It's actually a system problem. How we can provide the environment to support them, how [can] we provide more resources?" Dzau asked, adding that a focus on wellness was a major initiative for the National Academies.
Practice the Issue of Equity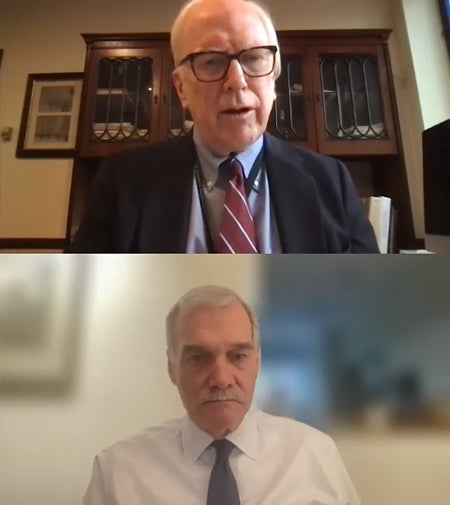 Reflecting on the importance of diversity, equity and inclusion in academic health sciences, Dzau explained that diversity in students and faculty is needed throughout the educational experience.
"I think that having a diverse workforce is important, but that's, shall we say, what expresses the entire ecosystem in diversity," he said.
"We need to truly practice the issue of equity in our education system and in our university system of promotion," and to "address head on the root causes of inequity. That includes racism."
'Special Moment'
Edward B. Healton, MD, MPH, executive vice president for health sciences, said the academic health sciences system concept suggested by Dzau "provides an important framework and scaffolding for the goals and ambitions that we are seeking to accomplish" through the HSSI.
"The arc of our unfolding work… is intended to bring together many of the disciplines that Dr. Dzau describes — all in service to health," Healton said. "And so from our basic science laboratories to translational and clinical science and care, health professions education, policy, law, our medical-legal partnership… and now environmental health through the Earth Commons — all of these now really reflect the shorthand that I think Dr. Dzau created in his writing — molecules to population to society."
"This is a special moment for Georgetown," said Georgetown Provost Robert Groves. "I have never been more excited about near-term prospects, because we are attempting — across several different units, campuses, schools — to see whether we can organize ourselves to have a bigger impact on pressing world problems."