Ten Years of Advocacy on the Hilltop and Beyond: Celebrating the Hoya MedAlliance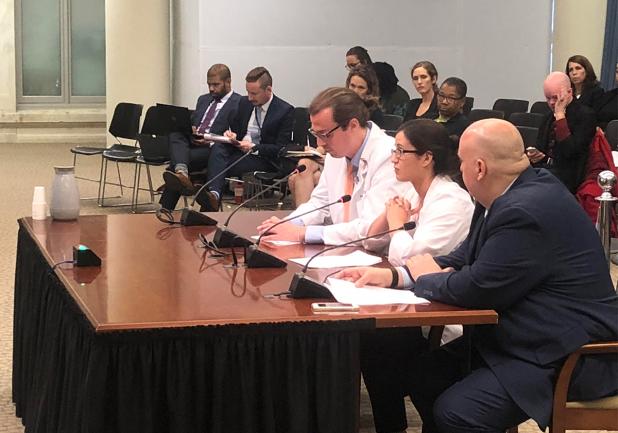 Posted in GUMC Stories | Tagged Hoya MedAlliance, School of Medicine
(November 7, 2018) — When John Hebb (M'21), current president of the Hoya MedAlliance (HMA), and Elise Snyder (SMP'18, M'22) testified recently in front of the D.C. Council in support of the LGBTQ Health Data Collection Amendment Act of 2018, it demonstrated the evolution of a group launched 10 years ago.
Established in 2008, the HMA is composed of LGBTQ students and allies at the Georgetown University School of Medicine (GUSOM). The group is known for its advocacy, community work, mentorship, and for connecting LGBTQ students at GUSOM to students from the other Georgetown graduate schools as well as other medical schools in Washington, D.C.
"We do a lot of health and advocacy work, but this group is also a way for queer students to get together, talk and become friends," said Hebb. "It's been a great way to build community."
A Turning Point at Georgetown
While HMA is currently a thriving community at the medical school, LGBTQ groups were not always welcome at Georgetown.
Following a series of hate crimes directed toward LGBTQ students at Georgetown University in 2007, President DeGioia publicly committed to creating an LGBTQ center on campus as part of Georgetown's Catholic and Jesuit mission. With that commitment came the charge to create other LGBTQ groups and support systems university-wide with student safety at the forefront.
Michael Plankey, PhD, associate professor with the division of infectious diseases in the department of medicine and faculty advisor to HMA, was tasked with leading this charge at GUSOM.
"My mission was to assess the climate of diversity at the medical school at Georgetown, including educational curriculum and respectful interaction of faculty with students and students with students," said Plankey, who is openly gay. "While I was doing this work, it occurred to me that this was also the time to start a student group. Everything collided at once."
In 2008, Plankey met with interested medical students and HMA was born.
Taking a Closer Look at Medical Education
A 2014 publication that investigated changes in the diversity climate at the medical school marked one of the group's first major achievements.
"This was pivotal. So, we have the 2007 incident, the university-wide LGBTQ committee that came together and this publication — all of this kind of cemented HMA. It became an entity," said Plankey.
The publication set a precedent, encouraging HMA members to focus on advocacy within and outside of Georgetown.
More recently, students Tim DeVita (C'14, M'20) and Casey Bishop (M'18), HMA's former presidents, undertook another substantial endeavor — a comprehensive curriculum assessment related to LGBTQ health at GUSOM.
"I went through all of the lecture captures and lectures in the preclinical years to see what content existed regarding LGBT health and compared it to competencies that were published by the AAMC [Association of American Medical Colleges]," said DeVita.
While DeVita was combing through materials, Bishop was determined to see curriculum reform implemented at Georgetown.
With full support from the administration, Bishop presented their work to the Council on Diversity Affairs (CODA) and the Committee on Medical Education in order for the competencies to be added to the Georgetown curriculum.
"I did my fair share of listening to lecture captures and reading through old notes to come up with a plan. What are we doing right? What are we doing wrong? And what are we not doing at all? And that's the research that we presented," recalled Bishop.
The work ultimately culminated in the approval of these additional competencies as well as a 2018 publication detailing their findings. The implementation of these competencies is currently underway, with Plankey and DeVita at the helm.
"There can be mistrust in medicine as a whole [by the LGBTQ community], and for that reason, as a medical person, I feel more of a push to advocate for my community, especially in education," said DeVita.
Community Outreach in Washington, D.C.
HMA's advocacy work doesn't stop on the Hilltop. HMA members have also been involved in outreach efforts within the D.C. community, such as volunteering at Casa Ruby, a shelter for queer and trans youth, and at Whitman-Walker Health, a health center with special expertise in HIV/AIDS and LGBTQ health care.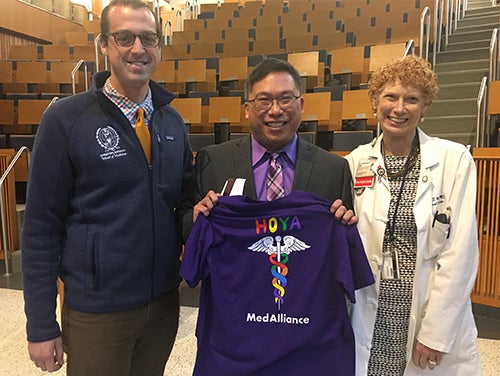 Plankey, who has a longtime relationship with Whitman-Walker, had always envisioned a fourth-year rotation option at the clinic. When Evan Cooper (M'17), former HMA president, expressed interest in doing a rotation at Whitman-Walker, Plankey was instrumental in helping him make it happen.
"I was in the clinic every day, seeing patients and providing care. Several of the patients there either have HIV or have risk factors for contracting HIV. So, I learned a lot in terms of pre-exposure prophylaxis, post-exposure prophylaxis, HIV management and gender-affirming hormone therapy for transgender patients," said Cooper.
After his experience, Cooper, with Plankey's guidance, presented a proposal to the Committee on Medical Education to make Whitman-Walker a fourth-year rotation elective for students interested in LGBTQ health, a program that was ultimately approved.
Most recently, under Plankey's direction, Hebb and Snyder testified in front of the D.C. Council on October 17 in support of a bill that would require the D.C. Department of Health to annually publish a comprehensive report on the health of D.C.'s LGBTQ community.
"It's not a controversial issue. We're talking about basic data collection on a specific population," said Hebb when asked about his testimony.
"From the perspective of medical education, it's impossible to adequately frame issues affecting the LGBTQ community in D.C. without the data. It's that important."
Mentorship by the Medical Community
The HMA network extends beyond the medical school years, and members have greatly benefited from the alumni network that has started to develop.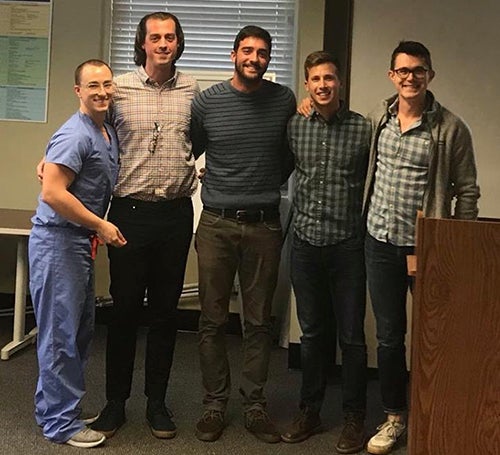 "Now that we're 10 years in, I'm seeing more and more interaction between the medical school and the residency as far as mentorship," said Cooper.
The networking events include students, residents and faculty, with the intention to support LGBTQ students navigating career paths in medicine.
"These gatherings allow people at different stages of their medical career to talk, and I think it makes people realize that there are others like you in the community or in the field," said DeVita.
Mentorship and support has been key within the medical school as well, highlighted by the creation of the Lambda Award in 2017 to honor faculty members committed to Georgetown's LGBTQ community.
It's no surprise that Plankey was the first recipient of the award.
"There's core advocacy coming out of this group," he said. "I'm not even thinking about where we're going to go from here. Anything could happen."
Giuliana Cortese
GUMC Communications